Revlon is best known for its hair care products but don't miss the brand's expanding range of hair care tools too! The brand's line of hot air brushes is one of my favourites because Revlon has loads of one-step hair dryer volumizer brushes!
As you know, I have a soft spot for one-step hair stylers because these tools get the job done in half the time. My tresses are quite thick and long so it takes forever and a day to style and dry. With a one-step hot air brush, I could work on my hair even if it's still damp. Also, I get that much-needed volume and shine in no time at all!
Revlon has several hot air brush products and if you want to know which of these styling products get the best reviews on Amazon, check out our Revlon Hot Air Brush Reviews below.
Revlon Hot Air Brush Reviews – 5 Best Selling Stylers
Revlon One-Step Hair Dryer Volumizer 
Your search for a versatile dry and style hot air brush ends with the Revlon One Step Hairdryer and Volumizer brush!
This hairdryer and volumizer is perhaps the hot air brush that made Revlon's styling tools line very popular. With a whopping 4.4 star rating on Amazon, the One Step Hairdryer and Volumizer brush is also a fan favorite. The brush head features a unique oval-shaped design that's optimized for volumizing the tresses. It's also sized just right, giving you plenty of control over the hot air brush. The rounded edges of the brush + the soft bristles let you create soft waves and curls too!
Best Seller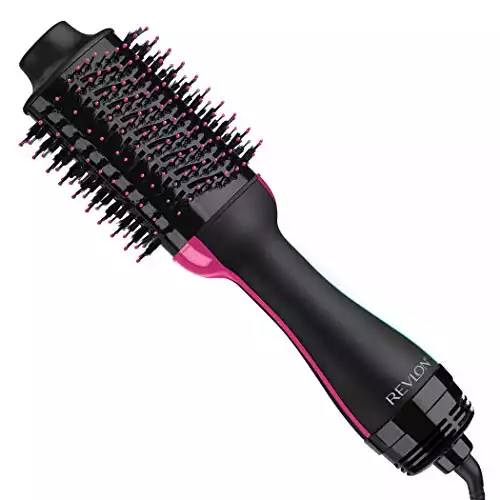 We earn a commission if you click this link and make a purchase at no additional cost to you.
I love the fact that the Revlon One Step Hairdryer and Volumizer brush is lightweight and ergonomically designed so there's less strain on the wrist as you blowdry and style your hair. And speaking of blow dry, the brush head has several airflow vents for quick and easy drying and styling. Within minutes, you'll get a luscious and soft blow out that lasts!
This tool offers 3 temperature settings. Use the lowest setting if you have fine hair or the high setting if you need more power. It also comes with a cool tip so you can get the brush head near the roots to boost body. This is also an ionic hot air brush. The negative ions will polish every hair strand, leaving your crowning glory looking and feeling healthy and shiny!
Some Amazon users say that the brush head is too wide so this hot air brush will only work for certain hair types. If your hair is long to extra long, thick and coarse, this is a great hair tool to get. On the other hand, if your hair is short, there are better products out there. I've noticed that this tool produces a loud whirring sound, which is not a deal-breaker for me but might be for some of you.
We liked
All-in-1 Brush Head
Cool tip
Tangle-free combination bristles
ALCI safety plug
Innovative Air Vents
3 Temperature settings
We didn't like
Wide brush head
Loud operation
Revlon One-Step Hair Dryer & Styler 
If you love the classic look of a paddle brush then perhaps this handy hot tool is for you! The Revlon One-Step Hair Dryer & Styler is a compact hairstyler that features a design that we are all familiar with so it's easy to use. This hot tool combined the power of a hot air brush and a paddle brush to style and dry your hair in half the time!
The tangle-free bristles are very flexible so these won't cause the hair to snag and break while styling. Thanks to the design, this hair dryer and styler is beginner friendly and is ideal for all hair types. The bristles apply even heat, giving your hair a beautiful salon blow out in minutes. And it works even if your hair is damp, saving you a lot of time in the morning. Also, the bristles are quite flexible so these won't cause hair breakage. Just don't yank your hair too hard while styling!
We earn a commission if you click this link and make a purchase at no additional cost to you.
The brushpad is infused with ceramic material. As it heats up, the material produces negative ions that give the hair high shine and touchably soft smoothness! That said, this hairstyler has the tendency to get too hot so if you have thin hair, watch out! This tool might prove too drying to hair with very thin strands. If your hair is also damaged because of the constant heat styling, look elsewhere.
The One-Step Hair Dryer & Styler only comes with 2 speeds/temperature settings. I wish it came with more options, that would've made this product extra versatile. Still, for a beginner hot tool, this one earned a lot of rave reviews! Also, it has a solid 4.3 stars on Amazon, which means it's one of the best hot air brushes on the market.
We liked
Tangle-free bristles
2 heat and speed settings
All-in-one brush head
Flexible brush pad
Large paddle design
Easy to Use Control
We didn't like
Gets too hot for some users
Not ideal for people with thin hair
Revlon Ceramic Brush Kit – Product Review
When you're all about versatility and you need a hair styler that could keep up with your changing style then it's best to invest your hard-earned $$$ in hot airbrush kits. These kits typically come with several attachments so you can simply swap the attachments to create a specific hairstyle.
Revlon happens to have a nice selection of hot airbrush kits and my favorite is the triple coated brush that comes with 2 attachments. This 2-in-1 hairstyler gives you soft, voluminous hairstyles in a snap. The triple ceramic coated attachments produce negative ions that boost shine and silkiness. The ionic technology also banishes frizz and flyaways so your hair remains silky straight and soft for longer.
The device has 2 temperature settings as well as a cool air option. I love using the cool shot setting at the end of the styling to lock the hairstyle into place! The two 1 or 1 ½ attachments feature an innovative expandable design that speeds up hair drying.
This device could straighten the hair or create soft curls and waves. It also comes with a curl release feature so you can manually rotate the barrel to unwind the hair and prevent snagging. I love rotating hairstylers but let's face it, these hairstyling devices increase the risk of breakage.
The kit will work for most hair types but it's best suited for those with medium to thin hair. The bristles are a little short so the kit isn't ideal if your hair is quite wooly or thick. On Amazon, the Brush Kit earned 3.7 stars and it's loved for its lightweight design and easy to use features.
I also noticed that the dryer is weaker when using the smaller of the two brushes. That shouldn't be a problem for those who have thin or delicate hair. But for those with thick hair like yours truly, stick to the bigger one.
We liked
Rotating brush head
2 Heat settings
Cool Shot setting
Cool tip
Detachable brush heads
Tangle-free swivel cord
We didn't like
Small brush head does not dry hair quickly
Loud operation
Revlon Hot Air Brush Kit 
This hairstyling device is a hit among users who are on the search for hairstyling devices that would banish frizz for good! Just like the styler before it, this styler is a complete kit. This is a 4-piece kit that's comprised of 1 inch & 1 to 1/2 inches thermal brush attachments and a smoothing concentrator.
The brush barrels are quite versatile, these will work for all hair types and hair lengths. The triple ceramic coated barrel attachments are meant to pump up the volume. Use the smaller attachment if you want to create defined curls and waves and the larger attachment for soft, romantic curls and relaxed waves.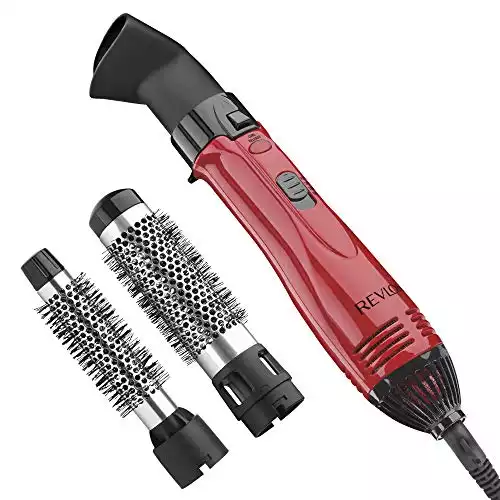 We earn a commission if you click this link and make a purchase at no additional cost to you.
Now what's interesting is the smoothing concentrator feature, which focuses the air on stubborn tresses that lie flat as a pancake. The concentrator feature does two things. First, it gives the hair a lifted appearance. It also smoothens the hair and prevents frizz.
Overall, this styler and dryer brush kit is versatile and easy to use. However, the body feels a little flimsy, not a surprise because it's only 20 bucks. If you are on the search for a hairstyling device that won't break the bank, this is a great choice.
As for the dryer, it does the job but I wish it packs more power! Also, the dryer tends to blow hot air away from the hair so you have to get the right angle for it to work.
We liked
Smoothing Concentrator attachment
2 Ceramic attachments
3-speed heat settings
Tangle-free cord
Ideal for long and short hair
Lightweight design
We didn't like
Low-quality construction
Blows air away from the hair
Revlon 3X Ceramic Smoothing & Volume Hot Air Kit 
The last hairstyling device on our list is the Tangle-free Hot Air Styler. As the name implies, the Tangle-Free Hot Air Styler really is gentle to use. It prevents snagging and hair breakage, which often leads to split-ends. Between the two ball-tipped brushes (1-inch and 1 1/2-inch), the bigger one is gentler because the bristles are not as dense. The device also comes with a curl release switch to minimize tangling further.
I often use the skinnier of the two brushes for creating tight curls and use the big one for relaxed, full curls and waves.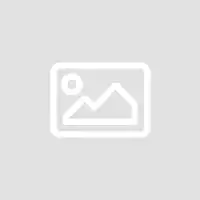 We earn a commission if you click this link and make a purchase at no additional cost to you.
This device offers 3 heat/speed settings and drying the tresses with it will take a bit of time. Honestly, the dryer could use more power but this device is designed for thin hair in mind so I understand why the dryer is weak. My tresses are thick and long so drying it with this device took forever and a day. That said, the results are so nice, my hair doesn't feel parched and the hairstyle doesn't look overdone, just soft and natural-looking with the perfect amount of volume!
Apart from being lightweight and compact, this styler has worldwide voltage. If you've got fine hair that snags easily and you want to look your best while traveling, you will love this device. Amazon users love it for its gentleness but if you don't have a lot of time to deal with your thick, stubborn tresses, this might not be a great styler to get.
We liked
2 Heat/Speed Settings
2 brush attachments
1 smoothing concentrator attachment 
Straighten hair and create curls
Worldwide Voltage 
Curl release switch
Ergonomically designed
We didn't like
Weak blow dryer
Not suitable for all hair types
Which Revlon Hot Air Brush is Best for Your Hair Type?
Generally, hair that's lacking in volume is often thin and most of the stylers on this list are designed for that specific type. For those with thick and hard to manage hair, you can try the One-Step volumizer or any of the kit.
Conclusion
Thin hair has whisper-thin strands that burn easily so it's important to choose a styler that's gentle, efficient, yet easy to use. Thankfully, the Revlon brand made sure to cater to all users, there is something for everyone. Most of the products in our list caters to thin to medium thick tresses that lack volume. But I can say with utter certainty that there is something for those of us who have long to extra long locks!
Leah Williams
Leah Williams is the founder of Lucky Curl and has been in the hair care and styling industry for the last 15 years. Since then, she has developed incredible expertise and a deep understanding of how to treat and style the most difficult hair types and is passionate about sharing her knowledge with the readers of Lucky Curl.