Do you straighten your curly hair often? If you love the look of pin-straight hair and but you'd like to use gentle hair stylers for short hair that's wavy to curly, I highly suggest getting a hot air brush.
Also known as thermal brushes or straightening hair brushes, hot air brushes dry and style the hair at the same time. These hot tools straighten the hair just like a flat iron but are far gentler and less damaging to the tresses. Hot air brushes could work on all hair types, even naturally curly hair.
In today's guide, we have rounded up some of the best hot air brushes to add to your beauty routine. These brushes pull double duty too. These straighten hair brush are ideal for stubborn wavy and curly tresses that takes forever to dry. If you style your hair on a regular basis or you're not accustomed to styling your hair at all, these multi-purpose dry and style hot air brushes will give your hair gorgeous shine and body sans the heat damage.
Read on for our expert reviews to find the best hair dryer brush for curly hair.
09/09/2023 05:30 pm GMT
Best Hair Dryer Brush for Curly Hair – 7 Hot Air Brushes Reviewed
Remington Pro 2-In-1 with Thermaluxe Advanced Thermal Technology – Product Review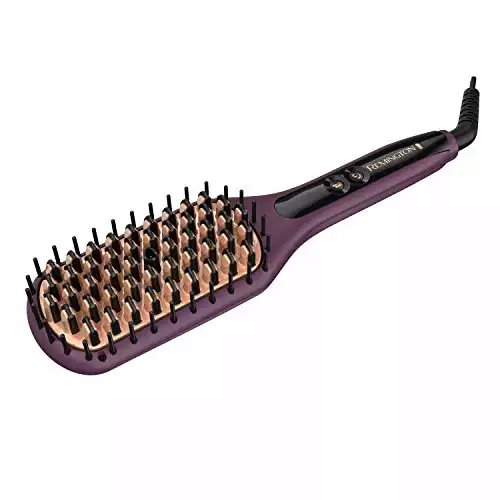 We're starting our list of the best hot air brushes with a hair styler from Remington, the Pro Ceramic Round brush. This thermal brush makes styling almost effortless because it will style your hair and dry your hair in one easy step. This straighten brush is the best choice if you are lazy in the morning. It will make the entire process easier and faster.
I love hot air brushes with the shape of a traditional paddle brush. It makes operation a no-brainer. This thermal brush features a combination of ceramic and nylon bristles. The ceramic material applies gentle heat to the tresses. It's an excellent thermal brush if you have fine hair or damaged hair. It won't leave your hair dry or brittle at all. The finish is also smooth and long-lasting, even if your hair is curly, coarse, or hard to manage.
The secret to the Pro's top-notch performance is the Thermaluxe Advanced Thermal Technology. The advanced thermal technology straightens even the knottiest tresses while banishing static. The ceramic-coated "bristles," leaves the hair shiny and smooth by eliminating frizz. The material also generates negative ions, which have powerful smoothing benefits. The ionic technology will leave the hair smooth, bouncy, and silky so this hot air brush is ideal for everyday use. The cool tip bristles protect the scalp and the hair from excessive heat.
As for the heat settings, there are three individual heat settings to choose from:
Despite the high heat settings, you can bet that the Remington Pro is as gentle as can be.
Other features that are worth a shout out is the auto-shutoff feature, swivel cord, light alerts, and heat-protective pouch. This device gives you a luxurious styling experience but costs less than 40 bucks. Now that's amazing value!
Mermade Hair Interchangeable Blow Dry Brush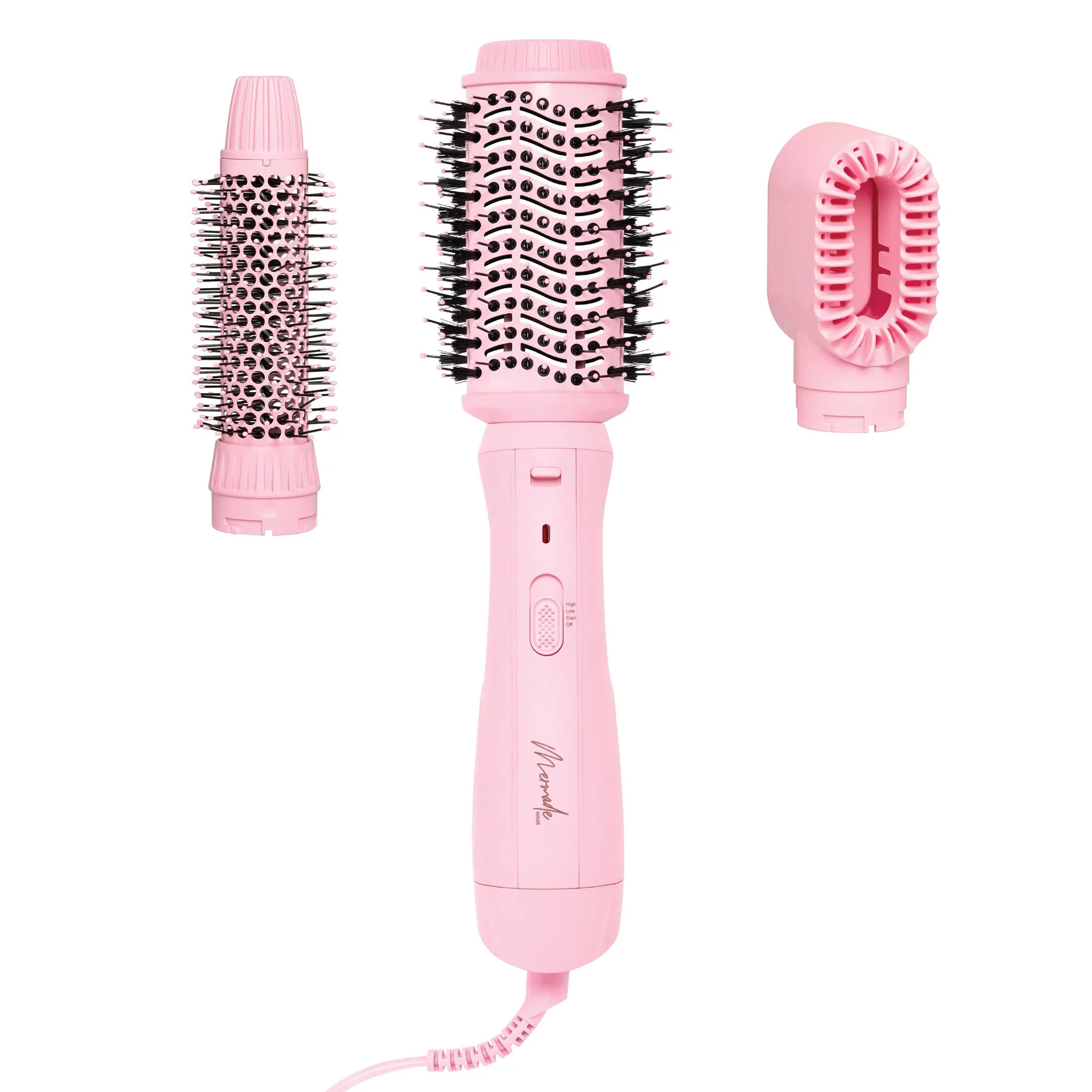 The Mermade Hair Interchangeable Blow Dry Brush is another fantastic tool for those with curly that want versatile styling from a blow dryer brush.
The changeable attachments give you the option to create a curl-enhancing blowout or a more smooth and bouncy look.  The pre-styling dryer helps to dry roots and remove excess water, while the volume head attachment creates a big, voluminous blowout. The curling head attachment is great for more targeted drying and creating curls. The detachable design allows for versatility, easy storage, and travel. 
What we loved about this hair tool was how easy it is to use. It's designed with flexible, tangle-free bristles which make it easier to style and glide through the hair. Plus, the ergonomic slim grip handle makes it easy to hold and style your hair. The tools come with a heat protection glove that protects your hands while you style.
In terms of functionality, the tool has three heat settings that allow you to customize your styling experience and a powerful and professional motor to ensure quick styling. The ionic technology helps to seal your hair cuticle, create shine, and curb flyaways.
Revlon One-Step Hair Dryer & Volumizer – Product Review
Revlon is best known for its makeup products but make no mistake, the brand always come out with high-quality hair care and hair styling tools too! Take for example another favorite of mine, the One-Step Hair Dryer & Volumizer Hot Air Brush. As the name implies, this device makes styling your hair a breeze by drying and straightening damp tresses at the same time.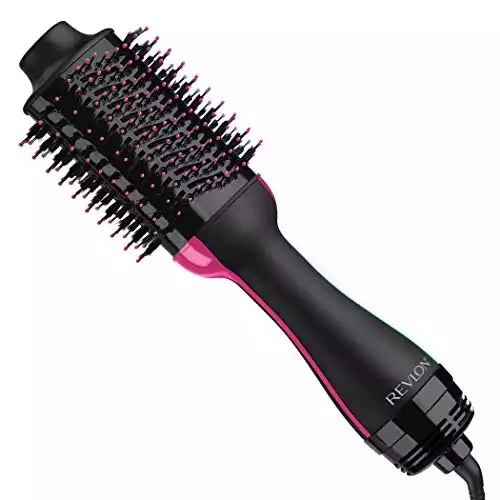 Revlon One-Step Hair Dryer And Volumizer Hot Air Brush
Style, Dry & Volumize Your Hair in One Step.
Unique Non-Detachable Oval Brush Design for Smoothing the Hair, while the round edges creates volume.
3 Heat/Speed Settings with Cool option for styling flexibility.
Buy from Amazon
We earn a commission if you click this link and make a purchase at no additional cost to you.
09/09/2023 05:30 pm GMT
The Revlon One-Step Hair Dryer & Volumizer features an oval brush head with nylon bristles. The combination of the brush head shape and the nylon bristles pumps up the volume, giving much-needed body and life to limp, fine hair without snagging. I get bombshell blow out with this hot air brush.
The brush head is not detachable but it's coated with ceramic. The ceramic material heats up evenly, applying consistent, healthy heat from hair roots to tips. This hot air brush may look chunky so it's not the best one to get if your hair is shorter than shoulder length. However, the ergonomically-designed handle makes the brush easy to control while the ionic technology boosts shine and silkiness. The brush is also surprisingly lightweight, giving you all the control you need to create the perfect hairstyle.
As for the temperature settings, there are three settings to choose from: high, low, and cool. The multiple temperature settings give you utmost styling flexibility regardless if you are straightening or drying your hair! And speaking of drying your hair, the brush head comes with unique air vents that shorten drying time without damage. In fact, the blow dryer brush boasts of 1000 watts of power, it will dry your hair quickly but it won't strip the hair of moisture.
Since this is a one-step hair styling tool, you can look forward to an easy-breezy styling experience day after day! It's best for hair that falls flat by the end of the day. The only downside that I have noticed is that the brush head is quite thick. It will take a little practice to use if you are accustomed to a curling iron or a skinny flat iron. 
INFINITIPRO BY CONAIR Titanium Ceramic Hot Air Brush
Getting a salon-worthy blow out is so easy with the John Frieda Hot Air Brush. With this styling tool, there's absolutely no need to leave the privacy of your home to get super pumped up, lustrous tresses! With the INFINITIPRO BY CONAIR Titanium Ceramic Hot Air Brush, you get long-lasting, professional results in half the time.
The secret to the hot air brush's efficient performance is the titanium brush head. This material is definitely holy grail material if your hair is a nightmare to straighten. Titanium metal heats up quickly, styling the tresses without compromising hair health!
This device comes with different-sized brush heads. If you are looking for a hair styler for short hair, I suggest opting for the thinner brush head. If you have dry hair, however, you need to keep an eye on the temperature settings to prevent hair damage. As you know, titanium hot air brushes increase the risk of thermal damage so always stick to the lowest settings. 
This styling device comes with advanced ionic technology that boosts shine by up to 2 times and gives 3 times the frizz control. The nylon bristles gently unfurl tangles without breaking the hair strands.
Getting the look of a Brazilian blowout is easy with this styling device! It has a hair blower with 500 watts of power and a cool setting that ensures long-lasting, professional results.
The Titanium Ceramic Hot Air Brush is versatile and easy to use. It packs a lot of power yet is so compact and perfect for travel. Choose this hot air brush if you need a one-step styling device that does it all. That said, it's not the best choice if you have fine hair or tresses that are prone to damage. As long as your tresses could take the heat, I'd recommend this one.
INFINITI PRO BY CONAIR Hot Air Spin Brush – Product Review
Conair's Hot Air spin brush is highly rated by users because of its robust, dependable performance and smart features. As you know, I am a huge fan of the INFINITI Pro line. The hot air spin brush comes with all the amazing features that the tools from this line are known for, starting with the tourmaline-ceramic brush head that rotates in two directions.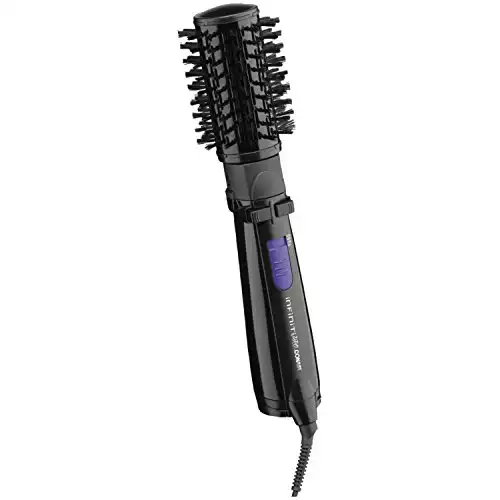 The beauty of tourmaline and ceramic heating materials is that these produce negative ions that reduce frizz and static while enhancing shine and brilliance. If your curly hair is dull, coarse, or dry, you will definitely feel the difference with this hot air brush. Its powerful ionic generator could produce 100 times more concentrated negative ions than most hot air brushes.
Getting a professional blow out is easy with the Conair Infiniti PRO's two heat settings and cool settings. Choose this hot air brush if you need a smoothing hot tool that will dry and/or straighten the hair in no time at all. The two heat settings make the brush versatile, it is ideal for all hair types. It also comes with a cool setting. Once the cool setting is turned on, it won't spin or heat up. This is a great brush if you want to refresh your hair in between shampoos.
The Conair Infiniti PRO gently detangles without breaking the hair strands. With every stroke, the brush stimulates oil production that gives the hair unparalleled shine. The brush head also rotates in two directions with just a touch of a button to add volume. When the rotating function is turned on, it does most of the work for you so styling is infinitely easier and faster. But if you want to take the reins, the Infiniti PRO could be used without the spin function.
Another feature that adds versatility to the Infiniti PRO is that the brush head is detachable. You can choose between a 1 and one-half inch or two-inch brush head. The smaller brush head is best for short curly hair as well as for creating defined curls. The larger brush head is best if you really want to pump up the volume on limp, thin, or fine hair. 
Babyliss Nano Titanium Rotating Hot Air Brush – Product Review
If precision, versatility, and efficiency are what you are looking for in a hot air brush, look no further. The BaBylissPRO Spin Air Brush is bound to be your favorite hot tool! Combining cutting edge technology and power, the Babyliss Nano could straighten, curl, and blow dry the hair in one go. It comes with a rotating brush head that gives you plenty of room for experimenting with different hairstyles!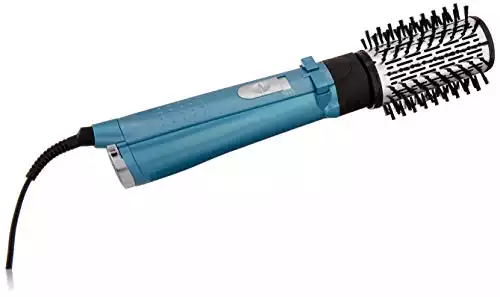 Choose this hot air brush if your hair is wavy to curly! The titanium material reaches high temps quickly and applies consistent heat evenly. Titanium produces more negative ions that polish every hair strand. With every stroke, the hair looks and feels silkier, more lustrous! The titanium material is coated with ceramic so the heat is gentle and less drying than some titanium hot air brushes.
The rotating brush head spins in two directions, it rotates forward or backward. There are three heat control settings to choose from so this styling device is ideal for all hair types! What's more, the controls are ergonomically placed so you don't end up pushing the wrong button while straightening your hair. 
As for the blow drying feature, there are calibrated airflow vents in the brush head that gently dries the tresses without thermal damage. BaByliss is advertising this device as an alternative to a hair dryer. Use until the tresses are slightly damp (about 80% dry), then start working the hair into the hairstyle that you like.
With its powerful features and top-notch performance, the results from BaBylissPRO Spin Air Brush aren't a product of self-serving advertising at all. This is one of the highest rating hot air brushes on the market for a reason. That said, it's not the most budget-friendly but that's something to expect for a titanium hot tool. If you want to splurge on a versatile hot hair brush, one that gives you the perfect balance of power and performance, the BaBylissPRO Spin Air Brush is the best choice for you!
Glamfields Hair Straightening Brush – Product Review
If you need a styling tool that gives you silky, long-lasting results without aggravating your hair issues then add the Glamfields Hair Straightening Brush to your kit. This hair straightening device is best for fine hair that's regularly styled and feels rough and dry due to heat damage. Constant straightening and blow drying could weaken the hair strand, leaving the tresses dry, dull, frizzy and prone to breakage.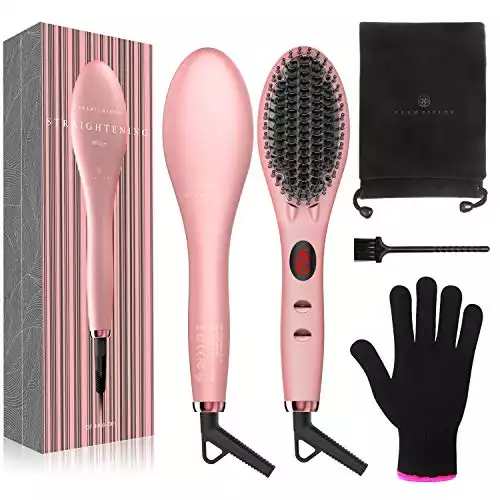 The Glamfields Hair Straightening Brush features advanced MCH technology, which enables the device to heat up in seconds. The wider, denser comb tooth means you could cover more areas so getting a lustrous blow out will only take a few minutes to complete.
Unlike most hot air brushes that only come with two to three heat settings, the Glamfields Hair Straightening tool has 4 heat settings starting from 330˚F that goes all the way up to a toasty 450˚F! The wider range of temperature levels gives you total control over the styling, allowing you to create a variety of hairstyles without scalding.
The brush is made from ceramic material that minimizes hair breakage while boosting shine. The ionic technology could easily straighten curly hair in minutes. Since the design is a traditional paddle brush, this hair straightening device is so easy to use. Durable too, thanks to its solid built.
I like how easy to use this hair straightener is. It's definitely beginner-friendly. One caveat, however, is that it should only be used on dry hair. It won't replace your blow dryer just yet as far as drying wet tresses go but as a hair straightener, this is one of the most versatile brushes on the market. It has a high rating for straightening hard-to-manage curly hair. 
SanMoz Hair Dryer Brush – Product Review
This jumbo hot air brush promises to shorten the styling time in half with its 4-in-1, one-step system. If you have a penchant for multipurpose hot tools like yours truly then you will love the SanMoz Hair Dryer Brush. It's a hair brush, a hair dryer, a curler, and a straightener. This will definitely complete your kit if you are a professional hairstylist! Newbies will also love the value that this hot air brush has to offer. You are literally paying for four hot tools for the price of one.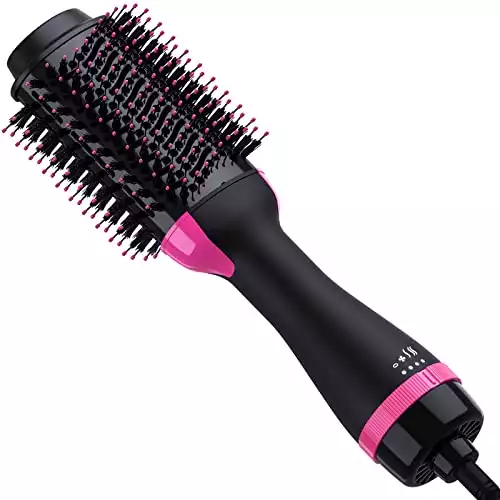 The SanMoz Hair Dryer Brush features a special oval-shaped brush head that styles the hair with accuracy. The shape adds volume while smoothing the body and curling the ends. There is also an anti-scalding patch set at the top of the brush head to give you full control over the brush. This is not just some exaggerated advertising, the brush tip is designed to stay cool to the touch for a comfortable styling experience.
This hair styling tool is coated with ceramic, a material that protects the tresses from thermal damage, dryness, and over-styling. The Ionic technology ensures that every hair strand is polished and smoothened to perfection! According to the brand, this brush will work the best for those with wavy to curly hair that could not hold a curl!
While the design of the device itself is thick and robust, it's surprisingly lightweight. Even if your hair is hard to style, your wrists or arms won't feel the strain at all. This hair straightener comes with 3 heat settings: high, middle and low. According to the brand's advertising, use the lowest setting if your hair is fine or delicate. For those with medium thick hair, opt for the middle setting. The highest setting is best used for thick, coarse, curly hair that refuses to cooperate.
As for the blow dryer, the ceramic-coated, non-adjustable head offers 1000 watts of power. It will dry your hair in minutes, cutting the styling time even further. The beauty of the hot air brushes like the SanMoz Hair Dryer Brush is that it can replace a traditional hair dryer! To top it all off, the SanMoz Hair Dryer Brush is affordable! All that cool features for barely 35 bucks, what's not to like? 
Which hot air brush can be used on all hair types?
Personally, versatile hot tools that come with variable heat options work the best for all types of hair. As you know, temperature is the factor that affects the quality and longevity of a hairstyle. If the hot tool you chose cannot reach the ideal temperature that works with your hair type, you won't get the finish that you expect!
The hot air brushes on our list have heat options that vary from low to high. If your hair is thick, coarse, wavy, or curly, set the temperature on high. If you have medium density, normal hair, opt for the medium setting. For fine hair, damaged hair, and hair that's prone to heat damage, set to the lowest setting.
What Type of Hot Air Brush is Best for Curly Hair?
It will depend on your hair type but for curly hair with coarse, thick hair strands, titanium hot air brushes are the best for taming unmanageable tresses. The material produces more negative ions that smoothe every hair strand. The titanium alloy applies high heat evenly so the brush is able to tame the most unruly hair. 
If your curly hair has fine hair strands and it's prone to thermal damage, I highly suggest choosing ceramic or ceramic tourmaline hot air brushes. The ceramic or ceramic-tourmaline material styles the tresses without leaving the hair dry, brittle, or rough. These hot tools are gentle enough to tame delicate tresses but are versatile enough to work even on thick hair. From our list, here are my recommendations for fine curly hair:
What Kind of Brush is Best for Curly Hair?
I'd say, opt for a hot brush that comes with flexible bristles. If the bristles of the hot brush are stiff and unyielding, you might end up breaking the hair strands. If the bristles are flexible, knots and tangles are eliminated gently without causing hair breakage. All the hot tools we've outlined on our list have flexible bristles that detangle and straighten hair with ease!
How you brush your hair matters too. Don't yank at the brush too hard especially if your hair is damp. The hair is at its weakest when it's wet or damp. Brushing too hard could cause the hair strands to break, which could lead to split ends and hair thinning. 
The Verdict
The thing to remember is this: this hair type may look thick and strong but the hair strands are just as vulnerable to heat damage! Curly tresses may have a life of their own but choose a hot air brush that could tame the hair without leaving the hair parched and rough.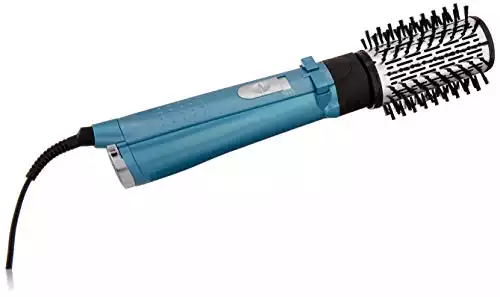 I'm happy to report that the hot tools we've outlined above are some of the highest-rated airbrushes on the market. They're versatile, and durable, and they work on all types of hair. You can't go wrong with any of these hot tools if you have curly hair!
Leah Williams
Leah Williams is the founder of Lucky Curl and has been in the hair care and styling industry for the last 15 years. Since then, she has developed incredible expertise and a deep understanding of how to treat and style the most difficult hair types and is passionate about sharing her knowledge with the readers of Lucky Curl.