We reviewed 9 best-selling products and found the Revlon One-Step Dryer & Volumizer to be the best hot air brush for fine hair.
A hot air brush is easily one of my favourite styling tools for good reason. They allow you to create a salon-quality blowout at home. Like with curling irons and hair straighteners, those with fine hair will want to find a product that is suited to their specific hair type. 
Anyone with this hair type will know that any hot air brush or hot styling tool will not do. It has to be a product that is not going to cause damage to fine hair.
When suggesting the below hot air brushes, me and my team factored in the nuances of caring for fine and thin hair. 
There are so many great hot air brushes on the market, but I have found the Revlon One-Step to be best suited to those with fine or thin hair types.
Keep reading to see how the other hot air brushes we reviewed compare.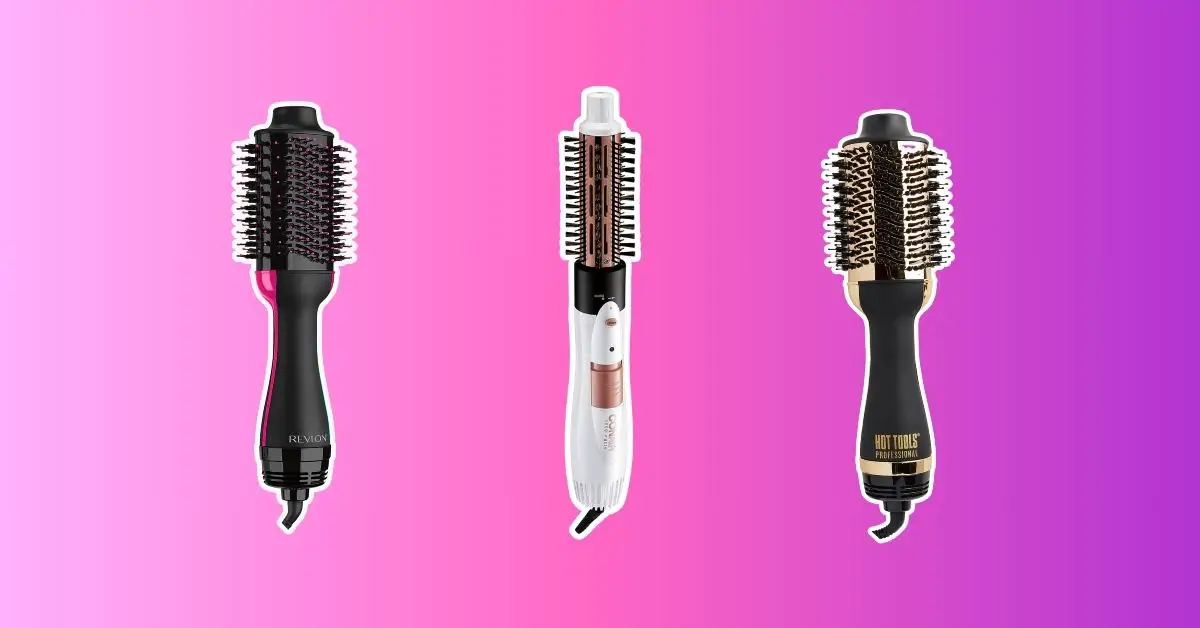 What is the Best Hot Air Brush for Fine Hair?
After reviewing and researching several hot air brushes, we found the Revlon One-Step Dryer & Volumizer hair dryer brush to be our pick. The name is a mouthful, but this is one of the OG hot air brushes of the 21st century that made this hair tool popular again.
The ceramic barrel and negative ion tech work to keep your hair smooth and healthy with every brush. Unlike a hair dryer and flat iron combo, this retains the hair's volume. It has an ergonomic design that prioritizes the user's safety so styling your hair is a burn-free experience.
With that said, all the hot air brushes we have featured in this list are well-rated by the hair and beauty community. To help you decide which product is right for you, we have included a product comparison table below.
12/04/2023 09:30 am GMT
9 Best Hot Air Brushes for Fine Hair Reviewed
Revlon One-Step Hair Dryer & Volumizer Hot Air Brush
This hot air styler is easily the highest-rated device of its kind and I get why. Not only is the Revlon One-Step hair dryer brush fast and easy to use, there is no need to pre-dry before styling your hair, making it one of the best options for on-the-go straightening. 
It has a built-in ION generator that boosts hair styling without drying out the hair. The ceramic coated barrel polishes every hair strand brush after brush. It's also incredibly gentle on the tresses. The Revlon One-Step hair dryer brush has nylon pin and tufted bristles that detangle the hair without breakage.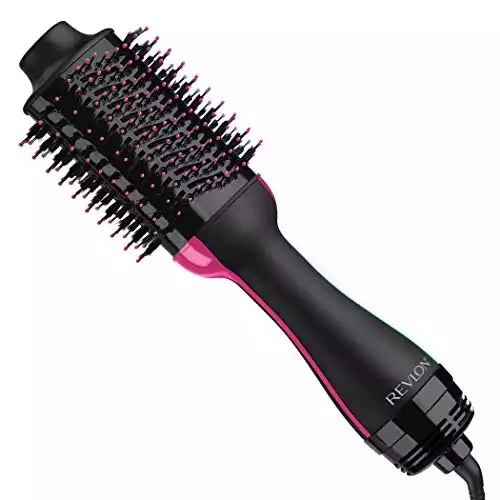 Revlon One-Step Hair Dryer And Volumizer Hot Air Brush
Style, Dry & Volumize Your Hair in One Step.
Unique Non-Detachable Oval Brush Design for Smoothing the Hair, while the round edges creates volume.
3 Heat/Speed Settings with Cool option for styling flexibility.
Buy from Amazon
We earn a commission if you click this link and make a purchase at no additional cost to you.
12/04/2023 09:30 am GMT
The rounded bristles also stimulate oil production brush after brush. It boosts hair shine and softness while also pumping up the volume! You know how it is when you have thin hair, volume is always a problem. But with the Revlon One-Step, the hair is not only sleek and healthy-looking, it also adds body in one easy step!
It's the perfect hair brush for controlling hard to manage locks too. It comes with a variable dryer and temperature setting, allowing you to work on the hair quickly. The innovative airflow vents cover more ground, cutting the styling time in half. The adjustable settings offer customized finish each time.
If you're the type who keeps burning her fingers from hair styling, you will love the Revlon One-Step's cool tip. The indented cool tip gives you full control of the brush for consistent, flawless results. 
Mermade Hair Blow Dry Brush
Mermade Ionic Blow-Dry Brush
Flexible bristles 
Two heat settings 
Lightweight design 
Ionic technology
Oval brush shape 
Buy from Mermade
We earn a commission if you click this link and make a purchase at no additional cost to you.
The Mermade Hair Blow Dry Brush is the perfect tool for adding volume to flat and fine hair. With its tangle-free, boar-free, flexible, and nylon-hybrid bristles, the brush makes it easy to style hair and create bouncy 90's style blowouts.
The brush also features ionic technology that helps seal your hair cuticle, protect your follicle, create shine, and eliminate frizz. The oval brush shape and slim grip handle make it easy to style your hair and create beautiful curves. The powerful and professional grade motor with 8.2ft swivel cord makes this blow dryer brush the perfect tool for both wet and dry hair.
The Mermade Blow Dry Brush has a similar oval design to some of the other stylers featured on this list, however, we found it to be extremely lightweight compared to other models. And did we mention it's pink?! 
Dyson Airwrap Complete Styler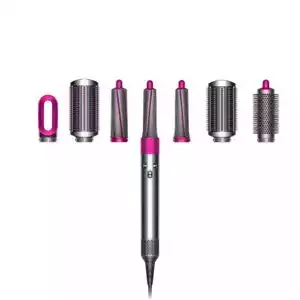 The Dyson Airwrap Styler is a game-changer for those with fine hair and is the perfect tool for creating beautiful, voluminous curls or waves.
Unlike other hair stylers that use high heat to style, the Airwrap uses air flow and controlled temperature to curl, wave and smooth hair. The intelligent heat control that does not exceed 150 degrees Celsius, the Airwrap styler uses only air to attract and wrap hair, resulting in less static and frizz.
The included 1.2 inch Airwrap barrels are engineered to create voluminous curls or waves, while the soft smoothing brush creates a smooth, blow-dry finish. The round volumizing brush is perfect for adding volume and shape to fine, flat hair, and the pre-styling dryer takes hair from wet to damp to prep for styling. The one-click attachments and cool-touch tips make it quick and easy to change attachments while styling. Plus, the symmetry barrels ensure even results.
HOT TOOLS Professional 24K Gold Charcoal Infused One-Step Blowout Styling Tool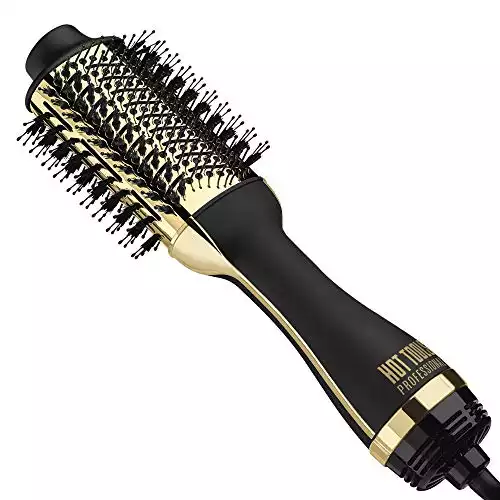 HOT TOOLS Professional 24k Gold One-step Blowout Styler
Charcoal-Infused Bristles are perfect for refreshing 2nd day hair
24K Gold styling surface for even heat distribution and consistent results for all hair types
3 Heat / 2 Speed Settings for styling versatility
Buy from Amazon
We earn a commission if you click this link and make a purchase at no additional cost to you.
12/03/2023 01:30 am GMT
Next on our list is the luxurious looking yet effective 24K Gold Charcoal Infused One-Step Blowout from HOT TOOLS. It has a similar oval-shaped barrel to Revlon One-Step. However, there are some distinct differences. 
First off, the design. This makes every styling process an experience! The oval-shaped barrel is crafted from shiny, gold-infused material. The ergonomic design makes this styling tool easy to control. The brush features an H9 variable geometry oval barrel that guarantees exceptional straightening. The curved edges allow you to style your hair from the roots to the tips, boosting volume and shine in one go.
The 24K gold technology delivers even, healthy heat, giving you a consistent finish that lasts. Direct ION technology, on the other hand, helps retain the neutral charge of the hair strands, preventing frizz, static, and flyaways. The IONIC technology also seals in moisture so your hair remains soft, shiny, and hydrated even if you style your hair on a regular basis!
The HOT TOOLS Professional 24K Gold Charcoal Infused One-Step Blowout styling tool boasts of Boar Tech 2 Bristles with silk glide. The bristles also come with refresh technology, each one is infused with charcoal, so the hair remains fresh and beautiful all day long! The hot brush applies even heat while detangling the hair without breakage. It also has temperature controls and 3-speed settings for optimal styling control.
If you style your hair on a fairly regular basis and you have a penchant for high-end hot air brushes, the HOT TOOLS Professional 24K Gold Charcoal Infused One-Step Blowout styling tool is going to be one of the best hot air brushes for you. It features a lovely gold barrel that applies even heat to the hair. It's packed with amazing features and technology to tame even the most rebellious hair. I'm happy to report that the device is so easy to use!
L'Ange Hair Le Volume 2-in-1 Volumizing Brush Blow Dryer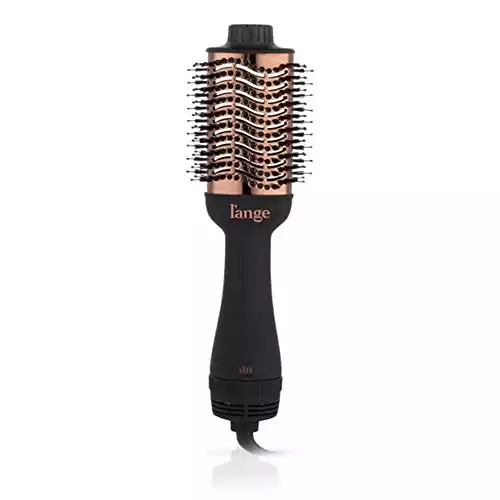 A recent addition to the list is the Le Volume 2-in-1 Volumizing Brush Dryer from L'ange. 
If you haven't heard of the L'ange brand before, they are renowned for their best-selling hair straighteners, curling irons and various other styling tools. 
As the name promises, the Le Volume delivers much-needed volume to flat and fine hair. The versatile hair dryer brush allows you to create an array of styles from smooth and sleek strands, a bouncy blowout and the 1990s flicked-up ends. 
One of the features I really love about this hair dryer brush is the ergonomic oval-shaped barrel. It makes styling efficient and easy – there's no complicated rotating or wrap function. Iconic Technology delivers 360° airflow thanks to a powerful DC motor.
In terms of material, Le Volume is made with titanium plates which allow for even heat distribution and ultimately super swift styling.  

My advice for those with fine hair would be to stick to the low setting. This will be more than sufficient in order to achieve the results you are after without causing unnecessary damage to your hair.
John Frieda Hot Air Brush
If you are new to hot tools then you are probably not familiar with the John Frieda brand but it's one of the best brands for premium hair care products. The John Frieda Hot Air Brush is a testament to the brand's commitment to providing innovative tools equipped with the latest technology and groundbreaking settings. It makes our list of best hair dryer brushes for several reasons.
Featuring advanced IONIC technology, the John Frieda Hot Air Brush dries and styles still-damp hair to perfection. The extra-wide barrel lets you work on bigger hair sections so styling is not only easy, it's also fast.
Unliked the Revlon One-Step, this tool has a round brush. The barrel is made from ceramic-coated titanium material. As you know, titanium and ceramic materials produce negative ions. Although titanium is not the best material for thin hair, you have total control over the heat via the adjustable temperature settings. As long as you keep an eye on the heat level, you're good to go.
The brand's proprietary IONIC technology boosts hair shine by up to two times and three times frizz control compared to other dry and style hot tools. According to a user report, this hot tool effectively straightens the tresses without damage.
Jinri One-Step Hair Dryer & Volumizer Hot Air Brush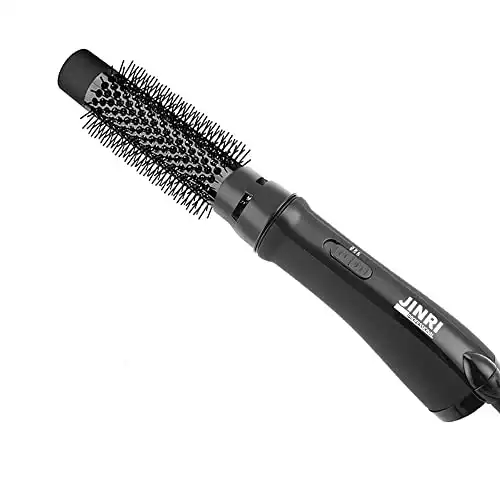 Jinri One-Step Hair Dryer & Volumizer Hot Air Brush
Negative ion saturated airflow helps to condition, smooth the hair, while reducing burrs and static electricity.
Ceramic tourmaline prevents over-drying and heat damage.
Tangle-free anti-static nylon and horsehair bristles.
Buy from Amazon
We earn a commission if you click this link and make a purchase at no additional cost to you.
12/03/2023 02:30 am GMT
Jinri is one of the most underrated makers of hair dryer brushes, IMHO. It doesn't enjoy the same popularity as Conair or Remington, but the brand always comes out with winning hair tools that are just as good as popular models! Take, for instance the Jinri Hot Air Brush! This is a one-step blow dryer brush that boasts a revolutionary non-drying and smoothing technology.
The smoothing barrel is coated with ceramic material. IONIC technology boosts brilliance and neutralizes radiation. The hair looks and feels softer, more lustrous. The device delivers gentle, consistent heat that enhances the life of the hairstyle. It's ideal for all hair types, but it works particularly well for people with thin locks! The soft, flexible nylon pin and tufted bristles gently detangle without breaking the hair strands.
The unique oval-shaped brush allows you to style your hair in so many ways. As far as performance goes, this device works just great as a regular curling iron, thanks to the size of the barrel. Styling is just as easy-breezy, the Jinri One-Step Hair Dryer & Volumizer Hair Dryer Brush works on damp or dry hair. You can create soft curls and waves with it, apart from straightening the hair.
If you are the type who owns several hair dryers, you'll be impressed with just how well this hot air brush dries fine hair, it's quick and almost effortless. You might never reach for your favorite dryers after trying out the Jinri One Step Hair Dryer Hot Air Brush. The dryer uses 1,000 watts of power, able to dry even the thickest manes. And if the settings are incorrect, the hot brush would stop working, preventing accidents or uneven results. 
Conair Double Ceramic 3-in-1 Hot Air Brush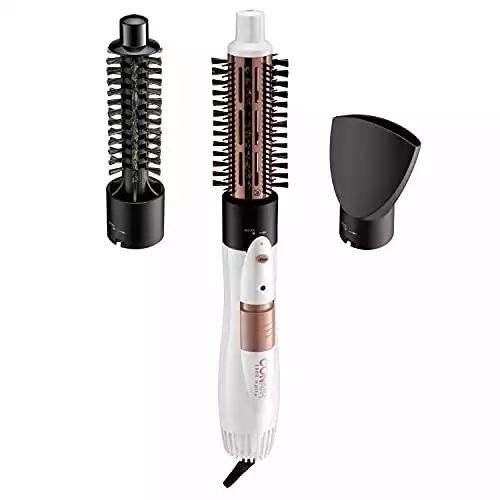 If you are after a versatile styling tool on a budget, then consider the Conair Double Ceramic 3-in-1 Hot Air Brush.
This advanced styling tool features Double Ceramic technology for even heat and fast styling, plus two-speed settings and a cool tip for easy handling. The 1¼-inch thermal brush is perfect for curling or straightening, while the ¾-inch nylon + boar bristle brush is ideal for creating beautiful, bouncy curls. And the concentrator attachment helps you achieve sleek, silky-straight results. So whether you're looking to add some curl or wave to your look or just want to keep your locks super-sleek and straight, this hot air brush has you covered.
Hot Tools Pro Artist Hot Air Styling Brush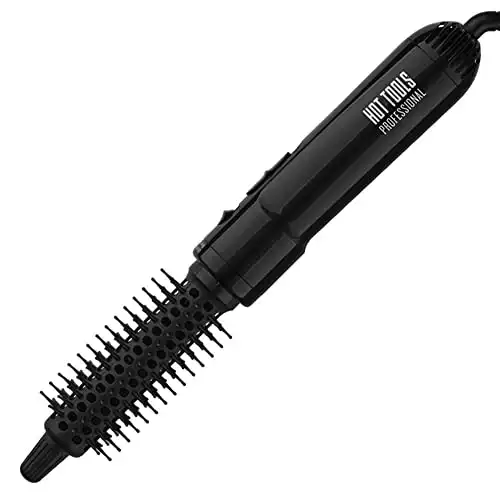 The final inclusion in our list is The Hot Tools Pro Artist Hot Air Styling Brush.  This versatile tool can help you create easy, stylish looks for fine hair.
The multi-vent barrel and outfitted flexible, ball-tipped bristles work together to gently comb your hair and release it easily, avoiding tangled strands. The brush also features two heat/speed settings to suit your styling needs, as well as a professional cord and soft-grip handle for a comfortable experience. 
One thing to note about this hot styling brush is that is not very powerful – it only has a mere 250 watts of power. Those with very fine hair might favor this if looking for minimal heat exposure and quieter styling tools.
Product Comparison
| | | | | |
| --- | --- | --- | --- | --- |
| | | | | |
| Revlon One-Step Hair Dryer & Volumizer Hot Air Brush | | | | |
| Dyson Airwrap Complete Styler | | | | |
| HOT TOOLS Professional 24K Gold Charcoal Infused One-Step Tool | | | | |
| L'Ange Hair Le Volume 2-in-1 Volumizing Blow Dryer Brush | | | | |
| INFINITIPRO BY CONAIR Titanium Ceramic Hot Air Brush | | | | |
| Jinri One-Step Hair Dryer & Volumizer Hot Air Brush | | | | |
| Conair Double Ceramic 3-in-1 Hot Air Brush | | | | |
| Hot Tools Pro Artist Hot Air Styling Brush | | | | |
A Guide to Buying the Best Hot Air Brush 
What should I look for in a hot air brush?
I'm not one to fall easily to splashy advertising and I'm very picky with my hot brushes. I suggest the same, be selective when it comes to your hot tools, especially if your hair is fine and prone to breakage. You don't want to choose the wrong product because you might end up not using it at all. That's money wasted right there.
To help you choose the best styling brush for you, we've outlined the two different types of hot air brushes that you can find on the market:
Stationary Hot Air Brushes
As the name implies, these are hot brushes that do not move. They do not rotate. If you are batty about control, best to choose this one. This hot tool is suitable for you if you prefer styling your hair manually. You will roll and glide the brush yourself.
I like this type of hair dryer brush because it minimizes tangling and breakage. If your hair strands are thin and weak, they are less likely to break if you are controlling the brush.
The finish is also exactly how I want it because I have 100% control over the device. A stationary hair dryer brush is more affordable compared to a rotating brush so it's a double win for those with fine hair.
Rotating Hot Air Brushes
A rotating hair dryer brush comes with a rotating brush head. These hot tools are designed to boost volume and bounce.
A rotating hot air brush is best for fine hair although you have to be careful with it. Since you cannot control the rotating brush, your fine hair might end up a tangled mess if you're not careful.
What Styling Products Can I Use on Flat, Fine Hair?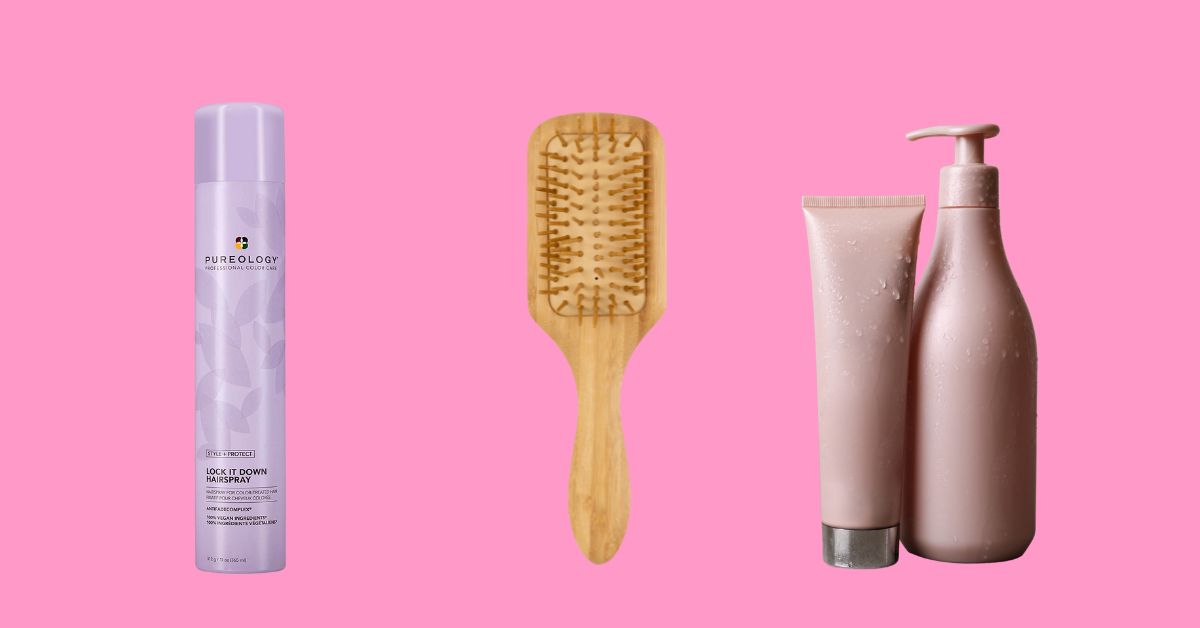 Fine hair is a tricky beast. When adding volumizing products, you must be careful not to weigh down the locks. The wrong mousse can turn your fine hair into a flat, sticky mess. Here are some products that you can use on fine hair.
Volumizing shampoo and conditioner
Start with a base of volumizing shampoo and conditioner. You need to take care of your scalp and strands by removing grime and impurities so hair looks more lifted. Conditioner is also a must for repair, especially after heat styling.
Mousse
Hair mousses, when used the right way, can infuse strands with a thick appearance. Mousse is good for adding texture that fine hair craves.
Soft hold hairspray
A soft hold and thickening hairspray will create body in limp locks. It's important to keep your hair in place without making it look matted or greasy.
Dry shampoo
Dry shampoo creates much-needed texture and is good for refreshing second day hair. Sprinkle the powder on your roots for grit and body.
Hair powders with fibers
Products that contain fibrous materials should match your hair color. These fiber powders may contain keratin. It makes hair look fuller and is easy to wash off.
Serums and leave-in conditioner
Prevent breakage by using moisture-rich products like hair serums and leave-in conditioners. You don't need to apply too much. Make sure to concentrate on the ends. This is a surefire way to prevent breakage and keep your locks happy.
Wrap Up
In determining which are the best hot air brushes, fine hair types need specific consideration as not to damage their locks. 
Whether you prefer a rotating hair dryer brush or a static one, like the Revlon One-Step Volumizer, our top pick, you have to be mindful of thermal damage. The bristles of the brush should glide, not pull, on the hair.
We love the Revlon brush for fine hair because it uses negative ions to keep hair moisturized and frizz-free. It has a simple design that's good for beginners and experts alike. Multiple heat settings help you steer clear of overdrying and burning the hair.
This blow dryer brush makes you look forward to hair styling because it volumizes in one stroke. You may just bid adieu to your flat iron.
Leah Williams
Leah Williams is the founder of Lucky Curl and has been in the hair care and styling industry for the last 15 years. Since then, she has developed incredible expertise and a deep understanding of how to treat and style the most difficult hair types and is passionate about sharing her knowledge with the readers of Lucky Curl.