My hair tends to lie limp around my head much to my dismay. I have probably used up a lot of volumizing shampoo to no avail. I knew I had to find a way to give my hair its bounce and looked into hot air brushes. That's how I came across the John Freida Hot Air Brush to style my hair.
Introducing the John Frieda Hot Air Brush
John Frieda hot air brush is one of the best hot air brushes based on several reviews. Often compared to Revlon One-Step Dryer & Volumizer, the former works best with fine to medium thick hair but it has specs that can match its competition easily. It has two heat settings plus it produces more negative ions to combat frizz. Using this hair dryer is going to CHANGE how you style your hair completely.
Pros:
1 1/2 inch thick barrel makes it easier to dry and style short to medium length hair.
Equipped with antistatic bristles to prevent strands from getting tangled on the barrel.
Emits negative ions to keep frizz from forming.
Cons:
Works better on 80% dry hair rather than wet.
The size of the barrel means that styling is slow on longer hair.
Not suitable for women with thick to curly hair.
A Review of the Features and Benefits of John Frieda Hot Air Brush
The iconic hairdresser, John Frieda, made it possible for us to achieve that salon finish with an easy-to-use hot air brush in the comforts of our own homes. If you are unsure whether to use this product or not, here are its features and benefits that you will get from it.
Features
Design
This hair dryer-and-styling tool has an ergonomic and lightweight design that prevents fatigue when you use it. I love how my fingers can wrap comfortably around the handle with the temperature settings within easy reach.
Advanced Ionic Technology
One of its best features is the advanced ionic system that prevents frizz from forming as you use the brush on your hair. This technology not only makes frizz disappear, but it also helps in creating that soft and salon-style finish too.
Heat Settings
This product is equipped with two heat settings and one cool setting. The colder temperature is best suited to seal in the style meaning that this should be toggled once you are done heating and styling the strands.
Ceramic Coated Titanium Barrel
John Frieda made it a point to use titanium on the barrel as this material is quite capable of handling high heat. The ceramic coating ensures that the heat is evenly dispersed throughout the barrel for faster styling results.
Anti-static Bristles
According to several reviews that I have read, this hot air brush comes with anti-static bristles that minimize tangles when in use.
Affordability
Compared to its competitors, this product is considerably cheaper but it doesn't mean that it is using substandard materials. I believe this is a good option for those who are looking for an affordable air brush to style their hair with.
Benefits
Now that you have an idea of what features to expect with the John Frieda brush, let us continue this review by discussing its benefits. I was able to test this product out and have jotted down the benefits that I gained from it, including what others have said based on their reviews.
Instead of having to wait until my hair is completely dry, or using a blow dryer to speed up the drying process, this hot air brush actually works well on damp hair. Take note that I said damp and not wet here in my review. If your hair is at least 85% dry, you can already use this tool to create that perfect blowout.
Another thing that I noticed with this styling tool is that it is not that hot compared to flat irons or curling wands even. I really thought that I would damage my fine hair with it but it did not. The heat is suitable for all kinds of hairstyles and that there are no hot spots to worry about. Also, I won't be burning my fingers with it which is a huge relief.
There are two hot settings and one cool setting in this product which, based on various reviews, give you more control over the amount of heat that you are going to use. I think that the two hot temperature settings vary to suit different hair types. Fine hair strands that are prone to breakage are suited for low settings while those with thick hair can withstand high temperatures. The cool setting seals the style which can last for a few days.
Its lightweight and ergonomic construction make it easier to manipulate. I like how easy it is for me to have a good grip on the handle as I pass it through my hair.
Thanks to its anti-static bristles, I did not experience any tugging or tangling of strands whenever I use it. If you look for other reviews, I am sure that they will say the same.
Another benefit that I think is worth mentioning here is the fact that the barrel of this brush is made from titanium. Titanium is often used in styling tools because it can withstand high heat. And to make this product even better, the barrel has been coated with ceramic which is yet another material that is known for dispersing heat evenly.
At its current price, Frieda's hot air brush is easy on the pockets without compromising the quality of materials used.
What else is there to like about this product? I think that this styling tool is better than using a blow dryer because one, it delivers even heating on hair strands, two, it styles my hair at the same time, and three, it gets the job done faster thus saving me precious minutes.
Social Proof
I have been reading up reviews and so far, most of the comments of fellow users were more on the positive side. I think that this is a good sign that John Frieda was able to put together a styling tool that addresses a lot of people's hair styling needs.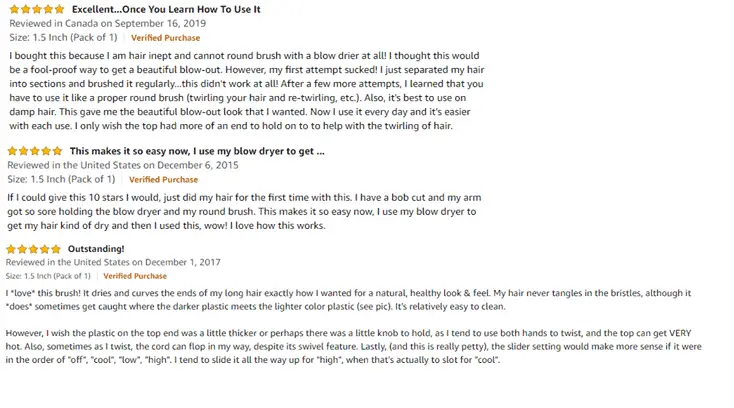 Alternative Products to Consider
There are other products that are worth looking into as well if you want to use a different air brush.
INFINITIPRO By Conair Spin Air Rotating Styler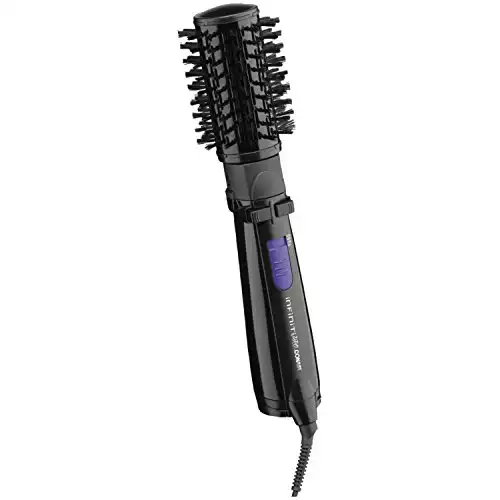 This dry and style tool is a round brush that is multidirectional. It is made from tourmaline which does not break the hair strands when used. It is capable of reducing frizz thanks to its ion generator so you can style and tame your hair at the same time. The boar and nylon bristles are both soft and tough at the same time while preventing tangles from occurring. I suggest that you use this styling tool while your hair is still damp to encourage the strands to follow the hairstyle that you are doing. Select the cool temperature to seal the style on your hair.
I would say that this is a good option too, but it is a bit expensive compared to John Frieda's offering. It does have a bigger barrel that suits those who have longer and thicker hair which is a plus to this model. I tried using it on my own hair and although I did find my fine hair having more volume, its 2-inch barrel is not appropriate for me. I think I am better off using a thinner barrel, but if you need a styling tool that suits that thick hair of yours, I do recommend this one.
BaBylissPRO Nano Titanium Rotating Hot Air Brush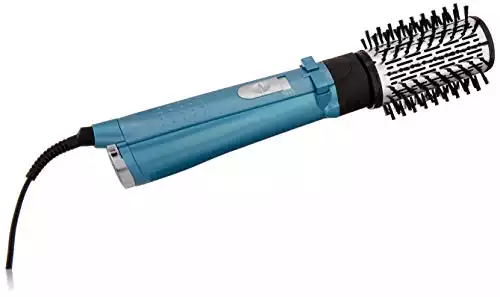 BaBylissPRO is definitely a pro when it comes to heating and styling hair to create that perfect salon finish. I like its slim design as it is a comfortable fit for my hands. Among its features include a rotating barrel that moves forward and backward depending on your preferences. It delivers a consistent flow of warm air into the barrel to heat, dry, and style your strands without damaging them. I like that the controls are appropriately positioned on the handle so I can switch from hot to cold in an instant. Based on reviews, this product is best used when hair is about 80% dry give or take. It does have a nano titanium technology that delivers even heating on hair strands thus minimizing overheating that may lead to dry and brittle hair.
There are three temperature settings here with the first two aiming to dry and style while the third one, which is for cooling the strands, is suited for the final touches. In my experience, this does work as a finishing tool for your hair, but I may not be so eager to part money for this expensive product. Still, BaByliss did use various high-end materials in the construction of this $79.99 styling tool which I think should be taken into account if you want to get a pricier hairdryer.
Things to Consider Before Buying A Hot Air Brush
The John Frieda hot air brush works fine with all hair types and various lengths too. I have tried it on my fine hair and I saw a significant improvement to it. I also tried on my friend's layered hair and it worked just fine. It appears that this brand hit it right when it comes to hair types.
Aside from this brand, I know that you may be looking for something else, which is why I thought it would be a good idea to share the factors that I considered when hunting for a hairdryer that will work favorably on my thin strands. Here are my suggestions.
Barrel Size. The size of the barrel is an important factor because it tells you how loose or tight the curls you will get with it. If you want to add more volume, a stout barrel brush will work best. If you want to have more pronounced curls, a thin barrel is recommended to achieve your desired results. Also, a 2-inch barrel is ideal for those who have medium to long hair, but if you are sporting a bob or short hair cut, stick with a 1 1/2 inch barrel instead.
Variable Setting or Preset. Another factor that you should take note of when shopping for a hot air brush to use for your hair is to consider whether you will go with a tool that has a variable setting or a preset. If you are already skilled in wielding this drying and styling tool, the variable setting is a must-have. On the other hand, if you are just a newbie, the preset settings will make it more convenient for you to use this product.
Bristles. The spacing of the bristles on the barrel will determine which hair type it will suit best.
Conclusion
After careful consideration of my options for a hot air brush, I believe that John Frieda's take on a hot air brush is a clear winner. It has the right size barrel for my fine hair, temperature controls that will heat up and cool down my hair, and it is affordable too. I never thought that there will come a time when I will ditch my blow dryer and hair straightener in favor of a single styling tool.
Leah Williams
Leah Williams is the founder of Lucky Curl and has been in the hair care and styling industry for the last 15 years. Since then, she has developed incredible expertise and a deep understanding of how to treat and style the most difficult hair types and is passionate about sharing her knowledge with the readers of Lucky Curl.