Straightening my hair hasn't been that easy because it is thick and wavy too. I was desperate to get that sleek look, but I ended up burning my hair when I used a non-ceramic iron. It was that bad! Now I am looking for the best professional flat iron to achieve the style that I want.
What Flat Irons Do Most Salons Use?
Since my thick, wavy hair needed some styling from time to time, I decided that I should invest in a straightening iron that will get the job done. The last time I went to the salon, I asked my hairdresser how I could make my hair straight like it was done in a salon. She was happy enough to suggest that I get a professional grade flat iron.
So far, the nano ionic hair straightener did a better job on my hair than I expected. Most salons have different flat irons to accommodate various hair types. That is why you will see their straighteners to have either ceramic or titanium plates which are both known to help style hair in high heat without causing damage to the hair strands. Ceramic plates are known to heat up fast, but they are slower compared to titanium.
I have also seen them using flat irons that have tourmaline plates which help speed up the process of straightening one's hair and leaving that shiny sheen to it. Also, professional stylists use irons that have ionic plates too because they are the best in terms of minimizing frizz. This type of styling tool is best for those who have coarse hair since it reduces the presence of frizzy strands.
What are the Benefits of a Professional Flat Iron?
As much as I would like to have my wavy hair straightened by a stylist, going to the salon regularly can take a chunk out of my wages. The best recourse for me, and you for that matter, is to invest in a hair straightening iron instead. Here are some benefits that I found out when I did buy one for my personal use.
Saves time and money. 

Investing in professional hair straighteners is guaranteed to save you time and money. Instead of paying a stylist to straighten your hair, you can do it yourself with a flat iron. You just plug it in, wait for a few seconds to heat the plates and you can start straightening your hair after.

Convenient to use. 

Another benefit of using straighteners for hair is that they are convenient to use because you can style your hair on your own. There is no need to ask for help with straightening out your hair because you only need to choose the right heat settings for your hair type and the iron will get the job done quickly.

Safe to use on colored hair. 

I have added highlights to my hair before and I was worried that using a straightening iron will damage my already brittle hair strands. Surprisingly, they did not!

Versatile. 

A hair straightener isn't limited to just straightening whatever hair type you have, but it can also be used to create waves, add more definition to your curls, and even minimize the frizz. I love that I get to change my look any time I want to without buying another styling tool.

Portable. 

Another benefit of using a professional flat iron is that its compact size makes it easy to bring with you wherever you go. I always style my hair whenever I leave my home that is why I have come to rely on this tool even when I am traveling to make my hair look awesome.
What to Look for in a Flat Iron?
I am a sucker when it comes to my hair and because I am fond of tweaking my hairstyle from time to time, I have made it a point to purchase a professional iron to add to my styling tools. But I was overwhelmed with the choices at first which I think you will feel the same if you happen to search for a flat iron. I know it's going to be tough to land the right one, that is why I have made a list of what you should look for in flat irons.
Heat settings. 

The flat iron that you should get should have a heat control to prevent damaging your hair. Of course, it would help if you know what your hair type is. For example, if you have coarse hair that you would like to straighten, flat irons that can heat up quickly is a good choice. Don't buy an iron that doesn't have any option to increase or decrease the heat it generates.

Weight. 

It is a good idea to weigh flat irons based on the texture of your hair. A ceramic flat iron is ideal for those with thin hair, while titanium plates are recommended for those with thick, coarse hair. The negative ions coming from titanium plates can also help reduce frizz.

Size. 

The size of the flat iron is also a factor to consider. You will find that the size of an iron styling tool can vary as well as the width of the plates. For those who have shorter hair, look for a straightening iron that is flat and thin. Larger sized flat irons are perfect for those who have thick and coarse hair.

Plates. 

I have already mentioned that professional straightening tools come with different plates. You have the ceramic which is best known for even heating without hot spots, then there is titanium which has higher amounts of negative ions in it. Tourmaline is ideal for creating an extra sheen to the hair while ionic styling tools reduce the appearance of frizz. Just like with the heat settings, it is better that you determine what your hair type is because each plate is suitable for a specific type of hair.
Best Professional Flat Iron Review
KIPOZI Professional Flat Iron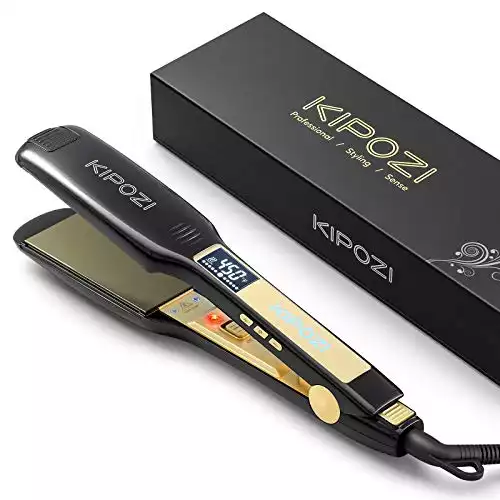 We earn a commission if you click this link and make a purchase at no additional cost to you.
I love how quickly I was able to straighten my hair with this titanium flat iron. The temperature settings made it easier for me to calibrate the heat based on the type of hair that I have. The negative ions being released between the plates helped in taming the frizz too which often happens to me whenever I use a styling tool. I like that this iron is thin and easy to handle when styling my hair which made straightening my hair a breeze. The panels are wide enough to handle my thick hair though the thin plates got me a bit worried.
Pros:
It can reach up to 450 degrees Fahrenheit in a few minutes without any hot spots.

I like that the 1-inch plates don't tug at your hair when you glide them on your hair plus its 365 degrees cable make it easy to wield.

The negative ions give me the guarantee that any frizz from straightening my hair will be removed.
Cons:
A reviewer noted that the plates tend to heat up too much that it was too hot to handle and even damaged her hair.

Another user said that the plates tend to lock up which made it difficult for them to get an even outcome.

I did notice that there were instances when the plates don't stick together that well which means I had to press down harder.
ghd Platinum + Hair Straightener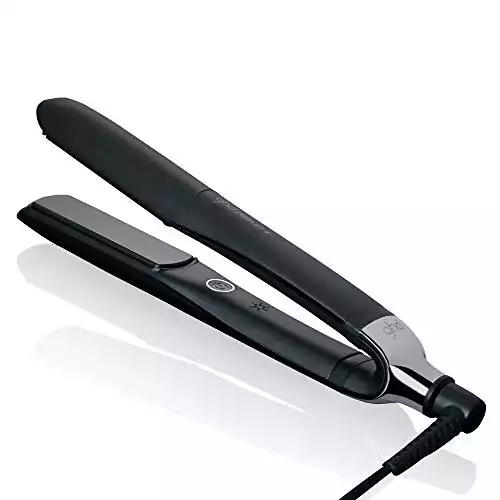 We earn a commission if you click this link and make a purchase at no additional cost to you.
If you want to get the best professional flat irons, you should be willing to pay for it. This brand of flat iron is said to be the first smart hair straightener that can detect what your hair needs. Using this would be an advantage for anyone who has a hard time determining what kind of hair they have because it does have a prediction tool that adjusts the amount of heat being delivered to its ceramic plates. With its predictive capabilities, there is no need to worry about burning your hair accidentally because it will be taken care of. This is quite safe to use even close to the roots of my hair without worrying about getting burned. And did I mention that its all-black look adds to its sophisticated design?
Pros:
Its predictive technology helps in determining how much heat is needed to get straight hair.

I love that with just one pass of the ceramic flat iron I can already see results. It does shorten the time it takes to make hair look straight which is great!

It has color protection and prevents hair breakage too making it useful for those who have color-treated hair.
Cons:
The ceramic flat iron is a bit pricey even for a professional iron which is one of its downsides.

One reviewer noticed that her hair became flat and dry after using it even if her hair had a nice sheen to it.

Another user said that the plates didn't heat up very well to get her hair straightened out quickly.
Solano Sleekheat450 Professional Flat Iron
We earn a commission if you click this link and make a purchase at no additional cost to you.
This professional flat iron can reach 450 degrees Fahrenheit in just one minute which is quite fast for a flat iron. I learned that it uses infrared to heat up the tourmaline coated ceramic plates. It does help shorten the time it takes for me to style my hair. Add to this the fact that the ceramic plates heat up evenly, I loved how my hair looked sleek and shiny in just a few minutes. How was this possible? It appears that this flat iron also makes use of ionic technology that helps lock the shine on the hair strands. I did not think that straightening my hair with this iron can produce an impressive result. That said, I would say that this professional tool is worth adding to my list of brands to get.
Pros: 
It heats up real quick which reduces the waiting time which is handy especially when you are in a rush.

The tourmaline coated plates reduce flyaways which helps in achieving that sleek, straight hair.

Its 1-inch plates are perfect for those with short or medium-length hair.
Cons: 
One customer had a hard time using it with her hair type and ended up having burnt hair strands for all her effort.

It is still an expensive piece of ceramic iron to purchase which only has limited use.

A reviewer wasn't thrilled with how her hair looked afterward because it became puffy rather than sleek and shiny.
BaBylissPRO Nano Titanium Straightening Iron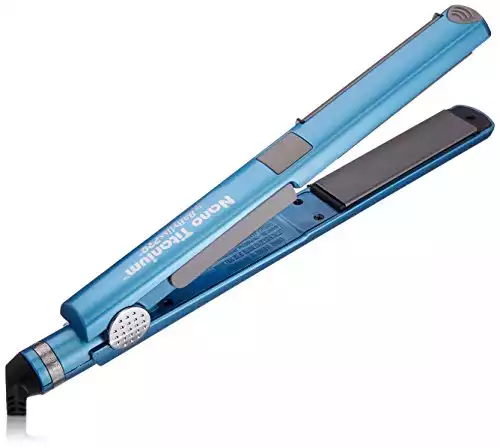 We earn a commission if you click this link and make a purchase at no additional cost to you.
If only someone had told me that professional flat irons are worth investing in I would have purchased one years ago. This nano titanium flat iron is a thing of beauty because it can be used even on damp hair. I like that even in one pass, you will see a huge difference in how straight your locks are. The advanced technology used on the titanium plates made it possible to produce even heat in them which produces results faster than expected. The vents on the plates allowed excess steam to be dispersed into the air which is useful when your hair is still damp. It is lightweight too which makes wielding this iron quite easy. If you are not into ceramic straighteners hair, I think you are going to enjoy using this iron styling tool.
Pros: 
Compact and lightweight making it convenient to use and bring along with you.

It makes use of advanced titanium technology that heats up the plates evenly to help straighten hair at a fast rate.

I love that I can use this styling tool even when my hair is still damp without worrying about burning my hair strands too.
Cons: 
A reviewer commented that the plates didn't touch each other as any flat irons should do which made it difficult for them to straighten their mane.

Another reviewer mentioned that the iron heated up real quick that caused it to break in half.

In some cases, the plates caused damage to the hair after using it.
BIO IONIC Onepass Straightening Iron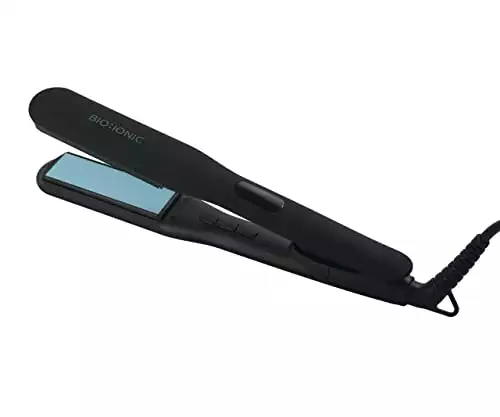 We earn a commission if you click this link and make a purchase at no additional cost to you.
Flat irons that have been designed for professional use should have adjustable temperature settings which BIO IONIC has. I noticed that I was able to style my hair faster with this professional hair styling tool and it appears it is because of the silicone speed strips that it sports. Even with a single pass, the heat was enough to remove the waves and curls. BIO IONIC also features a nanolonic mineral that is designed to hydrate your mane thus preventing breakage and flyaways. I feel like my hair has been conditioned with each use of this flat iron.
Pros: 
It has silicone speed strips that make the whole hair straightening process be over real quick.

BIO IONIC has a nanolonic mineral that keeps hair hydrated even while being introduced to even heat thus preventing breakage and other damages to the hair strands.

I like that it has a temperature setting that will not be toggled off while holding on to the handle. This ensures that the amount of heat being generated remains steady.
Cons: 
One user noticed that the silicone strips fell off just after a few months of use which may have affected the speed in which the iron heats up the plates.

Another reviewer complained that the plates weren't smooth and that they tugged and pulled on her hair while using it.

The price is way too high for a professional iron that doesn't give great results.
Conclusion
These are just a few brands of professional straightening irons that I think are worth mentioning here. If you ask me which one I would go for, I would choose BaBylissPRO. What I like about it is that it can be used even when my hair is still damp. I imagine that other styling tools will already damage damp hair with the heat. This one did not which is great!
I think the price for this hair styling tool is appropriate given that the iron can handle even damp hair. The design itself shows that there are vents that allow steam to pass through which helps protect hair strands from being damaged. What's more, the advanced titanium technology ensures that both plates are heated at the same time so that, by the time you glide it on your hair, there are no hot spots that can burn your hair.
When it comes to professional hair straightening products, my money is on BaBylissPRO which is why I recommend that you check it out for yourself. Although you will be paying a high price for it, it is still a worthwhile investment since it is guaranteed to last you for a few years.
Leah Williams
Leah Williams is the founder of Lucky Curl and has been in the hair care and styling industry for the last 15 years. Since then, she has developed incredible expertise and a deep understanding of how to treat and style the most difficult hair types and is passionate about sharing her knowledge with the readers of Lucky Curl.