Damaged hair? You're not alone.
In fact, over-processing is the number one cause of damage to our locks. From color treatments to straightening and curling, there are a lot of ways to wreak havoc on our hair. But don't worry, we've got you covered.
We've put together a list of the best protein treatments for hair so you can repair those locks and get them back to their healthy state!
Read on for our top picks. Plus, we explain the signs you need a protein treatment and how to choose the best one for your hair type.
Best Protein Treatment for Hair – 8 Products for Strong, Healthy Hair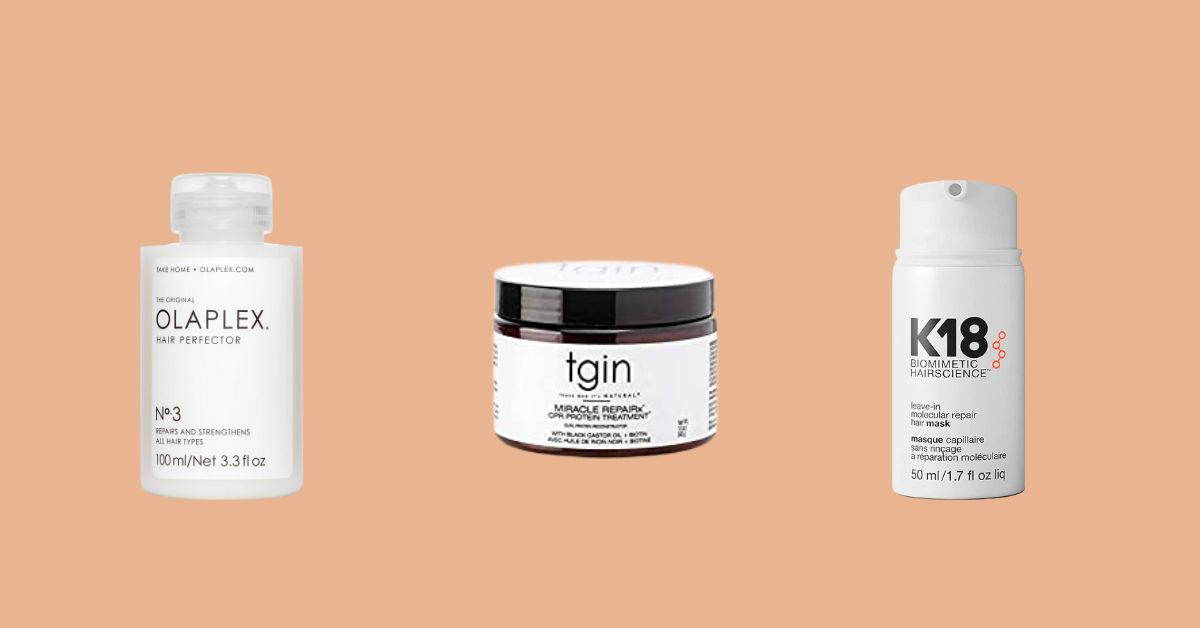 Olaplex Hair Perfector No 3 Repairing Treatment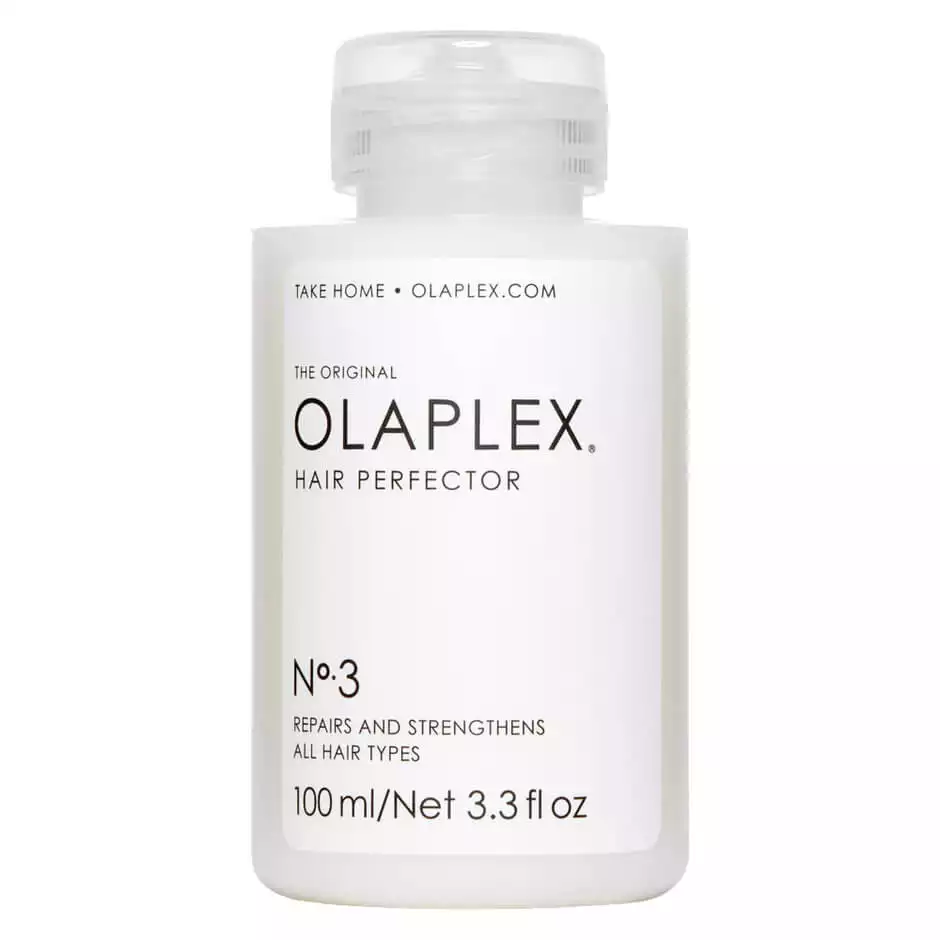 Dubbed 'botox for your hair', the Olaplex Hair Perfector No 3 Repairing Treatment is your secret weapon for achieving stronger, healthier hair.
This powerful treatment works to repair damage from environmental stressors, color treating, and heat styling. It does this by restoring broken bonds within the hair shaft, resulting in smooth, healthy-looking hair. Olaplex uses salon-quality ingredients to provide professional results at home, so you can enjoy strong, beautiful hair without having to visit a salon. Use 1-3 times per week for best results.
This popular hair restoring product has spawned the TikTok famous 'Olaplex bun' — essentially leaving the treatment in a low-slicked back bun that not only looks great but is working to repair your hair.
 

View this post on Instagram

 
Benefits:
Restores broken bonds within the hair shaft
Helps to smooth and prevent frizz on damaged and colored hair
Cruelty-Free
Free of silicone, sulphates, phthalates, DEA, aldehydes, and gluten
BOLD UNIQ BoldPlex 3 Hair Mask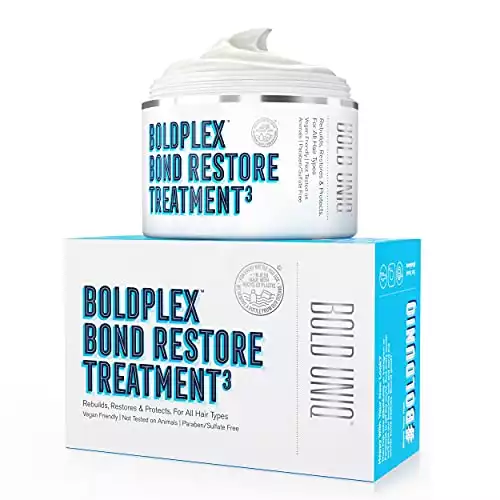 The BoldPlex 3 Hair Mask is a scientifically innovative bond-building hair treatment that works on a molecular level to help repair your hair, penetrating deep into each strand and strengthening from the inside out.
Not only does BoldPlex 3 Hair Mask deeply condition your hair, but it also improves moisture retention and soothes any damage caused by styling, coloring, chemically treating, or over-processing your hair. Plus, the deep conditioner for dry damaged hair is paraben-free, sulfate-free and 100% vegan! Their products are never tested on animals, and our packaging is fully recyclable.
Works wonders on all hair types from curly to dry, colored, frizzy, broken or bleached hair types.
Benefits:
Works on a molecular level to restore and repair dry and damaged hair
Suited to all hair types
Sulfate-Free, Paraben Free and Vegan
Packaging made from recycled plastic
K18 Leave-In Repair Hair Mask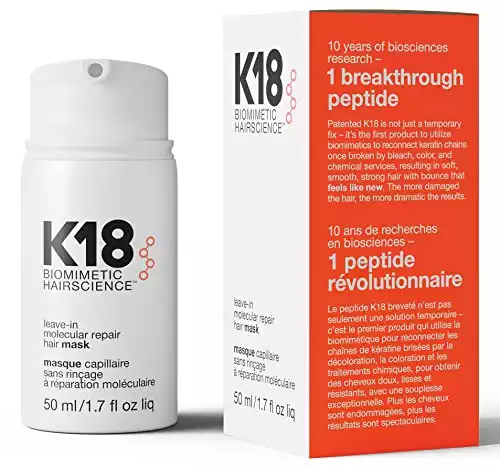 If you're looking for a damage-reversing treatment for your hair, the K18 Leave-In Repair Hair Mask is a great option. There's a lot of debate on whether K18 rivals the efficacy of Olaplex. While it definitely has a higher price point, it's argued to be one of the best treatments for extremely dry and damaged hair.
This cruelty-free, sulphate-free, vegan and paraben-free hair mask works to repair damage caused by styling, colouring and lightening, and it only takes 4 minutes to work its magic!
The patented bioactive peptides in the hair mask repair keratin within the hair, resulting in softer, smoother and more manageable locks. Plus, the leave-in formula means there's no need to rinse it out – just apply it to towel-dried hair and style as usual.
Benefits:
Starts to repair hair within 4 minutes
Repairs and restores the most inner layers of the hair
Patented science formulation
Vegan and cruelty free
tgin Miracle Repairx Curl Protein Reconstructor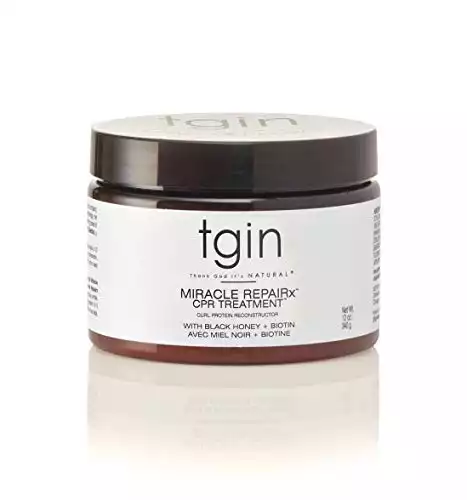 The Thank God It's Natural Miracle Repairx is one of the best protein treatments for damaged, curly, and brittle locks. It contains avocado oil, jojoba oil, cocont oil and several other nourishing oils. Its protein source is hydrolyzed wheat protein and it uses glycerin for extra hydration.
This protein treatment is best for curly, dry and damaged hair because it removes buildup while restoring protein so the mane becomes soft and healthy.
The treatment is highly-rated and well-loved with many fans online who swear by it. It adds plenty of slip and defines curls. It reduces breakage and is ideal for hair that needs moisture, especially in the cold months.
It does contain fragrance but users say it smells amazing so it shouldn't be a problem unless you're quite sensitive to scent. It's affordable, too, and you get 12 ounces of product in the tub.
This product is better for thick hair as some people with fine hair have remarked that it left their hair frizzier. It contains oils but is not moisturizing enough, according to some users.
Benefits:
Filled with nourishing oils and glycerin
Contains hydrolyzed wheat protein
Best for curly and damaged hair types
Detoxifies while restoring hair strength
Affordable
EVO Mane Attention Protein Treatment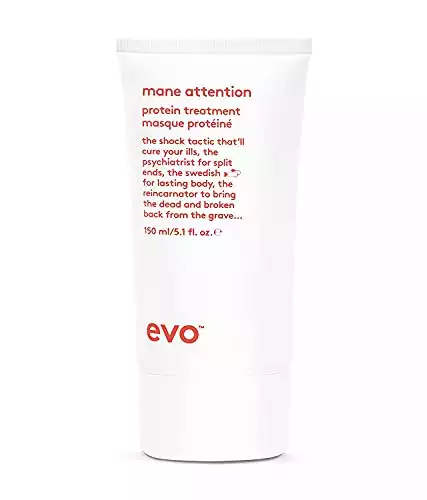 The EVO protein treatment is another addition to the best protein treatments to consider. It's an intense protein reconstructor,another term for a bond repair conditioner. It contains glycerin, macadamia seed oil, jojoba seed oil, shea butter, hydrolyzed quinoa, and hydrolyzed soy protein.
You can also find fragrance and dimethicones on the list, which isn't promising if you're a fan of the curly girl method.
This promises to be a treatment for "hair that's been put through the wringer" and users have professed that it is a lifesaver for damaged, chemically-treated hair. It turns brittle, frizzy hair into the soft, silky strands of your dreams and cuts down on blow drying time.
This product has your back if you're maintaining blonde locks. It makes hair more manageable and combable and offers UV protection.
However, since it contains silicones, this may leave hair feeling heavy, especially if you have fine hair. The scent may be a hit or miss, depending on your taste.
I love the hygienic packaging (no more dipping dirty fingers in a tub) and it only takes 5 minutes of use to soften the locks.
Benefits:
Bond repair builder with hydrolyzed quinoa and soy protein
Contains moisturizing oils
Great for blonde, damaged, chemically-treated, and dyed hair
Softens and tames hair
Great packaging
Aphogee Two-step Treatment Protein
Aphogee uses a unique two-step process for their protein treatment. This is one of the best treatments for natural hair.
The hair protein treatment is used to prepare the locks before a perm, bleaching, straightening or relaxing session. You can also use it to encourage the hair to retain color before dyeing or to restore your curl pattern.
It contains hydrolyzed collagen, magnesium and activated proteins and reduces breakage for 4 to 6 weeks after use.
The hair protein treatment is applied to towel dried hair using a wide tooth comb. Afterward, the treatment is left on the locks and blow dried with a regular blow dryer or a hooded dryer until the hair hardens like uncooked ramen. Then, you rinse it off and follow up with a conditioner.
The packaging has a flip top opening that evenly disperses product. Many people with African-American and damaged hair loved this salon service product and while it's not the most afforable, it's worth every penny.
Aphogee can improve the product by removing the orange color, which can tint light hair. You also have to apply conditioner after as it's not moisturizing. It also has a strong scent that is quite unpleasant for some.
Benefits:
A two-step treatment for very damaged, curly or black hair
Can prep hair before perms, bleaching, straightening or relaxers
Improves color and curl pattern
Contains hydrolyzed collagen, magnesium, and activated proteins
Reduces breakage
Shea Moisture Manuka Honey & Yogurt Hydrate + Repair Protein
If you're looking for a deep conditioning treatment, this is one of the best ones to buy. It contains shea butter, glycerin, coconut oil, mafura oil, baobab oil, and reparative proteins. All these ingredients will brign life back to dry, damaged hair.
It doesn't end there, though, because this also has antioxidant manuka honey and yogurt powder and extract. The deep conditioning treatment has strengthening properties, perfect for brittle, vulnerable strands. It repairs breakage and split ends while softening the locks.
Manuka honey gives a healthy shine while yogurt adds a dose of moisture. Mafura oil takes care of damage control and revives your hair.
This repairing treatment has a thick consistency that's perfect for types 2A to 3C hair. It melts into the locks upon application. It rinses out well despite its creamy texture so you don't get nasty product buildup that's a nightmare for fine hair.
I really like that it's an affordable protein treatment but sadly, it only contains 8 ounces of conditioner and you need quite a lot. It's also lighter on the protein so it's not good for hair that has extensive damage.
Benefits:
One of the best protein treatments for natural hair
Contains reparative proteins, manuka honey, yogurt, and mafura oil
Fortifies weak, damaged hair
Softens hair and repairs signs of damage
Very moisturizing
Redken Extreme CAT Anti-Damage Protein Reconstructing Treatment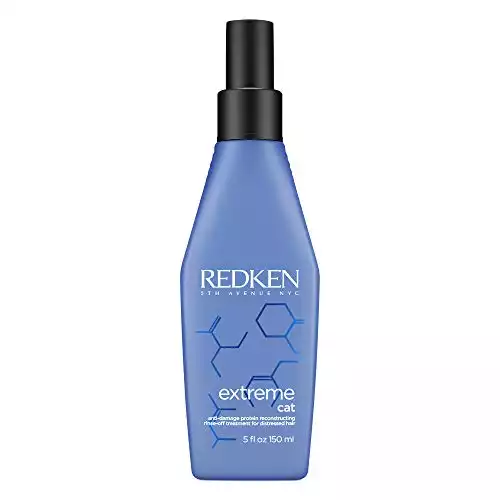 Another well-loved protein treatment is the Redken Extreme CAT Anti-Damage Protein Treatment. It contains hydrolyzed wheat protein, which is second on the ingredient list.
This is a hair mask treatment that softens brittle and damaged locks without weighing them down. It uses patented taurine technology and cationic proteins which reconnects bonds so the cuticle lies flat, lending a healthy, smooth appearance to the mane.
The rinse-off treatment gives noticeable results after rinsing and prevents further breakage. It also contains ceramides and lipids that will strengthen the hair from the inside and shield it from damage.
You can use this ahead of hair dyeing to prep the locks. It is meant to be applied after shampoo but before conditioner.
Redken has other products in the Extreme range, which can be helpful if you want to have a complementing set of treatments. The bottle contains only 5 fluid ounces, which makes the price a bit steep.
The treatment is a spray, so it's not moisturizing at all. It's meant to be used as a first step before a conditioner. Application is a bit tricky since it's a liquid and some have noted that it's best applied on towel dried hair, which is an extra step some may find inconvenient.
While the results are not overnight, users have said their hair is remarkably healthier and softer after consistent use.
Benefits:
Contains hydrolyzed wheat protein, taurine and cationic proteins
Softens brittle and damaged hair without the weight
Makes hair look smoother and can reduce breakage
Contains ceramides and lipids for healthier hair
Can be used to prepare the hair for coloring
A Buying Guide to Protein Hair Treatments
Is a protein treatment good for hair?
Protein treatments are good for some types of hair. It's not a must-do treatment for all hair types because some people just don't need more protein on their mane. Just because your hair feels dry doesn't mean it needs protein. Oftentimes, it just needs moisturizing ingredients to replenish lost oils.
However, if you are dealing with the issues below, consider getting a protein treatment at home or in the salon.
Signs that you need a protein treatment
You have decreased hair elasticity.
To check your hair's elasticity, do the stretch test. Take a hair strand and pull it in opposite directions with your fingers. You may need to pluck out a strand to do this properly.
Healthy hair stretches but snaps back into its original length but if your hair is damaged or dry, it will not regain its shape and may even break off.
You have colored hair.
Color-treated hair is susceptible to damage because of its high porosity. Your locks are also more damage-prone if it has gone through bleaching, exposure to pool chlorine, and chemical treatments such as perms and relaxers. These treatments leech off protein from your hair, leaving it more vulnerable through cracks on the hair surface.
You're experiencing hair loss and breakage.
If you have more hairfall than usual with the strand broken off, instead of being uprooted from the follicle, that's a sign that your hair needs strengthening via protein. Use it if deep conditioners don't help.
You have limp and lifeless strands.
Flat hair that doesn't hold curls or waves well will benefit from a protein treatment. Protein plumps up stringy hair so it doesn't look as lifeless.
You have high porosity hair.
You can check if you have porous strands by filling a bowl with some water and placing a strand of hair on it. Porous hair will sink into the bottom.
Highly porous strands have gaps that lets it absorb too much water, leading to frizz, tangles and breakage.
What are the benefits of protein treatments?
A protein treatment will strengthen hair, just as eating protein-rich foods help us grow stronger. They benefit damaged hair by increasing elasticity and making the cuticle smoother.
A protein treatment also promotes hair growth, adds volume, reduces frizz, enhances shine and defines curls. It can even benefit a dry scalp.
It imparts all these benefits by infusing hydrolyzed proteins into the cuticle and fortifying the surface of the hair strand. Protein acts as a shield from further stressors and damage by patching up cracks on the cuticle.
What's in a protein treatment? How can I tell if a hair product contains protein?
Protein treatments are labelled as strengthening or repairing masks or conditioners. They contain ingredients like minerals, essential fatty acids, amino acids, vitamin E, and hydrolyzed proteins.
The most common protein treatment ingredients are wheat, silk, keratin, oat, rice and collagen. Look out for the keyword "hydrolyzed" because it signifies that the protein has been turned into smaller particles for faster absorption.
Other protein treatments are more straightforward and include protein on the label or on the ingredients list.
How often should I do a protein treatment on my hair?
The frequency of a protein treatment depends on your hair type and the treatment itself.
Homemade treatments are applied once or twice a month. Professional, salon-quality protein treatments are used less often, around every four to six weeks.
Less intense treatments can be used every one or two weeks.
Go slow, at first and work your way up to a frequency that feels right for your hair.
Check the manufacturer's instructions for guidance.
Take care not to overuse protein treatments. There is such a thing as too much protein. If you overdo it, your hair will feel brittle and dry and may break off easily.
You have to stay vigilant about your hair conditioner after using a protein treatment and reduce the frequency if your hair condition doesn't improve.
What's the right way to use a protein treatment?
A protein treatment is applied on clean and freshly conditioned hair and washed it off. You may use it as a hair mask and leave it on for a longer period or about an hour.
Usually, though, a protein treatment soaks in for twenty to thirty minutes before it's rinsed out. Fine hair types can even skip the conditioning step and use the treatment right after shampooing.
There are also other forms of protein treatments, including shampoos and leave-on creams.
How to Choose the Best Protein Treatment for Hair
Hair Type
You need to assess if you need a protein treatment and why you need one in your haircare routine. Look through the aforementioned signs of damaged and lackluster hair to check if you're a good candidate for a protein treatment.
If you're experiencing breakage, you also need to find out the cause. Sometimes, it may be due to a nutritional deficiency instead of lack of protein.
Product Type
You should then determine what form of protein treatment you'd like to apply to your hair. Most protein treatments come in a hair mask delivery system but there are other forms as well.
Ingredient List
Look for the sources of protein in the formula by checking the ingredients list. The inclusion of hydrolyzed protein, amino acid, or any protein is a good sign.
Make sure there's enough protein in the formula, as well. If it's in the first six ingredients on the list, it's a significant amount to get you good results.
Formula
The treatment should strike a balance of protein and moisture to avoid overdrying your strands. Too much protein is actually bad. You should not use pure protein on your hair because it will be too intense.
Cost
As always, consider the price of the product compared to the amount you're getting (also known as cost per ounce or mL). Make sure the ingredients are of high quality, regardless of cost.
Wrap Up
So, if you're looking for an intensive protein treatment to help repair dry and damaged hair, any of the treatments we reviewed would be a great option. We also answered some frequently asked questions about protein treatments so that you can be sure to get the most out of your next treatment.
If you have similarly heard keratin to be an effective treatment for repairing hair, check out our other article on protein vs keratin treatments for hair.
Leah Williams
Leah Williams is the founder of Lucky Curl and has been in the hair care and styling industry for the last 15 years. Since then, she has developed incredible expertise and a deep understanding of how to treat and style the most difficult hair types and is passionate about sharing her knowledge with the readers of Lucky Curl.