Colored hair is high-maintenance. You need to maintain the vibrance of your locks in between salon visits but inevitably, you have to wash it. The wrong shampoo will strip your strands of its hues, which is money and time down the drain. The best shampoo for colored hair is one that gently cleanses, moisturizes, and protects your color from fading and UV rays.
We've rounded up 6 top rated products to find the best shampoo for colored hair.
Best Shampoo for Colored Hair – 6 Top Products to Restore Vibrance
BIOLAGE Colorlast Shampoo

Biolage Colorlast Shampoo is one of the best color shampoos for environmental damage protection. It's made with gentle cleansers that prevent overstripping hair. It helps your mane remain vivid and lustrous with its pH-balanced formula. The color will stay vibrant for up to nine weeks.
The nourishing shampoo is made without parabens, making it good for natural and color-treated locks. The formula is protective and nourishing. It shields the mane from environmental stressors and strengthens the strands so they are able to withstand damage and breakage.
This color-safe shampoo is meant to maintain depth, color, and shine so your hue stays bright between salon visits. It takes inspiration from the orchid, a fade-defying flower.
Because it has a low pH, it's gentle on your hair and scalp. Plus, it has a blend of 27 fragrance notes that make for a luxurious shower. It's also safe to use on bleached locks.
This bottle contains 13.5 fluid ounces so it's a bit pricey. Its main caveat is the inclusion of sodium laureth sulfate in the formula but it does not claim to be sulfate-free.
Users have said it makes their color look rich and intense, which speaks to the effectiveness of the shampoo's formula in spite of the sulfates.
Pros
Gentle cleansing
pH-balanced
Paraben-free
Keeps color vibrant for up to 9 weeks
Protects tresses from environmental damage
Pleasant smell
Cons
A little expensive with a small amount of product in the bottle
Contains sulfates
Pureology Hydrate Moisturizing Shampoo
If your colored hair lacks moisture, the Pureology Hydrate Moisturizing Shampoo is one of the best color shampoos to buy. It's certified sulfate-free with a creamy consistency that will quench dry locks.
The formula contains jojoba, green tea, and sage plus an aromatherapy blend of lavender, bergamot, and patchouli. Sage is rich in vitamins and antioxidants while green tea has anti-inflammatory properties that may promote hair growth. Jojoba is an oil with properties similar to sebum, which is excellent for colored locks that have been stripped of its natural oils.
The scent makes shampooing an indulgent experience, which I always appreciate.
The shampoo boasts of an Anti-Fade Complex, a patented blend that protects color and makes it last longer. It also contains sunflower seed, a natural UV filter, to block the harmful effects of the sun. Vitamin E is a free radical fighter that enhances shine.
With this shampoo, you'll get vibrant, healthy locks that are touchably soft and hydrated. That being said, this is an expensive product and contains only 9 fluid ounces but users say a little goes a long way. If you have fine hair, you should be careful because it reportedly weighs down limp strands.
Pros
Made without sulfates
Contains jojoba, green tea, and sage
Pleasant smell
Anti-Fade Complex protects color
Protects hair from UV rays
Cons
Expensive
Not for fine hair
Tigi Bed Head Colour Goddess
The Tigi Bed Head Colour Goddess Shampoo promises to keep your color "electric" with a nutrient-rich low-sulfate formula, easily making this list of best shampoos for color and chemically-treated hair.
It's made for colored tresses, as its name implies, and contains vitamin E, an antioxidant that wards off free radicals and supports the hair and scalp. For a burst of moisture, it has sweet almond oil, to keep your strands happy and healthy.
There's also fatty acid-rich coconut oil, which has the ability to penetrate the hair cortex and soften it from the inside. This makes for fewer tangles and a more manageable mane.
You also get pro-vitamin B5 and keratin to fortify your locks further.
This blend makes hair shiny and smooth and drastically reduces breakage. It tamps down frizz and imparts a vibrant luster to colored locks.
The shampoo has a liquidy smooth consistency and has a metallic yellow color. It smells faintly of cake batter and effectively cleanses. You also get a generous amount of product in the bottle, so it's very cost-effective.
However, some users are not pleased with the yellow hue, saying that it messes with their color. It's not the suitable for light and cool locks. It's also not the best shampoo for fine and oily strands because it's very rich in emollients.
Pros
Low-sulfate formula
Contains vitamin E, sweet almond oil, and coconut oil
Strengthens and hydrates strands
Keeps locks vibrant and frizz-free
A good value product
Cons
Has a yellow tint which isn't the best for light and cool locks
Not completely sulfate-free
Not for oily and fine locks
Nexxus Color Assure Sulfate-Free Shampoo
This sulfate-free shampoo can keep your color vibrant for up to 40 washes and Nexxus calls it its best colored hair shampoo. Since it's made without sulfates, it cleanses without being harsh.
It uses a PROTEINFUSION blend to extend your color. This proprietary mix contains noursishing elastin protein and quinoa for color-treated haircare and the results speak from themselves. The scientists at Nexxus identified the proteins drained from the strands and uses this amino acid-rich blend to replenish them.
If you're looking for a holistic range for color-treated locks, this is one of the best color-safe shampoo as it's meant to be used in tandem with a primer, tonic, and conditioner. This sulfate-free shampoo does not lather as much as a regular shampoo, but it's to be expected for sulfate-free products.
Some users have complained that it doesn't make their mane feel clean because it leaves a heavy residue. Though it does protect color from fading, there are users that say it doesn't rinse out well. You have to shampoo your strands twice, use less product and more water when using sulfate-free shampoos to get the best results, but some people may not be aware of this.
Pros
Keeps color vivid for up to 40 washes
Uses a blend of amino acids to maintain color
Contains quinoa and elastin protein
Part of an extensive range of color-safe products
Free from sulfates
Cons
Feels heavy so it's not the best pick for fine and oily locks
Does not lather well
Has to be used properly for good results
Redken Color Extend Magnetics Shampoo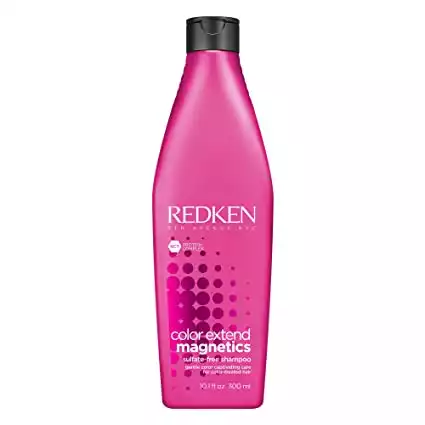 This award-winning color-safe shampoo is lightweight and sulfate-free that's part of the SMART Haircare range. It uses the exclusive RCT Protein Complex consisting of 3 proteins, which nourishes the mane from the inside out and from the root to the tip.
It gently cleanses and conditions the strands to rinse out everyday dirt and grime which can contribute to dullness. Fans of foam will love the rich lather this shampoo produces. It also contains amino-ions to lock in your color and soy protein to add moisture and body.
Arginine keeps your scalp healthy while the amino acids glutamic acid and serin replenish lost nutrients.
The Redken Color Extend Magnetics system (shampoo, conditioner, and mask) is the sulfate-free version of the Color Extend line and it promises 4 weeks of vibrancy and radiance and is one of the best ways to maintain color-treated locks in between salon visits.
This shampoo is for all types of color-treated hair, whether you have highlights, a balayage or blonde locks.
The bottle contains 10 fluid ounces, which is not a lot for the price, so it's not a budget-friendly find. A few users also noted that this made their scalp feel parched and their strands clump up.
Pros
Award-wining color-safe shampoo
Sulfate-free and suitable for all types of color-treated hair
Uses an RCT Protein Complex with 3 proteins
Amino ions keep hair vivid
Contains soy protein, arginine, and amino acids
Cons
Expensive and does not contain a lot of product
Makes some users' hair and scalp parched
Leaves a residue
Paul Mitchell Color Protect Shampoo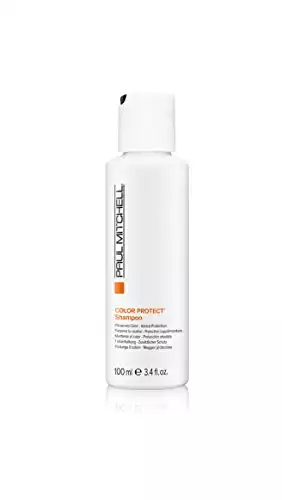 Keep your color-treated hair looking bright and shiny with the Paul Mitchell Color Protect Shampoo. It's one of the best shampoos for color-treated hair for those on a budget. Use it to lock in dyes and highlights in between touch-ups.
It cleans the hair gently and enhances shine by getting rid of the gunk that accumulates from pollutants and products. It also strengthens hair so the strands are resistant to breakage and the cuticle is less vulnerable to cracks.
It also offers UV protection thanks to sunflower extract. Sun protection is important for your hair, too, because sunlight fades color.
The shampoo is infused with conditioners to nourish the hair and enhance shine further. It has a refreshing scent that's a blend of apple, orange, and bergamot to make your showers indulgent.
However, this color-safe shampoo is made with sulfates. This makes it very effective at lifting residue and adding volume for a weightless feel but it's not good for those with dry hair and scalp. It doesn't lather that much, though, which may be a caveat for some people.
Pros
A budget-friendly salon-quality color-safe shampoo
Keeps colored bright and shiny
Strengthens and moisturizes hair
Protects hair from UV rays
Pleasant scent
Cons
Made with sulfates
Does not lather well
Not for dry hair and scalps
A Guide to Buying the Best Shampoo for Colored Hair
Do you really need special shampoo for colored hair?
Many factors cause color to fade in hair. These include plain old water, heat styling, sun exposure, and shampoos. It's even recommended to wash hair less frequently if you had it colored, around three times a week.
Hot water is also a no-no because it lifts the cuticle where the color deposits are located. Ordinary shampoos will be too harsh and strip away the dyes. As a result, your hair will look lackluster and color will fade quicker.
If you want your color to last, pick a color care shampoo.
What shampoo is bad for colored hair?
Avoid shampoos that contain Sodium Lauryl Sulfate, Ammonium Lauryl Sulfate, TEA-dodecylbenzenesulfonate, and C14-16 olefin sulfonate if you have colored hair. These cleansing ingredients, also known as surfactants, will remove color from the cuticle.
Sulfate-filled shampoos are harsh on the hair because they clean it all too well. Sulfates are good for creating lather and lifting dirt but it's not ideal if you're after color protection.
You should also be careful of shampoos with salt and pigments. Pigmented shampoos may cause too much gunk which contributes to that dull look.
If you want to maintain your hair color, go sulfate-free and pick a shampoo that's formulated for colored hair.
Benefits of shampoos for color-treated hair
Cleanses without stripping color
A shampoo for color-treated hair is usually made without sulfates and harsh ingredients that wreak havoc on colored hair. The most common types of sulfates in shampoos are sodium lauryl sulfate (or SLS) and sodium laureth sulfate (SLES). These color-safe shampoos tend not to bubble up as much as those with sulfates and surfactants but the cleansing action is the same.
Gentle on the scalp
Since color-safe shampoos are not harsh on hair, they are less likely to irritate the scalp as well. A gentle shampoo is good for people with a dry or sensitive scalp. A healthy scalp is important in maintaining healthy, vibrant hair.
Moisturizes and protects hair from breakage
Shampoos for color-treated hair are made with silicones and moisturizing ingredients that hydrate and condition hair. These ingredients help the hair replenish its natural oils. They also prevent breakage from overprocessing and chemical treatments.
Strengthens your strands
Aside from conditioning agents, the best shampoos for color-treated hair also contain antioxidants, proteins, and amino acids that fortify hair. Healthy locks are more resistant to color fading because the cuticle lays flat. In damaged hair, the cuticles have cracks which make the color easier to wash out.
Enhances shine and shields hair from UV rays
The sun affects your hair color, too. UV rays can fade, lighten, or alter your hair color so it's important to shield your hair from the sun. Shampoos for color-treated hair may contain UV filters and pH adjusters to minimize the effects of UV exposure.
How to choose the best shampoo for color-treated hair
Color-Safe Formula
A shampoo for color-treated hair will usually say so on the label. Make sure it's formulated to be safe for colored hair and free from harsh, color-stripping ingredients.
Cleaning Agent
Check the cleaning agent used in the formula. Avoid sodium laureth sulfate, ammonium lauryl sulfate, and sodium lauryl sulfate, which are sulfates that tend to overdry hair and strip it of color. You can opt for creamy formulas that contain sodium myreth or tricedeth.
Conditioners and Emollients
A good shampoo for color-treated hair will contain moisturizing ingredients to balance out the effects of chemical treatments. Colored hair needs all the moisture it can get to prevent dryness which leads to breakage. A moisturizing shampoo will make your hair shiny and healthy, which makes the color stand out more.
Ingredients to Avoid
Ideally, a shampoo for color-treated hair should be made without sulfates, alcohol, salt, and artificial fragrance. You should avoid products that contain additives and formaldehyde.
Sun Protection
Look for a shampoo with UV filters to minimize fading. Sun protection shampoos usually contain antioxidants. These will make your hair more vibrant for longer.
Smoothening
A good color-safe shampoo has smoothening and softening properties to help detangle your hair and make it soft to touch. Damaged hair is often prone to tangling and breakage so it's important that the locks are easily combable.
Cost
Consider the value you're getting in a color shampoo, particularly how much you're paying per ounce and the quality of the ingredients.
What's the best way to use a color shampoo?
Minimize hair washing. Overwashing is a major factor in color fading. Wash only when needed, especially if you're sporting a bright hue.
In between shampoos, use a dry shampoo or try co-washing (cleaning your hair with conditioner instead of a shampoo).
Don't squeeze out lots of shampoo from the bottle. Use only a little to cleanse your hair. Spread it by massaging it into the roots.
Don't expect a frothy lather with shampoos for color-treated tresses. The products are still cleaning your hair, despite the lack of suds.
Rinse your hair with cool or lukewarm water, never hot water. Be sure to condition afterward to ensure your strands are moisturized.
For more tips on helping your hair color go the distance, watch this video.
Wrap Up
If you're looking for the best shampoo for color-treated hair and can't make up your mind from the 6 options on the list, try Pureology Hydrate Moisturizing Shampoo. It has a sulfate-free formula with a creamy texture for moisturizing dry, damaged locks. Its Anti-Fade Complex keeps your color vibrant and it also contains a UV filter to protect the hair from the sun. While it's a bit pricey, it's the best shampoo for color-treated locks on the list.
Leah Williams
Leah Williams is the founder of Lucky Curl and has been in the hair care and styling industry for the last 15 years. Since then, she has developed incredible expertise and a deep understanding of how to treat and style the most difficult hair types and is passionate about sharing her knowledge with the readers of Lucky Curl.