A flaky, dry scalp is not a good look but more than aesthetics, it's an uncomfortable condition, too. Just as the skin on your face feels tight and uncomfortable when it's not producing enough oil, a parched scalp will have you scrambling for relief. The best shampoo for dry scalp will cleanse your head without stripping it of its oils and banish dandruff for good. Here are some of the best ones that will deep clean a dry scalp.
Read on to see if the following hair care products are right for you.
Best Shampoo for Dry Scalp – 6 Products Reviewed
BIOLAGE Scalpsync Anti-Dandruff Shampoo
The Biolage Scalpsynch is a 1 percent pyrithione zinc shampoo infused with soothing mint leaf. Mint complements the active ingredient quite well by relieving the itchiness that comes with flaking. That also means the shampoo will feel tingly and leave your hair with a fresh, clean quality without overstripping the scalp.
Mint also has anti-fungal properties so it helps maintain scalp equilibrium. The shampoo cleanses the scalp, getting rid of debris and build up that clog the follicles. With at least twice a week usage, it eliminates flaking and rebalances the scalp.
It's stored in an elegant bottle and it lathers up well. It's highly-rated and well-loved with some users swearing by it to keep their flakes at bay.
However, this is quite an expensive shampoo and there are some reports that it leaves the hair feeling heavy. On the bright side, it makes hair very soft and is safe to use on colored hair.
Pros
Contains 1 percent pyrithione zinc
Mint leaf relieves itching
Rebalances the scalp
Cleanses gently
Keeps hair soft
Cons
Expensive
Feels heavy on the hair
Nizoral Anti-Dandruff Shampoo
Nizoral is one of the best shampoos for dry scalps and one of the most well-known. The hype is real with this one and it can eliminate pastry-like flakes from your hair for good.
The medicated shampoo contains ketoconazole, a powerful antifungal agent. In this 7 fluid ounce container, you'll get 1 percent ketoconazole, great for mild to moderate dandruff.
You only need to use it twice a week to see results, which means you don't have to break up with your sweet-smelling shampoo for good. It controls flaking, scaling, and itching–all clinically proven, by the way.
That's not to say that the Nizoral Shampoo doesn't smell great. It has a clean and fresh scent that makes shampooing feel a touch more luxurious. It lathers very well, which is a plus if you're into sudsy products. It gets extra points from me for being color-safe. It has a gentle formulation that's suitable for chemically-treated, colored, and gray hair.
The shampoo can also treat hair loss that results from flaking, so it's good if you're losing more hair than usual.
To top it all off, it comes at an affordable price. The only caveat is that it's incredibly drying so it might not be the best option for chronically dry locks. You can follow it up with an extra-thick, nourishing conditioner but I'd err on the side of caution and pick something more hydrating to shampoo your mane.
Pros
Contains 1 percent ketoconazole
Inexpensive
For twice a week usage
Controls flaking, scaling, and itching
Good lather and fresh scent
Cons
Neutrogena T/Gel Therapeutic Shampoo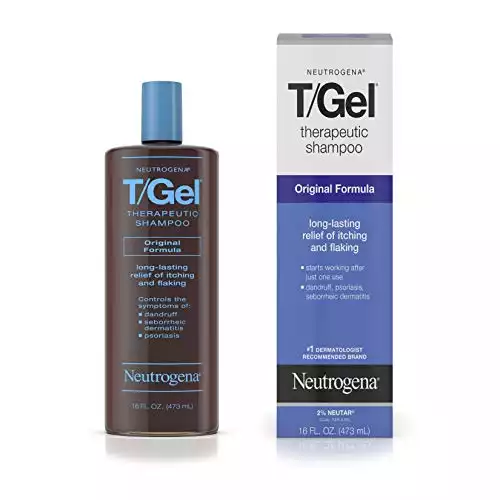 The Neutrogena T/Gel shampoo is a one-two-punch treatment for dandruff, psoriasis, and seborrheic dermatitis. Its active ingredient is 0.5 percent coal tar and 2 percent Neutar Solubilized Coal Tar Extract, which provide relief from itching and flaking.
Neutar stabilizes the scalp and slows down the production of skin cells that cause flaking. It also has anti-inflammatory properties that soothe the skin.
The shampoo is backed by the National Psoriasis Foundation because it effectively relieves inflammation and crusting caused by psoriasis. These ingredients work even after you rinse out the shampoo and the effects start after the first use. The dermatologist-recommended shampoo can be used at least twice a week and the results last all week long. It's best for mild to moderate flaking.
The bottle contains 16 fluid ounces of product. It's one of the best shampoos for dandruff at the drugstore made by a dermatologist-recommended brand.
If you have oily hair, you will probably love this product but you should beware of the smell, which some users say is bearable while others say smells like bug spray. It's a small price to pay for its deep cleansing power.
Pros
Contains coal tar and neutar solubilized coal tar extract
Relieves itching and slows down the production of flakes
Good for psoriasis, seborrheic dermatitis, and mild to moderate flaking
16 fluid ounces and affordable
Rebalances an oily scalp
Cons
Dove DermaCare Scalp Coconut & Hydration Anti-Dandruff Shampoo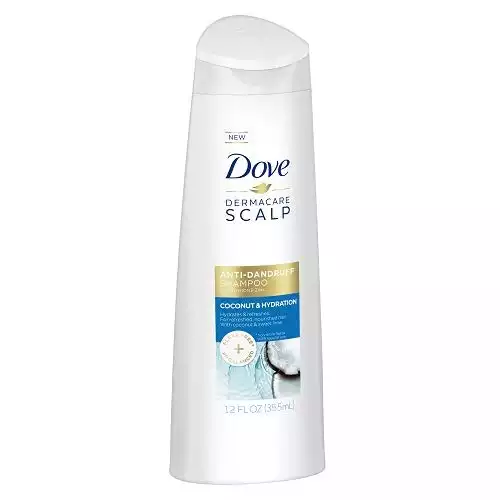 If you're afraid of dandruff shampoos drying out your hair, this is one of the best shampoos for a dry scalp for your concern. The Dove DermaCare shampoo contains 1 percent pyrithione zinc to slough off flakes and relieve itching. It's gently formulated with a fresh coconut and sweet lime scent for a pleasant shampooing experience.
The dry scalp shampoo is hydrating and has a balanced pH which allows its ingredients to work better. Users say the shampoo is very moisturizing so it's good if your itching gets worse when using a drying shampoo. It leaves hair feeling soft and silky, which is always welcome in my book.
It's affordable, as well, and the bottle is 12 fluid ounces, so you won't run out that soon. However, it does contain sulfates, so it's not safe for color-treated or keratin-treated hair.
The fragrance may be irritating for sensitive scalps and the hydrating ingredients are not suitable for oily hair. Though it lathers very well, it won't leave you with a squeaky clean feeling, something that you may love or hate, depending on your preference.
Pros
Contains 1 percent pyrithione zinc
Has a coconut and sweet lime scent
Hydrating and pH-balanced
Softens hair
Affordable and contains 12 fluid ounces of product
Cons
Not good for oily hair
Contains sulfates
Redken Scalp Relief Dandruff Control Shampoo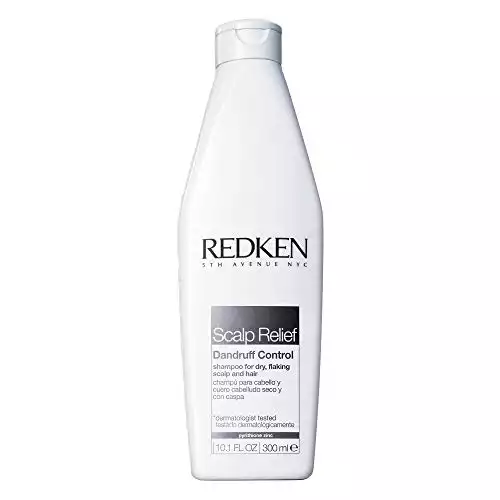 This is one of the best anti-dandruff shampoos for dry scalp and color-treated hair. Dyeing your hair can cost a pretty penny so you'll want to preserve it even as you're grappling with flakes. This dermatologist-tested shampoo keeps flakes under control with the help of pyrithione zinc. It clarifies a dry scalp without inflaming it further.
After you rinse it off, your hair will feel soft because of its gentle cleansing action. Whatever your hair color is–platinum blonde, deep red, or pastel pink–it'll stay intact. What won't stay is the pesky white flakes that are making a home out of your head.
The shampoo contains about 10 fluid ounces of liquid, which is a bit small, but it's not exorbitantly priced, either. It does make hair a bit dry but this is par for the course with shampoos for dandruff.
You have to be patient and use it consistently to see results. Some users have also noted that it's more difficult to detangle their hair after using this shampoo. It's best for oily and coarse hair types for this reason.
Pros
Contains pyrithione zinc
Good for color-treated hair
Keeps hair soft
Calms down inflammation while gently cleansing the scalp
Eliminates flakes
Cons
Only 10 fluid ounces
Can make hair tangled
Leaves hair somewhat dry
Davines Purifying Shampoo
The Davines NaturalTech Purifying Shampoo is an all-natural shampoo stored in a tinted bottle without a box since the company prioritizes sustainability. It is lightly scented with an orange color that stems from its active ingredient, selenium sulfide. It's one of the best shampoos for dry scalp that's mostly natural and made without sulfates.
Selenium sulfide is an anti-fungal and antimicrobial that reduces flaking by slowing down the rate of death of skin cells on the scalp. That means it stops the scalp from shedding rapidly as it treats the fungus that causes flakes.
The shampoo also contains glycerin and dandelion root extract. Glycerin brings balance to the scalp because of its hydrating properties. Dandelion root treats symptoms such as itching and redness.
Despite its natural claims, the shampoo contains an artificial fragrance, which is a potential irritant. Most users aren't complaining, though, because it's a lovely scent.
The shampoo also doesn't contain SLS, so it doesn't lather up well. It may be hard to spread if you have medium to long hair.
Another caveat is the price per ounce. It's an 8.45 fluid ounce bottle, which is not a lot, considering you need to use it two times a week. After your itching and flaking is under control, you can pare it back to once every six weeks.
Pros
Contains selenium sulfide
Sustainable and natural
Slows down shedding
Glycerin and dandelion root extract hydrate the scalp and relieve symptoms
Has antifungal effects
Cons
Contains artificial fragrance
Doesn't foam up so it's hard to spread
Expensive
A Guide to Buying a Shampoo for Dry Scalp
Should you wash your hair more or less with a dry scalp?
It's tricky to know the right frequency of shampooing since it varies depending on the individual's age, ethnicity, hair length, texture, and condition. While overwashing can dry the scalp and hair out, the culprit may also be under washing, which causes dandruff.
What's for sure is that how often you wash your hair does not affect how much oil your scalp produces. The sebaceous glands on your scalp are controlled by hormones.
Instead of washing your hair less or more, consider your hair type and how oily it normally is. For example, curly and coarse hair is drier than straight, fine hair. Long hair also has trouble keeping the ends moisturized. If your locks are dry, decrease how many times you shampoo as you see fit.
How do you know if you're overwashing? Usually, you get a dry, itchy scalp and brittle, breakage-prone hair.
What is dandruff?
Dandruff is characterized by the overshedding of flakes from the scalp. The flaky patches are often greasy and itchy. The condition is common and not transmittable. However, it can be quite embarrassing. A dry, itchy scalp is also annoying since you'll often want to scratch it and therefore, irritate it further.
On dark hair, the flakes are more visible and they can fall out of your scalp onto the shoulders. If you have dandruff, you may also experience other skin conditions like seborrheic dermatitis, psoriasis, or eczema.
Dandruff symptoms become worse when a person is under stress. It can also be exacerbated during cold months.
What causes dandruff?
These are some of the things that cause dandruff.
Skin irritation
Not shampooing enough
Malassezia, a fungus that consumes scalp oils
Dry skin
Contact dermatitis
Other skin issues like psoriasis
What are the benefits of anti-dandruff shampoos?
The good thing is dandruff can be treated at home. There's usually no need to go to the doctor to treat mild dandruff symptoms. An anti-dandruff shampoo is like a first aid treatment for an itchy scalp and flaking. It comes in many types, each with different active ingredients. These are the classifications of shampoos for dandruff.
Pyrithione zinc shampoos
Pyrithione zinc is antibacterial and antifungal. It's one of the oldest and most common anti-dandruff ingredients. Pyrithione zinc shampoos come in different concentrations. Use a higher percentage, around 2 percent, if you have severe dandruff. You can also consider leave-on products, which work overtime to treat flakes.
Tar-based shampoos
These shampoos contain coal tar, a coal byproduct that decreases the rate of flaking on the scalp. It's proven to be effective at treating dandruff but it has a dark hue that shows up on light hair colors. It can also increase the scalp's sunlight sensitivity. Some people may not like the smell, too. Others have claimed that coal tar is a carcinogen but studies have shown that it's safe to use.
Shampoos with salicylic acid
Salicylic acid is a beta-hydroxy acid (BHA) that's also used in skincare to treat acne and exfoliate the skin. When used on a dry scalp, it sloughs off dead skin cells that cause dandruff. It's anti-inflammatory and antimicrobial with a lower risk of irritation than other dandruff-fighting ingredients.
Selenium sulfide shampoos
Selenium sulfide is an anti-fungal that has similar effects as coal tar. It slows down how quickly the scalp's skin cells die off. It's a good alternative to tar because it doesn't smell. You still have to rinse it out thoroughly because it may discolor the scalp or hair.
Ketoconazole shampoos
Ketoconazole eradicates fungi on the scalp that cause dandruff. If pyrithione zinc doesn't eliminate flakes on your dry scalp, this is another good option. It comes in higher concentrations which can combat stubborn dandruff.
Tea tree oil shampoos
Tea tree oil is an anti-fungal that can treat mild dandruff. Try tea tree oil if you're after a natural fix as it's one of the most popular natural ingredients for dandruff that has evidence backing it.
How to Choose the Best Shampoo for a Dry Scalp
It can be very confusing to pick a shampoo for a flaky scalp because there are so many options and they all seem to do the same thing. It can also be tricky to pick the best one for your own particular hair and scalp.
To start, pick a shampoo with clinically-proven active ingredients that work for dandruff and a dry scalp. Any of the ingredients on the list above will be good for scalp care.
Secondly, make sure the shampoo lathers and rinses off well. Any residue left behind may irritate the skin or cause more buildup. A shampoo should at the most basic level cleanse the scalp and hair well.
Lastly, pick the right shampoo for your hair type. That is, if you have both a dry scalp and hair, look for moisturizing ingredients and oils. If your hair leans more oily, look for ingredients that mop up sebum. For color-treated locks, a sulfate-free and color-safe shampoo is the best pick.
What's the best way to use shampoo for dandruff?
Massage the shampoo into the scalp using circular motions. Let it sit for at least five minutes before washing it out.
Be gentle and don't scratch your scalp. This worsens flakes and causes irritation.
Don't overuse a medicated shampoo. Use it alternately with a regular shampoo.
Don't use heavy conditioners and oils on the scalp which can trigger the uptick of fungi.
Stay away from irritants and fragrances, which can contribute to itching.
If your scalp issues still don't go away, see a dermatologist.
The Verdict
These are the best shampoos to calm a dry scalp, to date. If you're dealing with an itchy scalp or scalp dryness, any one of these picks should do the trick. My pick is the Biolage Scalpsync Anti-Dandruff Shampoo. I know it's quite pricey but hear me out. It has everything I love in a shampoo, namely a clean scent and a satisfying lather. It contains the dandruff-busting active ingredient pyrithione zinc and soothing mint to relieve itchiness. It's gentle but leaves hair feeling clean yet it doesn't strip it of oils. That's a win-win, for me.
Leah Williams
Leah Williams is the founder of Lucky Curl and has been in the hair care and styling industry for the last 15 years. Since then, she has developed incredible expertise and a deep understanding of how to treat and style the most difficult hair types and is passionate about sharing her knowledge with the readers of Lucky Curl.