Even if you haven't heard of sulfates and the no-sulfates movement, you use them everywhere from your facial wash to your toothpaste. But what are sulfates, exactly?
Sulfates are surfactants responsible for the foaming action of shampoos. That means they clean your hair while giving you that satisfying lather.
However, more people are opting for sulfate-free versions because sulfate shampoos are too harsh for their hair or scalp.
Here are the top-rated picks for the best sulfate free shampoo in the market that will give you a perfect hair day without stripping your natural oils.
Best Sulfate Free Shampoo – 5 Must-Try Products for Healthier Hair
Pureology Hydrate Sheer Nourishing Shampoo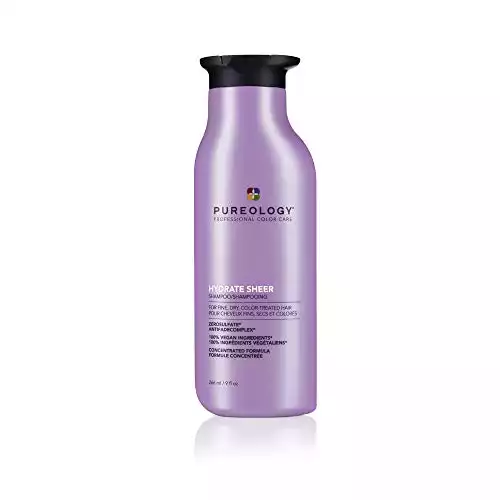 Quench dry, fine hair without weighing it down with the Pureology Hydrate Sheer Nourishing Shampoo, one of the best sulfate-free shampoos for sparse locks. It is silicone-free and offers superior moisture for dry, fine, and colored hair.
You only need to use a little, which will give some relief because this is quite a pricey product, and it lathers very well, so you can rub it into the strands easily.
The shampoo contains jojoba, green tea, sage, and an aromatherapy blend of lavender, bergamot, and patchouli. The key ingredients prevent hair color from fading. These are enhanced by the addition of sunflower seed, vitamin E, and a UV filter which protect hair from environmental pollutants and keep hair your locks looking and feeling moisturized. I also like that this is vegan and cruelty-free, good for eco-conscious shoppers.
With regular use, the hair will feel more hydrated and touchably soft. That said, you have to be careful if you have sensitive skin or are easily irritated by fragrance. Some users also say that it makes their hair more tangled and frizzy.
Pros
Made without silicones and contains vitamin E, sunflower seed, and UV filters
Best for dry, color-treated, and fine hair
Lathers well and is color-safe
Contains jojoba, green tea, and sage
Has a pleasant scent (lavender, bergamot, and patchouli)
Cons
Expensive
Contains fragrance, a potential irritant
Maui Moisture Heal & Hydrate + Shea Butter Shampoo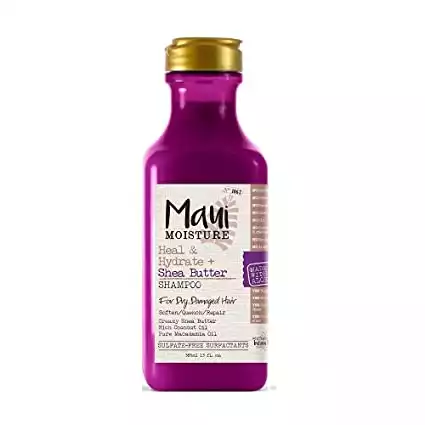 This is a conditioning sulfate-free shampoo best for straw-like locks that have seen better days. Its first ingredient is aloe juice, an ingredient that soothes and unclogs pores. This also contains creamy shea butter, coconut, and macadamia oils, a combination that softens, heals, and hydrates dry hair.
Aside from preserving and adding moisture to lifeless locks, this sulfate-free shampoo is suited for damaged hair and split ends. It cleans without overdrying a lackluster mane.
Shea butter preserves the shape of tight curls and makes curly hair look bouncier. Waves will look healthier and feel more touchable.
The moisture shampoo is also formulated for color-treated hair and can even be used daily. This shampoo is also vegan, silicone-free, and paraben-free and doesn't use mineral oil or synthetic dyes. It has earned high ratings and comes at an affordable price.
If you have chronically dry, brittle hair, this may be your new holy grail shampoo. The moisture shampoo has a thick consistency and a tropical scent, which some people may not like. It's also not advisable for use on oily hair because it will feel too heavy and weigh it down.
Pros
One of the best sulfate-free shampoos for very dry or damaged hair
Contains aloe juice, shea butter, coconut, and macadamia oil
Softens and hydrates
Keeps curls bouncy
Free from silicones and parabens
Cons
Not for oily hair
Has a coconut scent which others find overpowering
Pure Nature – Moroccan Argan Oil Shampoo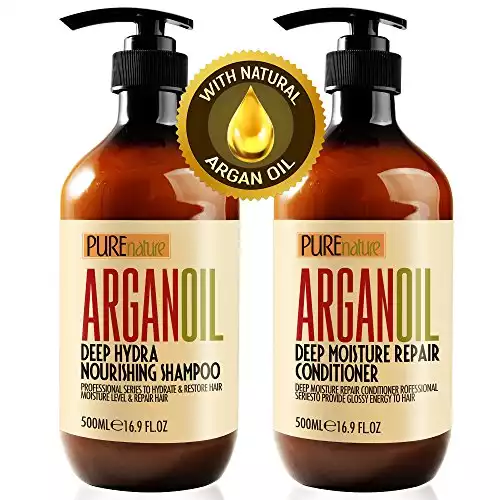 Another great shampoo to consider if you're going sulfate-free is this Moroccan Argan Oil Shampoo by Pure Nature. This is an amazing sulfate-free shampoo for colored or keratin-treated hair. It protects your hair from heat and UV rays while infusing your mane with antioxidants and vitamins.
If you're constantly subjecting your hair to damage from flat irons, blow dryers and hot brushes, this is a sulfate-free shampoo made for you. It's also free from parabens, gluten, or phthalates so it won't irritate your skin or make your allergies flare up.
This contains argan oil, collagen protein, and keratin to nourish and cleanse your hair without overdrying it. It prevents split ends and breakage as it's made with strengthening ingredients. Pair it with the Moroccan Argan Oil Shampoo if you want extra hydration.
This does everything a regular shampoo does, namely, cleanse, smoothen, soften, and repair. It also foams up well.
While it's not exactly inexpensive, you get a lot of product in one bottle. Some users have noted that it leaves their hair feeling greasier because it's so moisturizing. The pump is poorly designed because it doesn't dispense enough product and breaks easily when dropped.
Pros
One of the best sulfate-free products for colored, keratin-treated, and damaged hair
Has a thermal and heat protectant
Made without parabens, gluten, or phthalates
Contains argan oil, collagen protein, and keratin
Treats breakage and split ends and lathers well
Cons
May leave hair feeling greasy
Packaging needs improvement
BOTANIC HEARTH Biotin Shampoo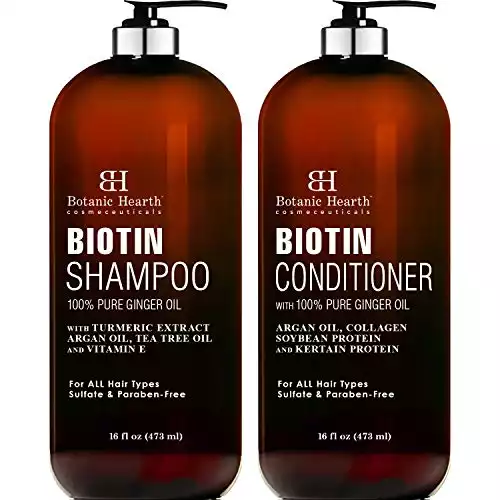 If you're looking to thicken your hair or are struggling with hair loss, the Botanic Hearth Biotin Shampoo is a strengthening sulfate-free shampoo that may be up your alley.
Its active ingredient biotin is infused with 100 percent pure ginger oil, turmeric extract, argan oil, tea tree oil, and vitamin E. It's a moisturizing and restorative shampoo with a gentle cleansing action. It helps promote healthy hair growth and improves the thickness and strength of your mane.
Ginger oil also improves hair health while turmeric is a hair growth stimulant. Argan oil protects and repairs hair that's damaged and tea tree oil soothes a dry scalp and gets rid of flakes. The sulfate-free shampoo can be used daily and is color-safe.
I also appreciate that it's a cruelty-free product with a complementary conditioner. You get 16 fluid ounces of product so it's cost-effective. It has a clean, fresh scent that makes shampooing pleasurable even if doesn't lather that much.
However, some people find the smell strong and offputting. Aside from that, the pump bottle mechanism needs improvement, according to some users.
Pros
Contains biotin for hair growth
Has 100 percent pure ginger oil, turmeric extract, argan, and tea tree oils
Moisturizing and repairing
Soothing and color-safe
Cruelty-free
Cons
Some users note that it smells weird
The pump doesn't dispense product well
Redken Color Extend Magnetics Shampoo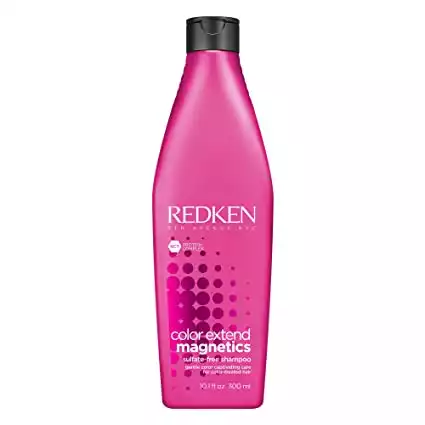 If you're after the best sulfate-free shampoo specifically made for colored hair, you'll love the Redken Color Extend Magnetics Shampoo. It's a unisex product that's part of Redken's Color Extend Magnetics haircare system made for chemically-treated hair. It's suitable for all hair colors.
This sulfate-free shampoo uses the RCT Protein Complex to prevent dyes from fading and enhance shine so your mane stays vibrant. It can help maintain your color in between salon visits and it gives you 4 weeks of color protection. It's a gentle cleanser so it won't strip away color and natural oils.
This shampoo is also lightweight and conditioning so it won't feel heavy or leave your hair dry. It contains amino acids, soy protein, arginine, and sepicap, a blend of ingredients that volumize, keep the ends of the hair in tip-top shape, and strengthen hair from the inside.
It's a candidate for the best sulfate-free shampoo for colored hair but it does come at a slightly higher price. Some users say that the shampoo is runny while others say that it's too thick. There are also reviews that say that the shampoo leaves a residue and doesn't make the hair feel fully clean.
Pros
Formulated for colored or chemically-treated hair
Part of Redken's Color Extend Magnetics system
Keeps color from fading and makes hair shiny
Gently cleanses
Contains amino acids, soy protein, arginine, and sepicap
Cons
A bit expensive
Consistency varies, according to some reports
Leaves a residue on the hair
A Guide to Buying the Best Sulfate-Free Shampoo
What are sulfates?
Sulfates are chemicals that are cleaning agents. They are detergents, also known as surfactants, that can be found in shampoos, body washes, toothpaste, detergents, and other household cleaning products.
Shampoos usually use Sodium or aluminum lauryl sulfate (SLS or ALS) and sodium laureth sulfate (SLES) in their formulations. The compounds of sulfates help trap oils and suspend them in water. They form a frothing action to ensure that product is distributed easier on the hair.
Is a sulfate-free shampoo really better for your hair?
Sulfates starting getting a bad rap in the 90s when rumors circulated that they cause cancer. Synthetic ingredients were also included in these claims, things like artificial fragrance. However, the claims, to date, are unfounded. Sulfates are good for your hair and safe to use. They are not carcinogens, according to the FDA and American Cancer Society.
Sulfate shampoos aren't necessarily worse than sulfate-free ones. They have been used for decades to clean the hair and scalp and don't damage the hair as much as heat styling and chemical treatments do.
Shampoos of all forms remove oil and debris. The natural oils on our hair trap gunk so it's important that you rinse them off.
However, these oils protect your hair shaft from damage. That's why sulfates should be used in moderation and not left too long on the hair. There are just some people who are more sensitive to sulfates.
Sulfate shampoos can irritate certain scalps and hair types. For example, the American Academy of Dermatology recommends zero sulfate shampoos for people afflicted with rosacea, contact dermatitis, eczema, and sensitive skin.
Reasons to consider using a sulfate-free shampoo
You may want to try using a sulfate-free shampoo if you belong to any of these categories.
Curly or coiled hair
You should try going sans sulfates if you have tight coils or curly hair because it can overdry these hair types. If you have curly or tightly coiled hair, you need to preserve moisture so your locks look bouncy and healthy.
Dry or frizzy hair
If you already have a dry or frizzy mane, you don't need to strip more moisture by using sulfate-filled shampoos. For some hair types, these shampoos are too harsh and leave hair feeling more brittle.
Sensitive skin and scalp or eczema
Sulfates may irritate sensitive skin types, especially if you have eczema or other skin issues. This can help decrease itching or flaking. However, if your symptoms are severe, consult your doctor for a proper diagnosis.
Color-treated hair
Sulfates can also rinse out color, though a badly-formulated shampoo (with or without sulfates) may be a bigger culprit. Some people have reported lackluster color or fading with sulfate shampoos. If you want to keep your vivid hair hue, consider using going sulfate-free for the time being, or better yet, try out a color-protecting shampoo formulated for dyed hair.
How to Choose the Best Sulfate-Free Shampoo
Assess your hair type and whether you need a sulfate-free shampoo.
Shampoos made without sulfates are in vogue but you need to ask yourself if you really need one. To start, check if your hair is normal, oily, or dry. Oily hair types respond better to the foaming action of sulfates. If you have dandruff, you may need a sulfate shampoo to keep the flakes in check. Dry and frizzy hair types are better candidates for going sulfate-free. The same goes for color-treated hair and people with eczema and sensitive skin.
Determine your hair concerns.
Now that you've done your assessment and concluded that you want a sulfate-free shampoo in your routine, the next step is to think of what issues plague your hair.
Have you been having more flakes lately? Are you frequently straightening or blow-drying your locks? Is your hair coarse or fine? Did you get a keratin treatment or had your hair dyed?
This is important in choosing the best sulfate-free shampoo for you because there are different kinds with special formulations to treat all sorts of hair concerns.
Choose a sulfate-free shampoo that fits your hair needs and budget.
Now, you're ready to pick a shampoo. Check the ingredients list and product page and read the label and claims. For example, when a shampoo claims to moisturize dry tresses, look for emollient ingredients such as oils on the label. If you're looking to beef up a limp mane or are prone to breakage and damage, get a sulfate-free shampoo with strengthening ingredients.You may also look into buying a conditioner from the same line or brand or just trying a different conditioner for another hair concern.When it comes to cost, feel free to splurge or save, whatever you feel comfortable spending. Some people like to shell out for a luxurious shampoo with an elegant bottle while others prefer a utilitarian, no-frills drugstore product that does the job.
Wrap Up
When looking for the best sulfate-free shampoo, make sure the ingredients suit your hair type and address your concerns, whether you have oily or fine hair, color-treated or frizzy locks.
The best sulfate-free shampoo on the list is the Pureology Hydrate Sheer Nature Nourishing Shampoo.
It's formulated for fine and colored hair and has a pleasant scent, which I find important for a luxurious shower experience. It doesn't feel heavy on the hair because it's free from silicones. It protects color fading and lathers well, so you don't miss the sudsy sulfates all that much.
Plus, it has UV filters and vitamin E to protect your hair from pollutants and sun damage.
There's a lot to love in this sulfate-free shampoo for fine hair but I bet oily hair types will love this, as well.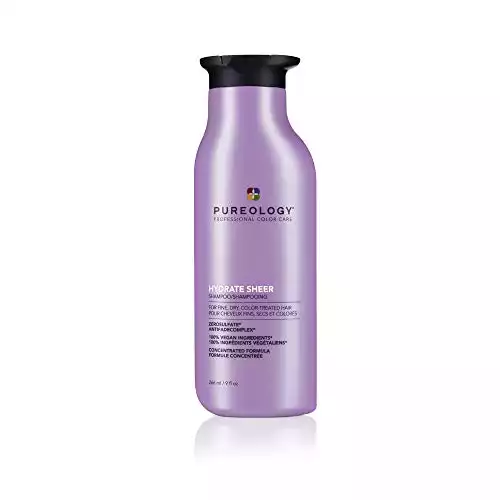 Leah Williams
Leah Williams is the founder of Lucky Curl and has been in the hair care and styling industry for the last 15 years. Since then, she has developed incredible expertise and a deep understanding of how to treat and style the most difficult hair types and is passionate about sharing her knowledge with the readers of Lucky Curl.