This is a review of the Chi G2 Flat Iron which I have based on my experience testing the product.
I work as a hairstylist and I have always made it a point to try out new styling tools to see which one will give me and my customers the best outcome. I have tried a CHI flat iron before and I was pleased with it. Now, I am eager to try out the CHI Pro G2 flat iron since I have read several good reviews about it.
I am quite picky when it comes to using a professional flat iron. I want it to be lightweight, compact, and comes with features that will make my styling job faster and easier too. Will the CHI Pro G2 live up to my expectations?
The G2 features titanium infused plates that easily creates frizz-free, smooth, and shiny straight hair quickly. I was impressed by this because it has certainly helped cut the styling minutes. I like the ergonomic design too because it is a comfortable fit on my hand and easy to manipulate too when straightening my hair. I find it a versatile tool because it can be used on different hair types which is always a plus for me.
In this review, I will be sharing an overview of the CHI G2 iron, the features that I believe make it one of the best hair straighteners to get for your personal use, as well as alternatives in case you want to see more options.
After reading this article, I hope that you will be able to have a better idea of why the CHI G2 Professional Flat Iron is worth checking and trying out too. You can use this as a stepping stone to finding the perfect hair straighteners for your specific needs.
Yes, there are plenty of flat irons out there that are worth taking note of, but the flat iron CHI brand is one of the most trusted in the market, and if you want to know why then keep on reading.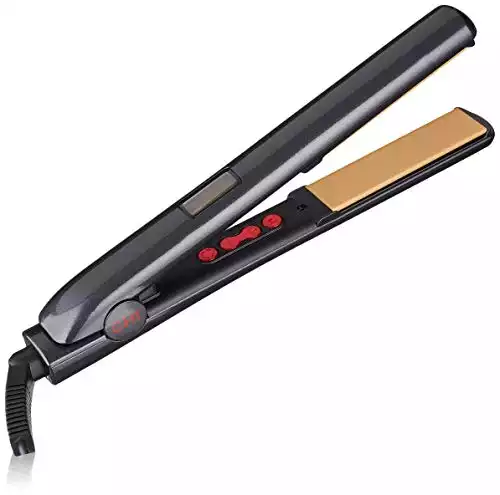 Introducing the CHI G2 Flat Iron
The CHI Pro G2 Digital Titanium Infused Flat iron works much the same way as other types of CHI flat iron in the sense that it will give you a professional-looking straight mane easily. The ergonomic design is well thought out since it is easier to hold and wield too which is important in any hair straightener. One reason behind this is that it lessens hand fatigue which is quite common in a heavy hairstyling iron. The CHI Pro G2 Digital flat iron is quite comfortable to hold and you won't even have a hard time reaching the back of your head too since it comes with an 11-foot cord that will not tangle.
The titanium infused ceramic plates heat up evenly and quickly which comes in handy if you are in a rush. No need to wait for a minute or two for the plates to reach the desired heat. You can even tell what temperature it is in at the moment based on the color coded LCD screen that it is equipped with. The maximum heat that it can reach is 425 degrees Fahrenheit.
What makes the CHI G2 Flat Iron a good hot styling tool to use on your mane? Well, it only takes 40 seconds for the straightening iron to reach a specific temperature which beats having to wait a full minute. You can tell if you have reached the proper temperature setting based on the color coded LCD screen. It is dual voltage and comes with an auto shut off feature as well which is for your safety.
Our Favorite Features
The CHI brand is one of the most trusted names when it comes to flat irons which are not surprising given that all of its products were made to be durable and efficient. The CHI flat iron is a promising tool, but what makes this dynamic CHI G2 worth investing in? Let's find out.
Titanium Infused Ceramic Plates
The flat iron CHI Pro G2 comes with titanium infused ceramic plates that deliver silky smooth straight hair minus frizz and flyaways all the time. CHI makes use of titanium and ceramic plates for added durability since these two materials are known for their hardiness. Also, it boasts of advanced technology for 40 seconds of waiting for the plates to heat up which is quite fast already. If you are looking for a hairstyling iron that will reduce the time it takes to straighten or even make your mane wavy, these ceramic plates mixed with titanium definitely helps.
The combination of titanium and ceramic helps with improving durability and an even heating which is important in a hair straightener. After all, you don't want to end up burning your strands because of the hotspots on the plates. The CHI flat iron ceramic heater doesn't snag your mane when in use but rather you will enjoy a gliding sensation when ironing your hair out.
Thanks to the upgraded ceramic plate technology, using the CHI Pro G2 is a breeze. Aside from the ceramic plates for added durability, the titanium infusion ensures that the flat iron will last you longer. There are no snags to worry about, plus you will be able to iron out your strands in a jiffy which is certainly an advantage to those who want to get their hair done quickly in the morning. Expect that your mane will be smooth, soft, and no frizz after you have used the G2 Flat iron by CHI.
Color Coded Digital Temperature Settings
What else can you expect from the CHI Pro G2 digital hair straightener? Unlike other flat irons that come with a dial for adjusting their temperature settings, this product comes with color coded temperature ranges to make it easy for you to decide what amount of heat to use based on your hair type.
The CHI G2 features preset recommended temperatures for different hair types and these are:
Blue (0 to 370F) for fine or fragile hair.
Green (375 to 395 F) for medium or wavy hair.
Red (400 to 425 F) for coarse or thick hair.
Following the temperature ranges and preset recommended for specific hair types can help reduce the damage that your strands are exposed to. Take note that the temperature setting for fine or fragile hair is the lowest possible setting since your hair strands are prone to breakage when exposed to extreme heat. On the other hand, the setting for medium and coarse hair can range from 375 F to the highest which is 425 F which guarantees better results. After all, thick hair will need more heat to straighten it out. If you are not sure which one to use on your mane, it is a good idea to start with the lowest possible setting then increase as needed.
Watching the color changing screen allows for proper temperature to be used which is essential in this flat iron for it to be effective as a versatile styling tool. The best part here is that even if you cannot see the number on the LCD display, the color should be able to give you an idea of its current temperature. This will help you avoid burning your hair. From 370 for fragile hair strands to 425 f for coarse resistant hair, this is one versatile tool that is worth taking advantage of.
Dual Voltage
What else can you expect from the CHI Pro G2 Professional flat iron? Well, it is worth noting that it has a dual voltage which means that you can bring your CHI Pro G2 when you travel abroad. This is an advantage especially since you will be able to look your best anywhere you go without worrying about damaging your device because you have plugged it in 110 or 240 volts. There is simply no excuse for you to not style your mane when you are out and about. With its dual voltage travel the world with your favorite flat iron is now a reality. Go and see the world and rest assured that the CHI G2 will be ready for you to use.
Ergonomic Design
I absolutely love the ergonomic design of the CHI Pro G2 because it is easy to use compared to others. Every time you hold it, you are assured that your tool will be a comfortable fit to your hand and that, thanks to its being lightweight, you will not have any difficulties straightening your hair from the front to the back. Unlike other flat irons that are bulky, the PRO G2 Digital is sleek and stylish and it is just hard not to love it.
Auto Shut-Off
Another important feature of this straightening iron is that this tool is safe to use. This is because it comes with a 1 hour auto shut off feature to prevent it from causing any damage to your dresser or electricity when you forget to unplug it. I would say that you should definitely look for a straightening tool that comes with this safety feature since using a hot styling tool can pose a risk too if it is left running for too long.
Long Cord
The G2 Flat Iron also has an extremely long cord that measures 11 feet which gives you more room to move around while styling your mane. This comes in handy since the cord will not get tangled when you move the device from the front to the back or at different angles as well.
Alternatives
Are there other flat irons that can match up to the features of the CHI Pro G2? From my research, I was able to round up three possible alternatives to the CHI brand of flat iron. Here's what you need to know about them.
Furiden – Professional Hair Straightener
The CHI Pro G2 has a competition in the Furiden with its sleek design upgraded technology and faster heating time at only 15 seconds. It has upgraded technology and outstanding performance that lets you straighten or curl your hair in record time. This 2-in-1 styling tool is quite versatile because its adjustable temperature settings can accommodate those who have fine all the way to having thick hair without causing damage to the strands. What this means is that regardless of your hair type, you won't have any problem using this brand. It helps that this hair straightener comes with balanced floating plates that adjust themselves based on the angle of the barrel so you will be able to get the results that you are looking for no matter how you move your flat iron. You won't experience snagging or tugging of strands thanks to the ceramic plates that simply glide across your mane. Just like the CHI Pro G2 straightening tool, Furiden also offers a dual voltage feature which makes this product a useful travel companion too. Of course, this will not be complete without a heat resistant glove, salon comb, a flat iron bag, as well as 2 salon hair clips to help with holding a section of your hair while you straighten or iron it out.
NITION Professional Salon Hair Straightener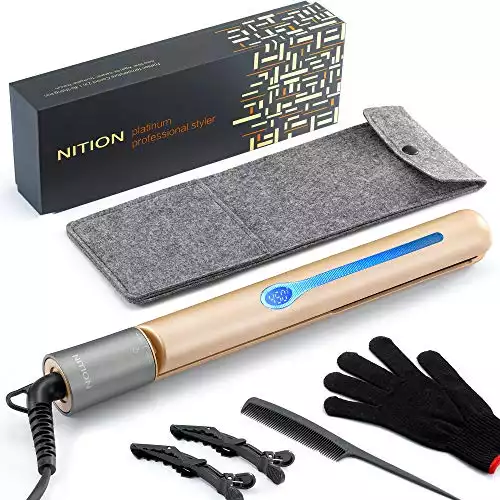 Another possible alternative to the CHI Pro G2 Digital Hair Straightener is from NITION. Right from the start, the design is almost the same as that of Furiden with its rounder barrel but this is where the similarities end. Unlike the CHI G2 flat iron that has titanium infused ceramic plates, this one is infused with Nano Silver, Tourmaline, Argan oil, Ceramic and Titanium which help create smooth, shiny, and frizz-free mane all the time. The unique combination of the materials make this device quite safe to use regardless of the type of hair that you have. Unlike the CHI G2 Iron that has present recommended temperatures, in the case of the NITION, it comes with a rotating end that lets you increase or decrease the temperature based on your hair type with the highest temperature setting is at 450 F. This is an impressive styling tool because of its extra long plates that let you straighten more strands compared to others which essentially speeds up your styling process. This is particularly useful for those who have thick mane because you will be able to straighten more hair compared to others. It is worth noting that its sleek look is not marred by the presence of on and off buttons or dials to control the heat. This is because the controls are found at the bottom which can be rotated in either direction. This way, you won't have to worry about hitting any buttons while you style you curl or straighten your hair. Of course, it comes with a safety feature too wherein the device shuts off automatically when it has been idling for an hour already. This is a plus already for me and one that will be quite useful for anyone who tends to be forgetful when it comes to their styling tool. Just like with the previous hair straightener, this also comes with a heat resistant glove, a travel bag, salon comb, and hair clips as well.
REVLON Perfect Straight Smooth Brilliance Ceramic Flat Iron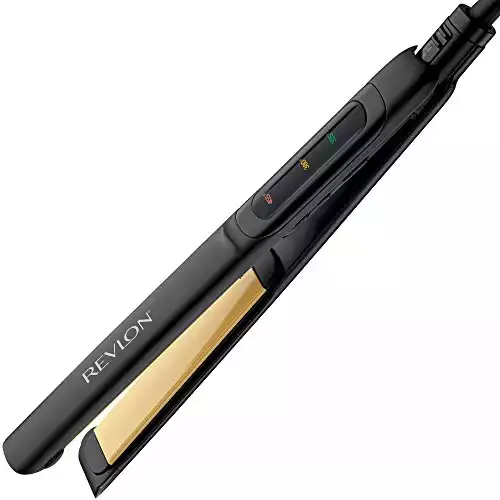 I have to say that this is closer to form with the CHI Pro G2, but of course, there are some subtle differences too. For starters, it is equipped with 1 inch XL advanced ionic tourmaline ceramic plates that are designed to make your hair shiny, smooth, and silky to the touch. It is worth noting that the floating plates can grip each section of your mane well thus making it easier to iron out the kinks to achieve that salon-like pin-straight hair which is important when using any flat iron. It heats up real quick too since it only takes 15 seconds for the device to reach the desired heat. I noticed that just like the CHI Ceramic Heater with advanced technology, the REVLON flat iron also has color coded temperature ranges which I think makes it easier to determine what temperature your flat iron is currently at. It beats having to peer at the LCD display since the color will already tell you if you have reached the setting for fine medium or coarse hair. Revlon's ceramic flat iron comes with 10 heat settings with the maximum temperature is set at 455 F which works best for those who have a thick or coarse mane. It does come with an auto shut off feature which is a must.
Wrap Up
The CHI Pro G2 is one hair straightener that has your back if you want a flat iron that is easy to use. It sports a titanium infused ceramic plates for added durability and sturdiness. The plates are protected from corrosion which means that this tool will last you for quite a long time. The ceramic heater with advanced technology guarantees an even smoother glide digital experience to its users without snagging your hair as you iron it out. This is a promising feature since the titanium infused ceramic plates can easily smoothen different types of hair from fine to thick and coarse mane.
The color coded temperature ranges offer a more convenient way for you to choose the best temperature setting for fine medium and coarse hair. The "Mode" offers different temperature ranges and preset recommended for different types of hair so need to second guess what amount of heat is appropriate for the kind of mane that you have. Take note that it has an advanced technology for 40 second heating which speeds up the styling process since you don't have to wait long for the plates to heat up before straightening your mane. The temperature will be displayed on a color coded screen making it easier for you to determine if you have hit the right temperature.
What else is there to expect with the CHI Pro G2 hair straighteners? It offers a sleek design that gives it a professional look. It is easy to wield because it is lightweight and it can be used to straighten and create wavy hair too. The flat iron CHI Pro G2 hairstyling iron with color coded LCD screen allows you to be more in control of how you manage your mane.
If you are looking for hair straighteners that are versatile, with smooth glide digital temperature reading and color coded too, the CHI flat iron is what you need to get from Amazon.
Leah Williams
Leah Williams is the founder of Lucky Curl and has been in the hair care and styling industry for the last 15 years. Since then, she has developed incredible expertise and a deep understanding of how to treat and style the most difficult hair types and is passionate about sharing her knowledge with the readers of Lucky Curl.