Frequent styling could weaken natural hair, causing dullness, dryness, and brittleness. That's why a steam flat iron is recommended for styling natural hair! Unlike an ordinary flat iron, steam straighteners lock in moisture, giving you silky straight hair that never feels dry. This hot tool is much kinder to the tresses, something that African American users with kinky to curly hair will love.
If you are looking for a dependable steam flat iron for natural hair then this guide is for you! We've chosen flat irons that offer intuitive designs, outstanding performance, and of course, great price points.

6 of the Best Steam Hair Straighteners
The Best Steam Flat Iron for Natural Hair
 

 

View this post on Instagram

 
1. L'Oreal Professionnel Steampod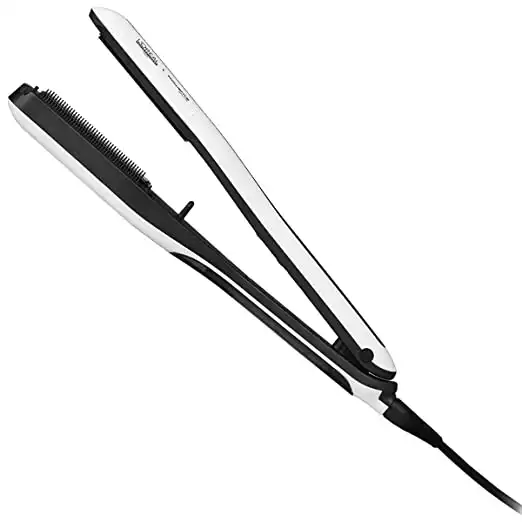 LOreal Professionnel Steampod
Steam Technology

Three Heat Settings --

350°F, 390°F, and 410°F

Integrated, Leak-Free Water Tank

Integrated, Removable Comb

360° Extra-Long, Rotating Cord
Buy from Amazon
We earn a commission if you click this link and make a purchase at no additional cost to you.
If you're looking for a professional-grade straightening and curling iron that can give you salon-worthy results at home, look no further than the L'Oreal Professionnel Steampod. This nifty little device uses steam to instantly transform your hair from perfectly straight to natural waves.
With its 24-hour frizz control and 3 heat settings (350°F, 390°F, and 410°F), you can tailor your styling session to suit your specific hair type and desired results. Plus, the integrated, leak-free water tank means you can style a full head of hair (up to 600ft) without having to refill, and the integrated, removable comb helps detangle hair while styling and holds it in place while straightening or creating waves. 
2. FURIDEN Steam Hair Straightener
The FURIDEN Steam Hair Straightener is a professional quality flat iron that creates bone straight, frizz-free and silky soft tresses thanks to its revolutionary steam technology. This flat iron comes with 38 adjustable high heat settings, reaching 450 degrees Fahrenheit to tame even the most unyielding mane.
The FURIDEN Steam Hair Straightener releases steam and the ceramic heating plates gently lock in moisture to prevent dryness, brittleness, split ends, and frizz. The ceramic heating plates also release negative ions that smoothen hair cuticles, leaving your pin-straight tresses smooth and shiny after every use.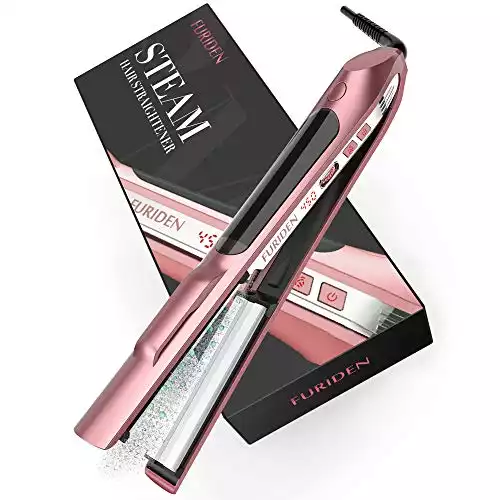 To use, just press the water tank's unlock button, fill the water tank with distilled water, snap the tank back into place and push the steam button. The FURIDEN Steam Hair Straightener will release the hydrating steam as you clamp the flat iron, reaching the ideal setting for optimal results.
Thanks to the brand's proprietary vapor infusion technology, the hair becomes stronger and more resistant to humidity. If your hair becomes a tangled mess because of the hot climate or humid air, you won't come across the same problem with the FURIDEN Steam Hair Straightener. Just make sure to avoid using any type of oil-based product during the styling, save that once you're done using the flat iron so the oils won't clog the system. Other features that I love about this flat iron is the rose gold colorway (there's also one in champagne), compact and travel-friendly design, and the skinny straightener.
One thing though, the FURIDEN Steam Hair Straightener does not have an automatic shutoff feature. You cannot afford to be absent-minded after styling your tresses; you have to check if you turned this flat iron off before you head out. Adding this feature would have elevated the FURIDEN Steam Hair Straightener even further on our list. 
We liked
Floating, no gap plate design
Locking button feature
Automatic shutoff button
15-second quick heat up
360°Swivel Cord
Separate vapor release off and on switch
We didn't like
Awkward controls placement
3. OSIR Professional Titanium Steam Hair Straightener
Most of the flat irons on our list have ceramic or ceramic-tourmaline heating plates and the OSIR Professional Titanium Steam Hair Straightener stands out because of its titanium heating plates. I know titanium plates might prove too harsh for those with thin or damaged locks but hear me out! If you are going for that bone-straight tresses and you need results that last all day and well into the night, this is a great flat iron to get – as long as your tresses could take the heat, that is!
The OSIR Professional Titanium Steam Hair Straightener looks so luxe with its all-black, compact design. The clamp is fitted with two high-quality titanium plates that are infused with ceramic material. The flat iron heats up quickly and it applies heat evenly, ensuring uniform, well-balanced results. The design of the plates is unique; there are no gaps between the titanium plates and the actual clamp so there are no cold spots. Because there are no cold spots, there's no need to go over the same parts of the hair over and over again, which minimizes heat damage.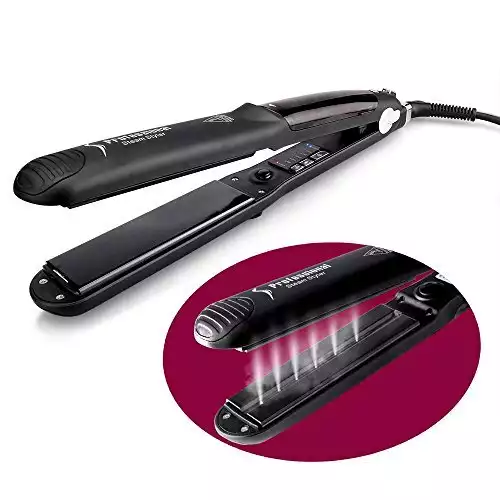 Instead of pushing a button to release the steam as you style your hair, the OSIR Professional Titanium Steam Hair Straightener will release the steam automatically. This makes styling faster and also less damaging to the tresses because the steam release is well-timed. The rubber grip handle gives you perfect control over the flat iron so you don't end up with burnt fingers or ends!
As far as the temperature settings go, there are different settings to address specific hair concerns. The highest setting (410°F to 430°F) is perfect for natural hair that's coarse, thick, and hard to manage. The lowest setting (300°F) is perfect for tresses that are dry, straight with less movement. The flat iron could reach a maximum temperature of 430°F.
The OSIR Professional Titanium Steam Hair Straightener has a lot of cool features to offer with a high-end all-black look to match. The only caveat is the small water tank. If you have long hair or you're tackling a big styling job, you'll have to refill that tiny tank several times.
We liked
Variable Heat Setting
Rapid Heat Up feature
Automatic shutoff feature
Swivel cord
Ionic technology
Adjustable heat settings
4. Magicfly Professional Salon Ceramic Tourmaline Flat Iron
The Magicfly Steam Flat Iron Hair Straightener may not be as well-known as some flat irons but trust me, this device could give popular hair styling brands a run for their money. Featuring a sleek, all-black design and ceramic heating plates, the Magicfly Steam Flat Iron Hair Straightener applies even, gentle heat for a bombastic silk press. And it does so without stressing the hair at all.
With its vapor infusion technology, the Magicfly Steam Flat Iron Hair Straightener gives the tresses a boost of hydration while heat-activated negative ions lock in moisture, giving you soft, brilliant straight hair that lasts all day and night!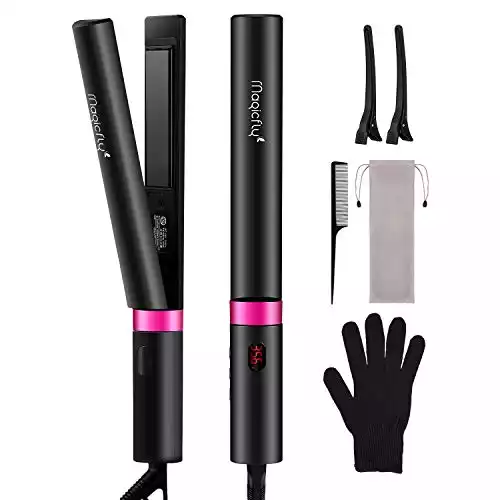 If your hair is prone to frizz, if it turns into a tangled mess because of the humidity or your hair got brittle from regular styling, this straightening iron lets you achieve the look you want without damage. It has 5 temperature settings and is designed for all hair types. The lowest setting (300°F) is perfect for styling fine hair, damaged hair, or delicate hair. You can turn the heat up to 340°F to 370°F for medium density tresses or all the way up to 430°F for thick, coarse hair.
The steam release feature can be turned on and off, giving you control over this feature. I like to keep the steam on most times just because I like how my hair feels after styling. My hair is so glossy and smooth.
Most flat irons are devoid of extra accessories but Magicfly is spoiling its customers with a full set of accessories to go with the flat iron. Out of the box, the Magicfly Steam Flat Iron Hair Straightener comes with hair clips, a comb, a small bottle to fill the water tank, and a heat resistant glove. The only downside is the water tank, which is prone to leaks because of the way it is fitted into the flat iron. You have to be careful as you straighten your hair, something that you shouldn't even be worrying about.
We liked
5 Heat Settings
Rapid Heat Up feature
Worldwide dual voltage
360°swivel cord
Free accessories
Plate locks for storage
We didn't like
Filling the water tank is cumbersome
Not ideal for beginners
5. Solofish Steam Hair Straightener
Next on our list is the Solofish Steam Hair Straightener. Don't let the basic design fool you, this is a high performance, salon-quality steam hair straightener despite its compact size. It features two sets of advanced ceramic heaters that heats up in 15 seconds or less, faster than most hair straighteners I've had the pleasure of testing. The Solofish Steam Hair Straightener produces negative ions that deeply penetrate every hair strand, giving you pin straight locks with lots of body and shine.
It offers 6 temperature settings, perfect for different hair types. The lowest setting – 300 degrees F – is suitable for anyone with delicate or fine tresses while 340 – 370 is the best temperature for medium density tresses. If your hair is a pain to style because it's coarse, thick, and unruly, set the temperature to 410 to 430 degrees – this setting is perfect for quick touch-ups too. The Solofish Steam Hair Straightener has a maximum temperature of 450 degrees if you need a long-lasting salon finish!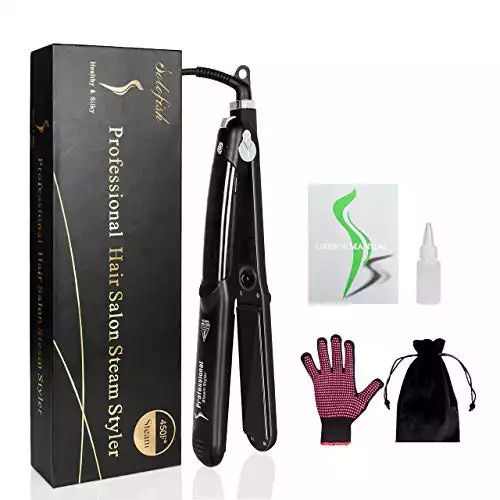 As for the steam setting, the Solofish Steam Hair Straightener delivers rich, luxurious steam that hydrates the tresses. The flat iron has 5 steam vents that deliver the steam evenly. There is also a setting for the 15-minute constant steam, a great feature if you have extremely dry hair that needs lots of TLC.
I love a flat iron with great safety features and it's nice to see that the Solofish brand added an automatic shutoff feature. No more fears of forgetting to turn your flat iron off, it does so automatically. With its easy operation, quick heat up, and safety features, the Solofish Steam Hair Straightener is one of the best steam flat iron for natural hair in our book. The water tank may be small but it could store enough water for a couple of uses.
We liked
Digital control
3 Steam settings
Automatic shutoff feature
Automatic temperature control
Salon-grade, heavy-duty design
Quick heat up feature
We didn't like
Weak steam release
Small water reservoir
6. MKBOO Steam Hair Straightener
A recent addition to our list of top steam hair straighteners is the Nano Titanium Ceramic steam flat iron by MKBOO.
As you straighten, the hair is infused with hydration from the tips to the roots thanks to steam holes that allow water ions to penetrate into the hair. This innovative hair hydration technology locks in moisture to the hair and results in silky-natural strands instead of dry, frazzled hair you can often encounter with normal flat irons.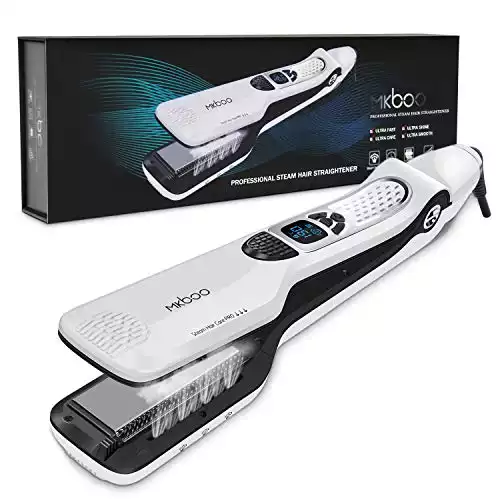 A few features I particularly liked about this product was the wide titanium and aluminium plates with 3D combs. The combs work to separate the strands, allowing you to avoid snags or the tearing of the hair for seamless straightening. A high-quality titanium aluminum plate protects and seals the cuticles resulting in smooth, glossy and healthy hairs.
Overall, there is a lot to love about this straightener. Some of the key features include the Metal Ceramic Heater for even heat distribution, adjustable heat settings, auto shut-off and a 360 degree swivel cord for easy styling.
We liked
1 1/4" Ceramic Coating Titanium Plates
Ion generator for shine creation
450°F Maximum Temperature
5 Level Adjustable Temperature
Rapid 30 second heat up
We didn't like
Can be quite heavy and clunky
The comb feature might not be suitable for all hair types
A Guide to Buying a Steam Flat Iron
What to consider when buying a steam hair straighter:
Steam Vents:
The steam vents are important as they ensure the vapor can be released from the styling tool to hydrate the hair as you straighten.
Some straighteners can provide you the option to change the intensity of the steam and even turn it off all-together.
Water Tank:
This is of course where you will fill and store the water in the reservoir. Opt for steam straighteners with a large capacity water tank. If the tank is too small you could find you have refill it frequently.
You will also want to ensure its safely positioned and secured. Look to fill the tank with a water dropper to ensure there isn't too much spillage as you refill.
Plates:
Despite the moisturizing benefits of the steam, the plate material can also be crucial factor to minimizing damaged hair thanks to straightening.
Look for ceramic, tourmaline, and titanium plate materials when choosing your next flat iron.
Steam Hair Straightener FAQs
How does a Steam Flat Iron Work?
Ever wonder how a steam flat iron works? Ordinary hair straighteners have solid heating plates fitted onto the clamp. A steam flat iron, on the other hand, has steam vents that run along the length of the heated plates to inject steam on the hair as you straighten it. The concept is not new, it's meant to reduce dryness caused by regular styling. The steam promotes moisture absorption so the finish is soft, smooth, and shiny. The steam helps reduce frizz, static, and brittleness as well.
Are Steam Flat Irons Better?
It depends on two things, the results you want and your hair type. I'd say steam irons are better if you have thick, coarse, and dry hair. Steam flat irons have a way of taming even the most stubborn mane. The steam does two things: it softens the hair strands while also prolonging the life of the hairstyle. Steam hair straighteners are kinder to the tresses and it makes the hair stronger, more resilient against heat damage and breakage. Steam flat irons are better for those who have trouble styling their hair, those who have dry hair and users who need longer-lasting results.
That said, it will take practice to get used to the steam. If you are new to steam flat irons, don't style your hair with it for the first time if you have an important event. Hold the steam flat iron a few inches away from the scalp so you won't burn yourself. Safety first!
Are steam straighteners less damaging?
Steam hair straighteners are in fact gentler on the hair than a normal hair straightener. This is thanks to the vapor that seals moisture, mitigates frizz and protects hair from the heated plates.
Ultimately steam straighteners can be used on any hair type, but the moisture infusion that comes with the steam vents is what makes them less damaging to those with curly and coily natural hair.
Benefits of a Steam Flat Iron
Perfect for Natural Hair and Kinky Hair
For African American users who want to achieve that gorgeous silk press, I highly suggest investing in a good steam flat iron. This device will straighten natural hair, kinky hair, curly stubborn hair, you name it. You'll get salon-worthy results right in the comfort of your home! Since the flat iron is using steam, you are not inflicting more damage to your hair with chemical relaxers.
Glossy, Healthy Hair
Steam flat iron gives the hair a generous boost of moisture, leaving the hair healthy, glossy, and full of life. Damaged, damage-prone tresses are a cinch to style with a steam flat iron. It straightens the hair quickly + provides ample protection from breakage.
Humidity-Proof Hairstyle
If your hair turns a tangled mess because of humidity then a steam flat iron is all you need to boost the life of your hairstyle. The flat iron is not just relying on heat to straighten the tresses; it utilizes vapor infusion technology, which gives you better control over your stubborn hair. The result? Frizz-free, tangle-free hairstyle that lasts.
Wrap-Up
Whether you have think or thick hair, a steam flat iron is one of the best hot tools for taming the most stubborn manes and I highly recommend this hot tool to anyone who has hair that's a nightmare to style. It hydrates and strengthens every hair strand, preventing brittleness and breakage. Yes, there is a learning curve but once you get the hang of it, there is no looking back!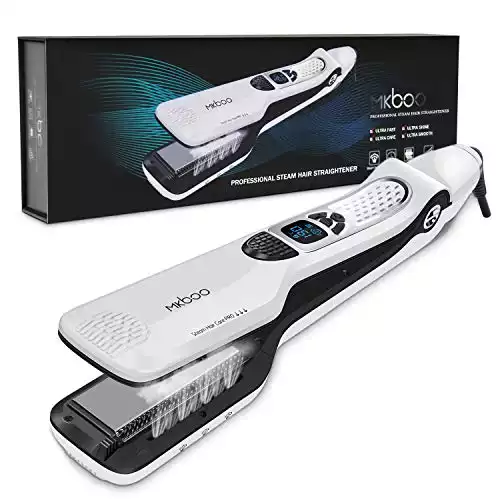 Leah Williams
Leah Williams is the founder of Lucky Curl and has been in the hair care and styling industry for the last 15 years. Since then, she has developed incredible expertise and a deep understanding of how to treat and style the most difficult hair types and is passionate about sharing her knowledge with the readers of Lucky Curl.