You've really done it this time. You've wrecked your hair. Maybe it's from a bad perm. Maybe you didn't use a good ol' heat protectant. Whatever it is, it's going terribly for your locks. And despite this, you still need a flat iron to function in the world. Well, I got you. When you're looking for the best flat iron for damaged hair, you can't go wrong with these picks.
Best Flat Iron for Damaged Hair – 5 Top-Rated Hair Straighteners
ghd Platinum+ Professional Performance Hair Styler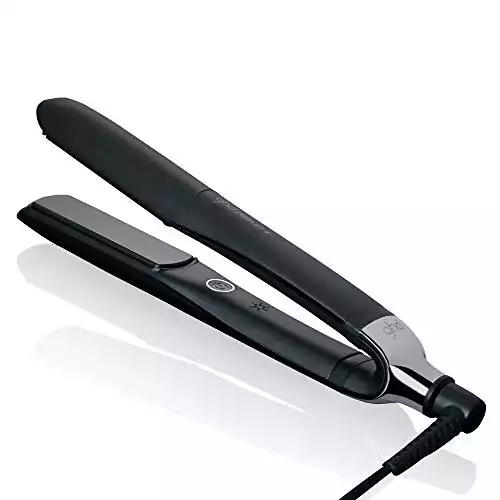 Touted as the world's first smart flat iron, the ghd Platinum+ Hair Straightener has a few tricks up its sleeve. It's a hair straightener that takes the guesswork out of hairstyling. It has state-of-the-art ultra-predictive technology that monitors heat 250 times per second, giving you stronger and healthier hair. Here are the numbers: 70% stronger hair, 20% more shine, and 2 times color protection.
This ceramic hair straightener actually adapts to the thickness of your hair and how you style. The plates are finely milled floating plates with a glossy finish so smooth even fraying hair won't get caught on the flat iron.
Complementing the floating plates is the wishbone hinge design. I always find it annoying when my hair gets trapped on the hinge of a flat iron. The ghd has this unique hinge that keeps the plates aligned so you don't accidentally rip out your hair.
Other features that make this flat iron easy to use is the protective plate guard that keeps the flat iron locked in place when traveling or just sitting on your vanity. It has a universal voltage, too, which is truly a must if you're a frequent traveler. An automatic sleep mode after 30 minutes is a nifty feature. For more convenience, there's a 9-foot swivel cord attached to the flat iron so you can really straighten rebellious strands on the back of your head.
What this flat iron can improve on is its temperature setting. It has only one temperature and at 365 degrees Fahrenheit, it's higher than the recommended heat levels.
Pros
Ultra-predictive technology adjusts the heat automatically
Ceramic flat iron that's gentle on hair
Floating plates won't snag
Unique wishbone hinge
Rounded edges
Cons
No adjustable heat settings
BIO IONIC Onepass Straightening Iron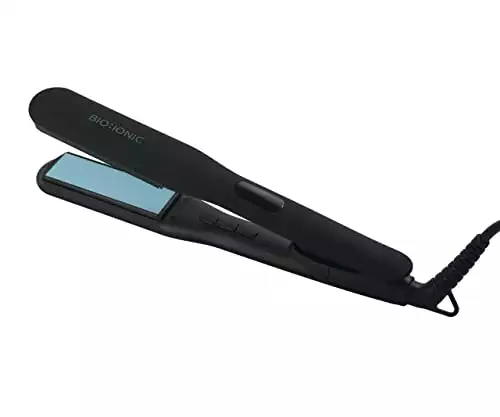 If you're after speed and efficiency, try the Bio Ionic Onepass Flat Iron. They dub it as the fastest straightening iron ever. It's fitted with silicone speed strips on the sides of the ceramic plates, making the flat iron glide over the hair. The plates amp up shine and smoothness while the ceramic has natural negative ions coupled with far infrared energy that produce silky, glassy results. This flat iron utilizes something called a nano-ionic mineral that gives a shot of hydration to damaged tresses. If you have flyaways and frizzies, you can bid them goodbye.
Because this is a one-pass straightener, you can slice off long styling periods, even halving your straightening time. The flat iron is equipped with bioceramic heaters which you can adjust with a multi-level heat controller. Good thing this flat iron can go really low with its heat so you can prevent further heat damage. Its rounded edges reduce snags and the cushion plates are gentle on hair. This is a well-designed flat iron, too, with an ergonomic handle and a 9 feet swivel cord. This flat iron is best for fine hair and is good at curling, too.
The only con I think of with the Bio Ionic Flat Iron is its lack of an automatic shutoff. For the price, I think it's a very important feature to have. Overall, though, I think the Bio Ionic is a good splurge.
Pros
Silicone speed strips grip hair well
Ceramic plates produce gentle heat
Adjustable heat settings
Rounded edges
Cons
HSI Professional Glider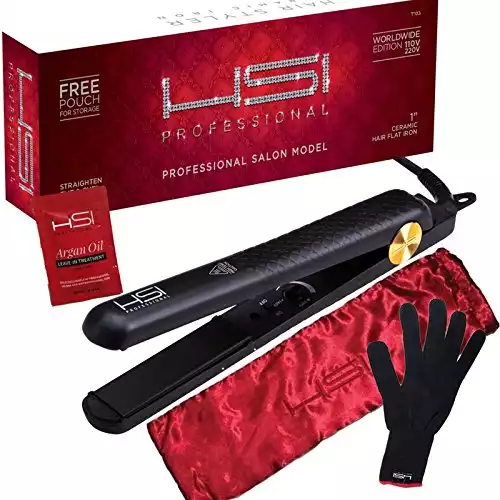 If your hair has taken a beating, go for the HSI Professional Glider. It's a ceramic tourmaline flat iron with 8 microsensors embedded in the plates to monitor heat levels, ensuring no further damage occurs. Tourmaline ceramic is famous for evenly distributing heat to the hair. The crystal ion plates will leave your locks better than ever: silky, shiny, and frizz-free. The best thing is, though it already comes with microsensors, you can choose a heat setting that's right for you and the heat level can go as low as 140 degrees Fahrenheit.
The HSI Flat Iron has a 1-inch plate and rounded edges for snag-free styling flexibility. Best of all, the floating plates are durable and high-quality.
If you plan to take your flat iron with you on your travels, the HSI is a good travel flat. It has a dual voltage of 110/220V so you can go anywhere in the world with no worries.
To nourish your mane further, the flat iron comes with a free argan oil leave-in treatment. I love little add-ons like this because they make a purchase even more worth it. Aside from the oil, you get a heat-protective glove, a style manual, and a red silk case to store the flat iron in.
This is one of the best flat irons that gives you good value for money yet still produces salon-quality results. The only thing that can make this better is an auto-shutoff feature and temperature display.
Pros
Tourmaline ceramic gently heat up hair
Adapts the temperature to your locks
Has adjustable temperature settings
Has rounded edges
Has floating plates
Cons
No auto-shutoff
No temperature reading on the knob or on a display
INFINITIPRO BY CONAIR Tourmaline Ceramic Flat Iron
If you want to sprinkle some pizzazz in your hairstyling arsenal, this is one of the best flat irons for you. While the Infinitipro by Conair is a glossy, purple hair straightener, it doesn't sacrifice form over function. It's made with tourmaline ceramic plates that give you shiny, healthy locks. It tamps down frizz and flyaways and really nourishes the hair from within.
You have an astounding 30 heat settings to choose from. The advanced ceramic heat tech assures me there will be no unwanted hot spots that will damage the cuticle. This flat iron has extra-long floating plates so you can straighten more hair in less time. The edges are rounded, too, thereby preventing the dreaded snags.
This little thing heats up in only 15 seconds (great if you get a little impatient in the mornings!). Though this is an affordable flat iron, it comes with an automatic sleep mode function. This will save you a lot of stress, trust me. This is a great flat iron for beginners who don't want to invest in something top-of-the-line just yet or if you want a second flat iron to take with you on the go.
I find that when using this, though, it's not comfortable to hold, although it's very slim. You also have to be careful because the tips of the flat iron can get very hot. Sometimes, the handle will warm up as well. I wish this came with a heat-protective glove for this reason.
Pros
Affordable
Tourmaline ceramic will straighten strands gently
Several temperature settings to choose from
Has long floating plates
Rounded edges
Has an auto-shutoff function
Cons
Handle is not ergonomic
The ends and handle of the iron gets hot
Harry Josh Pro Ceramic Flat Iron 1.25 Inch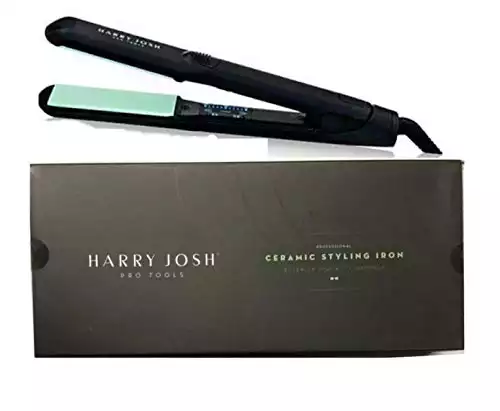 Any hair type will enjoy this ceramic straightener by Harry Josh Pro Tools, a brand owned by the celebrity hairstylist who's worked for Victoria's Secret models.
This is one of the best flat irons for long hair or hair that's hard to straighten. It heats up really quickly so you can get smooth results in a jiffy. The 1.25-inch floating plates go through more strands smoothly while the multiple heat settings can adjust to suit your hair type. The flat iron's rounded edges ensure you don't get snags. The combination of nanoceramic and tourmaline helps to give glassy results, gently heating your locks with every pass.
The flat iron is fitted with extra-large ceramic heaters that heat locks evenly. I love that the heat can go as low as 235 degrees Fahrenheit. If your hair has sustained extensive heat damage, you need a really low heat level that still gets the job done.
This flat iron comes with a long cord that has a 360-degree swivel. I really appreciate a long swivel cord when I do my hair. There's an auto-shutoff feature too, in case you worry a lot if you've unplugged appliances or not.
I almost forgot to mention the Harry Josh flat iron's main selling point: Gisele Bundchen is a fan. As for the caveats, I think some will balk at the price. Coarse and thick hair types may want even wider plates, but for most people, it won't be a dealbreaker.
Pros
Floating plates glide over the hair
Multiple heat settings
Plates are made of gentle ceramic and tourmaline
Has rounded edges
Cons
Price is on the higher end
Those with a coarse hair type may prefer wider plates
A Buyer's Guide to Flat Irons for Damaged Hair
6 Signs Your Hair is Damaged
You run your fingers through your hair and it feels like hay.
Your hair feels dry and brittle no matter how much you condition it.
The ends of your hair are uneven and you have split ends.
Your hair doesn't have a healthy shine like it used to.
You're getting more knots and tangles on your hair.
Your hair is more fragile and combing through your hair breaks them easily.
Common Causes of Hair Damage
You've dyed your hair.
At-home hair dyes can cause more harm than we think. The chemicals strip hair of its natural moisture and the effects of these last way after the color has faded.
You've bleached your hair.
Bleach penetrates the hair deeply and takes away your natural hair color. The bleaching process can leave your hair very dry, especially if you've had to bleach hair multiple times.
You use very high settings on your flat iron.
Overexposing your hair to heat is a common culprit. It opens the cuticles and dries up the strands. This can leave you with drab, fried locks.
It's been a long time since you've visited your hairdresser.
Neglecting salon visits have a bad effect on hair. Regular snips can keep hair in tip-top shape and remove split ends.
How to Choose the Best Flat Iron for Damaged Hair
Multiple heat settings.
Because damaged locks are extremely vulnerable to heat, it's ideal to pick a hair straightener with different temperature settings. Set it to the lowest temperature to protect your hair from getting fried. According to experts, you should go no higher than 175 Celsius (or 347 degrees Fahrenheit) or you'll risk further damage. Heat levels between 175C and 215C are enough to compromise your hair's health when used for 5 minutes, or even less if your hair is damp.
Rounded edges.
Rounded edges are great for multitasking because they can curl your hair as well. But aside from this, rounded edges are heaven for damaged hair because the hair will glide through them. Square edges can catch on your locks and may even cause breakage.
Floating plates that don't snag on hair.
Floating plates are awesome for damaged locks because they move along the contours of your hair, ensuring that heat is evenly distributed because there are no spaces between the plates and your hair. It's great for preventing snags too.
Emits negative ions.
Ionic technology is probably on top of my list when looking for flat irons for damaged tresses. When hair is wet, it's full of positive ions. Flat irons with ionic technology emit negative ions to counter that. These ions actually allow moisture to be trapped in the hair, resulting in smooth and silky locks.
Is titanium or ceramic better for your hair?
Short answer? Go for a ceramic hair straightener if you have damaged hair.
Because ceramic plates and their subtypes like tourmaline have a lower chance for hot spots to form when straightening hair, it ends up being more gentle on fragile strands. Ceramic has a low heat tolerance, too, so the risk of getting fried is lower. Ceramic flat irons also emit negative ions to seal in moisture in the strands.
Tourmaline ceramic plates give off even more negative ions than pure ceramic plates. That's great news for dying locks. It's like an additional protective jacket over your individual hairs to protect them from friction and breakage. Tourmaline by itself can actually absorb high levels of heat, which can be risky for damaged strands but combined with ceramic, their properties balance each other out. Tourmaline ceramic plates are still a good choice.
Titanium flat irons are very durable because of the metallic yet lightweight qualities of titanium. A lot of professionals use titanium plates. Titanium plates are very glassy and do not corrode easily. These are great for gripping hair without snagging. Titanium plates also have ionic technology and produce infrared energy, a type of energy that can really get into the core of the hair shaft. That's why titanium transfers and retains heat so efficiently. For these reasons, though, you should give a hard pass on titanium flat irons if your hair is damaged. Your hair can't withstand those levels of heat.
The Verdict
After reviewing and testing several products, we have found the ghd Platinum+ Professional Performance Hair Styler to be the best flat iron for damaged hair. While this is not the cheapest option, the in-built features and technology of this flat iron won us over in the end.
Ultimately, the damage caused by a poor quality hot styling tool can cost you more in the long run, so it's better to invest in a styling tool that will cause minimal damage.
Why this straightener is great for damaged hair is down to the ultra-predictive technology. This in monitoring heat in real-time to ensure the iron does not overheat and fry your hair. This is crucial for anyone with already bleached or damaged hair.  Using a hair protective spray, along with this straightener will allow you to style without exacerbating damage.
That said, if the ghd Platinum+ Professional Performance Hair Styler is out of our budget, the HSI Professional Flat Iron is another fantastic alternative.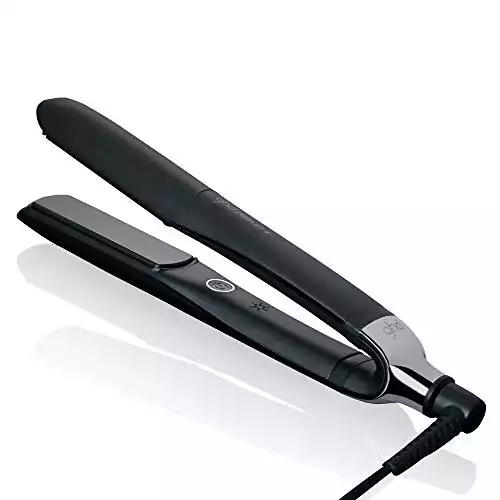 Leah Williams
Leah Williams is the founder of Lucky Curl and has been in the hair care and styling industry for the last 15 years. Since then, she has developed incredible expertise and a deep understanding of how to treat and style the most difficult hair types and is passionate about sharing her knowledge with the readers of Lucky Curl.