This is a review of the L'Ange Hair Le Vite Hair Straightening Brush.
Having worked for more than a decade in the hairstyling industry and I am passionate about reviewing the best hot brushes, hair dryers and all kinds of styling tools to help consumers make their buying decisions.
Having reviewed several top-selling hair straightening brushes for every type of hair, I was keen to test the L'Ange Straightening Brush. It's a brush and hair straightener in one and looks like a promising product with all the bells and whistles I've come to expect from hot brushes.
I found the L'Ange straightening brush to be excellent for people with damage-prone hair or those who wish to protect their hair from excessive heat exposure that comes from overusing hot tools.
The ceramic bristles use far infrared waves for fast yet gentle straightening. It gives you more control with multiple temperature settings and a temperature lock. And it's easy to use and travel-friendly and comes at a reasonable price.
The L'Ange Le Vite Straightening Brush does come with some downsides, which I will cover in this review.
Up ahead, I'll explain what the L'ange hot brush promises to do and how it holds up to its claims. I'll also give you more details on its key features, as well as some similar products on the market.
Read on to see the full review.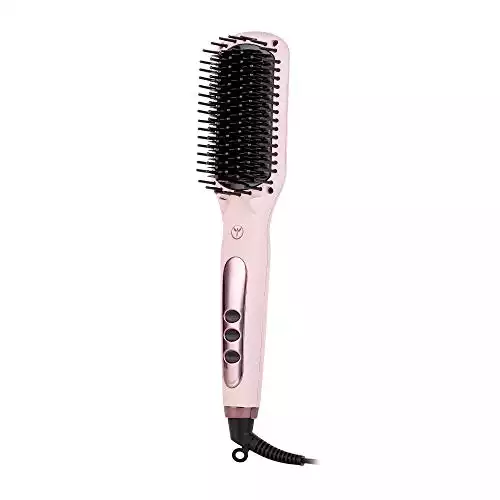 L'Ange Le Vite Straightening Brush Overview
The L'Ange Le Vite Straightening Brush promises to straighten hair in a single pass. It has a paddle brush body and is dotted with ceramic cool-tip bristles. You can adjust the temperature settings from 170°F to 450°F and the details will be flashed on the LCD digital display.
The L'Ange Le Vite Brush makes for quick styling on hectic days and is best for hair that straightens easily or is prone to heat damage.
It's a good straightening brush if you don't have coarse or curly hair. It will take more passes to smoothen these hair textures but even then, pin straight hair isn't guaranteed. If you are rocking natural or Afro hair, you may want to give this a skip or temper your expectations.
For most people though, this is a more-than-capable product that's beginner-friendly and easy to use. It is lightweight and comes with a host of practical features such as a swivel cord and dual voltage.
L'Ange Hair Brush Straightener: Key Features and Analysis
Design
The Le Vite Straightening Brush has a simple design. It has a paddle brush head and a tapered handle. The evenly-spaced bristles are made of ceramic and feature ball tips that massage the scalp as you brush through your hair.
The handle is gently tapered and feels good in the hand. On the handle of the straightening brush are three buttons for switching between temperature settings and turning the device on and off. Attached is a 9-foot 360-degree cord to help you straighten comfortably from any angle, which is good for the wrists. A hang loop makes it easy to store the straightening brush.
Overall, the brush has a simple design similar to other hair brush straighteners but it looks like a well-thought-out product that keeps the user experience in mind. It doesn't hurt that comes in a blush pink color that looks luxurious, a perfect addition to any countertop.
LCD Digital Interface
The LCD display is cleverly hidden on the brush handle. This lights up once you turn on the brush. After you choose a temperature, the interface flashes the numbers to update you in real time of how hot the brush is getting, something I found to be a neat touch.
Ceramic Bristles with Far Infrared Technology
To help lock in moisture in your hair, the L'Ange brush uses ceramic bristles. Ceramic is known for even heat distribution. Using far infrared technology, it speeds up straightening by penetrating into the hair cortex and drying from the inside out.
This a gentle form of heat that's good for damaged hair because it minimizes the time the hair spends under direct heating. If you have fine hair, this is also a good pick.
The ball-tip bristles detangles the hair with every stroke, ensuring you get a lump and knot-free result. This also enhances shine and makes your mane look lustrous.
The risk of scorching your scalp and fingers is virtually nil, thanks to the cool tips. That being said, if you thick hair, you have to be cautious because the bristles aren't flexible so they can can catch on to knots and tangles. To prevent pulling, make sure you divide your hair into small sections first before straightening.
Temperature Control
The straightening brush has preset heat settings ranging from 180°F to 450°F. When you turn it on, it heats up to its default setting of 370°F. This may be a bit annoying if you prefer a device capable of remembering your last temperature setting.
On the bright side, this heats up quickly so you can get right to styling. It's a convenient tool to have when you can't be bothered to whip out a flat iron and hair brush. With this, you reduce hair damage but get nearly similar results to your trusty flat iron.
The brush also features a temperature lock which means the plates produce even warmth. Fluctuating temperature levels can contribute to damage, with some sections being exposed to a higher temperature than others.
Double Negative Ionic Technology
The Le Vite brush features double negative ionic technology. This promises to tamp down frizz and static through the release of negative ions. These ions counter the positive charge found in water molecules and seal the hair cuticle to get rid of frizz and static.
The beauty of a straightening brush is that it doesn't flatten out the hair like a flat iron does. You will get a more voluminous effect with the Le Vite. On the downside, you also won't get as much of a sleek look with this item.
If you have coarse or curly hair, you may not benefit from the frizz-fighting effects. Some users raised concern, saying that it doesn't work well for their hair, particularly at the roots.
I think this may be because the brush is made of ceramic, which is a gentle material best suited for fine to normal hair types that are more manageable.
Automatic Shut-Off
The brush keeps your safety in mind with its 30-minute automatic shut-off timer. This is a literal lifesaver if you're a bit forgetful and head out the door without switching off your hot tools.
Swivel Cord
Whether you're holding it left, right, up or down, the brush's cord can move at whatever angle. It's made of heat-proof material that can withstand temperatures up to 450°F so you can be sure the cord doesn't melt even during lengthy styling sessions.
This feature ensures safety as exposed wires can be a fire hazard. As a rule, never use an appliance with an exposed live wire.
Dual Voltage
Looking for a travel-friendly substitute to a hair dryer and flat iron? A dual voltage straightener brush like the L'Ange Le Vite is a great option because it's capable of dual voltage (100 to130 V or 220 to 240V AC). No need to pack a separate converter.
And since it's an all-in-one item, you save some luggage space which you can use to pack more souvenirs or extra clothes. Getting your hair camera-ready is a breeze with a dual voltage function.
Money-Back Guarantee
L'Ange offers hassle-free returns and a money-back guarantee in case you are not satisfied with this product. This definitely puts my mind at ease in case I received a faulty hot brush.
However, I wish they included warranty details on their page. You also have to keep in mind that you may have to shell out for shipping in the event of a return. This is according to one user, so take it with a grain of salt.
Alternatives
Enhanced Hair Straightener Heat Brush by MiroPure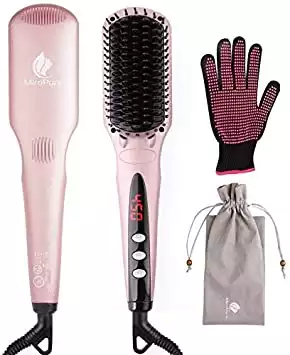 The MiroPure straightener brush looks like it took its cues from L'Ange from the pink hues to the button placements. However, this L'Ange doppelganger is nearly half the price of the L'Ange straightening brush.
It features a double ionic generator and a temperature lock. The MCH heaters means you can tailor the heat setting for your hair type with a range of 300°F to 450°F. In total, there are 15 temperature settings and this is good news whether you have thick hair or curly hair. The high heat capacity is enough to tame rebellious ringlets while a lower heat setting is ideal if you have fine or damaged hair.
The hair straightener brush has a 1-minute heat up time and a quick temperature recovery feature. It has an auto shutoff timer and dual voltage, like the L'Ange brush. You even get a storage bag and heat-resistant glove with your purchase.
Double ionic generator
Ceramic heaters
Wide temperature range with 15 heat settings
1-minute heat up
Auto shutoff and dual voltage
TYMO Ring Hair Straightener Brush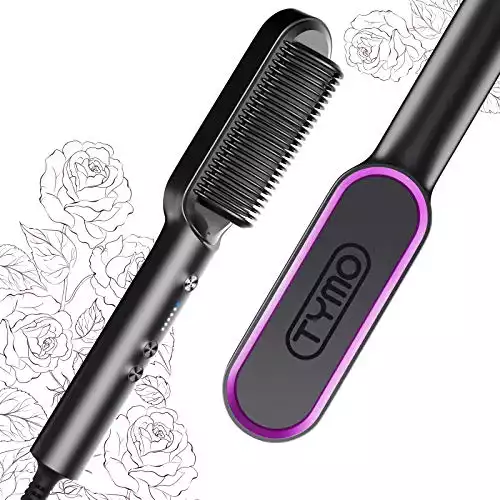 The Tymo ceramic hair straightener brush is more of a comb than a brush but it works just as well. That means it can really dig into thick hair and apply heat into the deeper layers. This easy-to-use straightening brush also has a unique modern design that stands out.
Featuring smart chips for temperature control, the brush distributes heat evenly with every stroke. It's made with safety in mind from the scald-resistant shell and heat-resistant plate.
With the TYMO straightening brush, you can choose from 5 heat settings from 266℉ to 410℉ for damage prevention. It also has dual voltage and a 30-minute automatic sleep mode. It sports a special frizz-reducing coating to enhance shine. Freebies include clips, a detangling brush and a case.
Comb-like bristles
Smart temperature chips
Heat-resistant design
5 heat settings
Auto shutoff and dual voltage
Revlon 2nd Day Hair Straightening Heated Styling Brush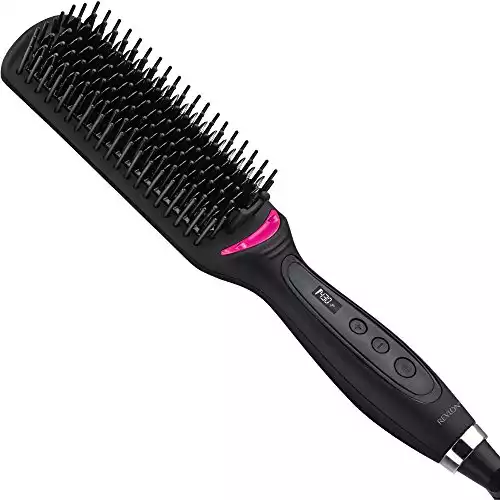 If you're looking for a light hair straightening brush, the Revlon 2nd Day Hair Styling Brush is a great choice. It weighs less than a pound and has all the features a good heated brush has.
The brush head is dotted with both bristles and slats which means you can get closer to the scalp and have more coverage. These are coated with ceramic that gives off gentle heat.
The brush also sports an ionic generator to reduce frizz and static. It has 10 heat settings with a maximum temperature of 430⁰F. The ergonomic handle makes this tool easy on the arms and wrists. Plus, you can take this with you anywhere in the world because it has dual voltage capabilities.
Lightweight with dual voltage
Paddle head contains bristles and slats
Ceramic-coated
Ionic generator to fight frizz andstatic
10 heat settings
The Verdict
The L'Ange Le Vite Hair Straightening Brush is a midrange offering with a sleek build. It's perfect for women looking for a high quality straightener for fine to medium-textured hair.
The brush has damage protection features such as double negative ion technology and a temperature lock. Even if you haven't used a straightener brush before, you will find this a pleasure to use. It has fool-proof features that demystify the hairstyling process.
I also like the heat-resistant cord and automatic shutoff feature.
That being said, not everyone will like this brush. You will not love this if your hair is thick, coarse, or hard to straighten. This retains volume well so it won't be ideal for fans of a slick straight look. The ceramic components mean it's gentle, but it won't be good for the aforementioned hair types, who are better suited to titanium straighteners.
If you want to simplify styling and straighten your hair to half the time you usually spend, I can recommend this straightener brush wholeheartedly for smooth, silky hair.
Should you want to find out more information about the product not covered here or want to add this to your cart, check out the L'Ange Le Vite Straightening Brush.
Leah Williams
Leah Williams is the founder of Lucky Curl and has been in the hair care and styling industry for the last 15 years. Since then, she has developed incredible expertise and a deep understanding of how to treat and style the most difficult hair types and is passionate about sharing her knowledge with the readers of Lucky Curl.