Hair straightening brushes are becoming increasingly popular as people look for convenient ways to style hair. The concept is an electronically heated paddle brush that straightens and smooths the hair as you brush through.
If you're on the look out for a straightening brush, we have put together a list of 8 top-rated products to find the best hair straightening brush on the market.
Plus, in this article we cover what to look for in a straightening brush, how to use one and common questions on these hair tools.
Best Hair Straightening Brush – 8 Top-Rated Brushes Reviewed
Revlon One-Step Hair Dryer & Styler
This hair brush promises to combine the power of a dryer with the precision of a styler in one step. It has ball-tipped bristles and a paddle-style shape which means it's just the right thing for detangling unruly hair so that it's perfectly straight.
The handle is thick yet lightweight. It has an ergonomic design so it's comfortable to hold even during lengthy styling sessions. This is a good feature for people with long hair. This also has a professional swivel cord that's six feet long, which makes it easy to style the back of your head and flip your ends even if you're far from a power outlet.
This comes with two speed and heat settings which is good for how affordable this is. This lets you customize the temperature if you have thin or thick hair.
With its advanced ionic technology, this straightener will help you achieve a frizz-free salon-quality hairstyle in a few minutes. The paddle straightener has a flexible cushion so you can comb through the hair comfortably. It's also large enough to cover large sections of hair at a time.
The biggest flaw this styler has is how loud it is. It's as noisy as a standard blow dryer, so if that's a concern for you, this hair styler isn't the best option.
Pros
Has ball-tipped bristles for detangling
Has a large paddle head for straightening hair
The handle is esay to hold and comes with a swivel cord
Variable speed and heat settings
Comes with an ionic function
Cons
TYMO IONIC Hair Straightener Brush
The TYMO Ionic brush has a unique "air sandwich structure design", which means it has bristles of two lengths so you don't burn yourself. The longer black bristles are cool to prevent scalding while the short purple bristles straighten hair and regulate heat.
This has a small paddle head and a tapered handle. The bristles are designed so you can get close to the roots and comb through baby hair. They are widely spaced throughout the head for fewer snags and less damage.
There are a whopping sixteen heat settings on this brush so it will work for you, whatever your hair type is. As a bonus, it has dual voltage so you can pack this with you on your travels.
It comes with a built-in ionic generator so you achieve lustrous locks without damaging the hair. The straightener brush heats up quickly and has an automatic shutoff for peace of mind. It also remembers what heat setting you used previously so you can just turn it on and start styling right away.
The plates distribute heat evenly using an ultra-zone technology so straightening is consistent for every strand. The hair straightener brush is lightweight and easy to use.
This feature-packed tool has a small downside: it's not for very thick hair. The bristles will be too short for fast styling if you have coarse hair or a lot of hair, especially if it's also long.
Pros
Has an anti-burn design with two types of bristles
The paddle-shaped heated brush is light and easy to hold
Has 16 heat settings and distributes heat evenly
The ionic technology is built in for less heat damage
Quick heat up and automatic shutoff
Cons
Using this for styling very thick and coarse hair will take you a long time.
InStyler STRAIGHT UP Ceramic Straightening Brush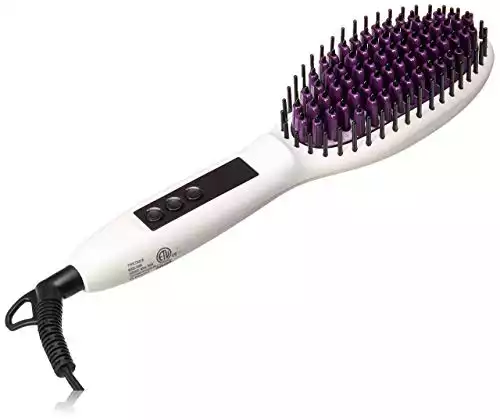 This hair straightener is fitted with 65 ceramic heating plates around each cool tip ionic bristle. The bristles are designed to prevent heat from touching your scalp. The ceramic material heats hair evenly swipe after swipe for consistently straight results.
The barrel heats up in 30 seconds which drastically cuts down on styling time. It also an instant heat recovery feature for fewer passes.
The temperature is displayed on a digital readout and you can choose from 7 heat settings from 330 degrees up to 450 degrees Fahrenheit. The best thing about using a straightener like this is it won't crease hair like a flat iron tends to do.
This also comes with an automatic shutoff and a swivel cord for fuss-free and safe styling. The results you get with this are comparable to a blowout but don't expect ultimate sleekness or maximum volume.
This brush doesn't reach the roots of the hair. It's the best straightener for beginners and women with thick hair because it's easy to use and has large bristles.
Do note that the cord is shorter than average so you'll have to be close to a power socket when styling.
Pros
Has cool tip ionic bristles to prevent scalding
Has 65 ceramic plates around each bristle for even, gentle heat
Quick heat up time and instant recovery
Digital temperature readout and 7 heat settings
Has a swivel cord and automatic shutoff
Best for thick hair and beginners
Cons
Doesn't get close to the roots
Cord isn't long enough
INFINITIPRO BY CONAIR Diamond-Infused Ceramic Straightening Brush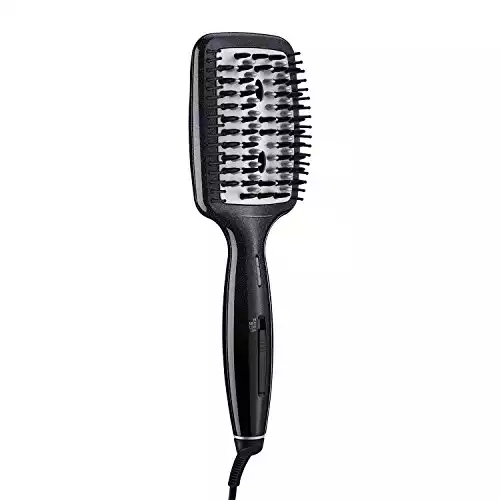 Your hair will be shining with this diamond-infused straightening brush from Conair. Its bristles are made of nylon, silicone and ceramic which has natural ionic functions. The ceramic has diamond infusions so you achieve healthy, shiny hair in less time.
The paddle shape allows you to straighten hair with every stroke and get close to the strands. The switches are accessible even with one-handed use. The swivel cord is a bonus, so you can straighten the back of your head for a lump-free finish.
With its natural ion generator, the brush helps seal the cuticle which tamps down frizz and reduce static for visibly smooth results. The brush heats up quickly and there are 3 heat settings, good for most hair types. It also has an automatic shutoff for extra safety. Ceramic is known for evenly distributing heat so you don't have to worry about overdrying your hair.
You have to be careful when using this straightener because the paddle gets hot. It is also quite big and the handle is not as grippy as I'd like.
Pros
Has ionic bristles made from nylon, silicone and diamond-infused ceramic
The paddle head straightens hair and can get close to the scalp
Smooths down hair for a frizz-free, static-free finish
3 heat settings and quick heat up time
Even heat distribution and has an auto shutoff
Cons
The barrel gets hot
The handle is not easy to hold
ghd Glide Hot Brush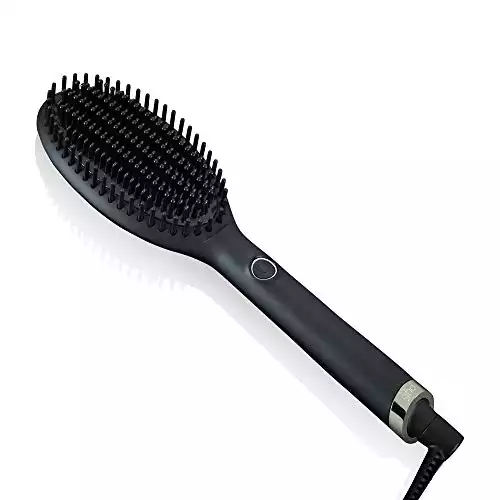 If you thought good hair days are a thing of the past, maybe this hot brush from ghd will change your mind.
This is a paddle-shaped ceramic straightening brush with natural ionic technology for a smooth, glassy finish. The negative ions penetrate the hair strands for faster styling and reduced heat damage. It conditions the hair and seals the outer layer of each strand, thereby eliminating frizz and static.
The brush maintains a constant temperature of 365 degrees Fahrenheit so you don't fry your hair. It's dotted with high density long and short bristles coated with pearl ceramic that helps the brush glide through hair like butter. You can work on larger sections at a time, which is handy if you're in a rush.
This comes with a 9-foot long cable so you don't have to worry about yanking it out off the power outlet accidentally. For your safety, the straightener shuts down after 60 minutes of idle time.
What I don't like about this hair straightening brush is its lack of variable heat settings. I don't think one temperature will suit every hair type, especially if you have damaged hair. The handle of the hot brush is not very ergonomic so it may be hard to maneuver if you're a beginner.
Pros
The paddle head that gives a naturally straight look
Comes with ceramic heaters that emit negative ions
Has a consistent temperature to avoid heat damaged hair
The ceramic-coated bristles can glide through large sections
Has a long power cord and an auto shutoff
Cons
No heat settings
The handle isn't easy to hold
Hair Straightener Brush by MiroPure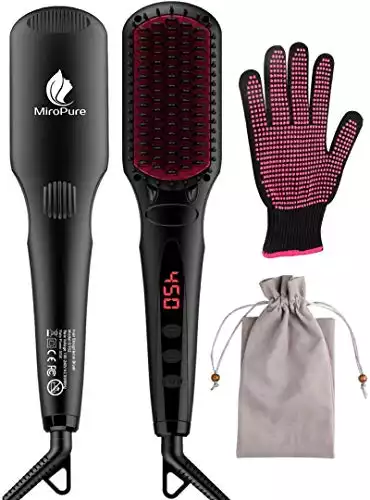 The MiroPure Hair Straightening Brush is a really affordable, yet high-quality straightening brush. Its packed with a number of features and comes in a sleek black design.
The technology of this brush is what makes it one of the best options for straight styling. This is mainly thanks to the double ionic generator which produces smooth and silky locks by sealing the hair cuticle in-turn reducing split ends and knotting. This is matched with the MCH heating (metal ceramic heater) technology which gives even heat distribution and quick temperature recovery time.
In terms of other benefits, the brush provides maximum performance with the temperature lock and you can have peace of mind with the auto-off feature that switches off after 60 minutes.
Pros
Auto temperature lock
Auto off function
Suitable to all hair types
Works for all hair types including natural African American hair
Cons
Hair can sometimes get snagged
Drybar The Brush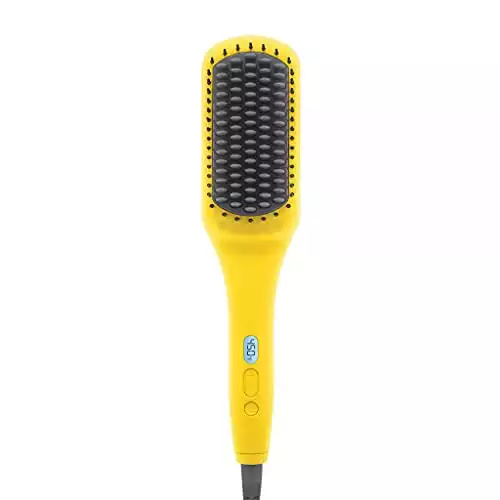 I absolutely adore the Drybar brand and their straightening brush is a perfect addition to this list. It produces a perfectly straight and smooth hair style.
The brush leverages Ionic Technology to seal the hair cuticle resulting in less frizz and plenty of shine. Another great feature of the hair tool is the customizable heat settings allowing you to use the setting that is right for your hair type.
Comparing this to the other hair straightening brushes, I would recommend this one for thick, long or coarse hair. Those with fine or thin hair might give this one a pass. That is because, although it has variable heat setting it does tend to get quite hot.
With this in mind, it is an effective product to quickly achieve a straight style
Pros
Digital temperature controls
Quick and efficient styling
Very easy to use
Fast heat up
Cons
Design of the brush could be improved
Difficult to produce any other style than 'straight'
L'Ange Hair Le Vite Hair Straightening Brush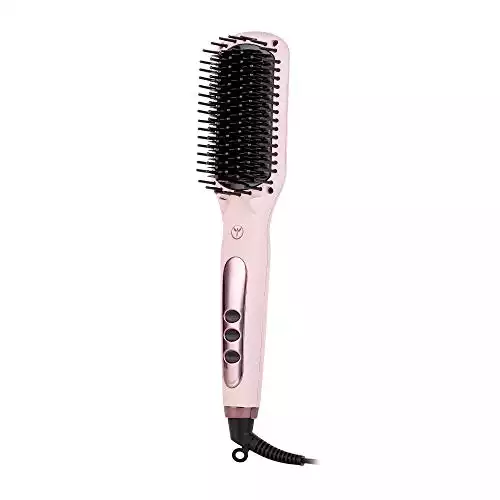 L'Ange is another popular brand when it comes to hair tools and their hair straightening brush is a great inclusion in their range. I am always looking to try and control my frizz and found this product to be really effective in managing it while achieving beautifully straight hair. Plus, it comes in a stylish black or pink blush design.
Let's talk benefits.
The Le Vite Straightening Brush uses double negative ion technology to keep hair smooth and hydrated by trapping in the moisture and sealing the cuticle.
Another feature of the brush is the ceramic bristles. They work by emitting far-infrared heat that instantly penetrates the hair cuticle and heats your strands from the inside out to help preserve moisture while helping keep you and your scalp safe.
Looking at design and functionality, it comes in a stylish black or pink blush design. The brush has a LCD digital interface that allows for precise temperature control and consistently beautiful results. Quick heat up and quick styling means the Le Vite works in half the time of conventional brushes and reduces the risk of damage from overheating, while the 30-minute auto- shutoff feature ensures it won't be left running unattended.
Want to know more about the L'ange Hair Le Vite straightening brush? You can read the full review here.
Pros
Cutting-edge double negative ion technology
Variable heat settings
Suitable for natural hair
Fast heat up
Ceramic bristles
Cons
Not suitable to thin or fine hair
Your Guide to Hair Straightening Brushes
Does a hair straightening brush really work?
I used to doubt how a small, basic-looking brush can smooth down my hair. It's an ordinary-looking contraption but through some technology razzle-dazzle, it will take you from zero to hero in the hair department.
So, yes, hair straightening brushes really do work. They give polished results and can straighten hair quicker than a traditional flat iron can. It's easier to use a hair straightening brush and you get similar results. The result is silky, smooth hair that looks effortless and natural.
How does a straightening brush work?
A hair straightening brush distributes heat through its bristles as you comb it through your hair. The bristles are set a specific temperature. The heat helps to tame curls and tamp down frizz.
A lot of hair straightening brushes have additional features like an ionic function. These brushes emit negative ions that penetrate the hair and close the hair cuticle so your hair looks smoother. The negative ions help to condition the hair and keep it healthy and strong. Ionic hair straightening brushes also cut down on styling time because the negative ions dry hair faster.
Which hair types can you use a straightening brush on?
Pretty much anyone can use a hair straightening brush although there are some considerations based on your hair type and texture.
Those with thin and fine hair will always want to use a low setting. Those with thick or coarse hair can use higher heats however, it is important to always use a hair protecting spray prior to use.
If you have curly or wavy hair, you will easily be able to achieve a silky straight style and those with straight hair will find it useful to maintain their style and tame frizz.
6 Benefits of a straightening brush
Fewer snags
With a flat iron, you'll have to squeeze strands in between hot plates. If the plates aren't polished or beveled, your hair can get trapped in the cracks and crevices, which can be painful and may even pull out your hair. With a straightening brush, the risk of snagging is lesser because it's designed just like a hairbrush with bristles that go through the mane, instead of trapping strands.
Uses less heat than a flat iron
Hair straightening brushes are gentler than flat irons because they use a lower temperature to achieve the same results. That means no more overdrying your locks in pursuit of pin-straight shine.
Easy to use
Using a straightening brush doesn't require complicated techniques. You just turn it on and brush as usual. With a flat iron, you'll need a hairdryer, plus a hairbrush to straighten your hair so one-handed use is impossible. With a straightening brush, all it takes is one hand and a few passes.
Evenly distributes heat
The bristles on a straightening brush are evenly spaced so the strands are equally separated as the brush glides through them. Heat is applied to your mane equally with no section getting too much or too little.
Good for quick touch-ups
Touch-ups are my favorite way to use astraightening brush. In between washes and after styling, the tresses can look lifeless. Brushing through locks with a straightening brush is an easy way to refresh your hairstyle. Touch-ups require less heat and is gentler than ironing.
Heats up in no time
You don't need to wait too long before a hair straightening brush reaches its optimal temperature. Its bristles or slats heat up quickly so you can brush your mane right away on hectic mornings.
Drawbacks of a straightening brush
As amazing as a hair straightener brush is, it definitely has some risks involved. Because it's a heat tool, you can get hair damage if you use it incorrectly. Here are the caveats of this type of brush.
It is not for drying your locks
You should not use a straightening brush on sopping wet strands. It's not meant to replace a hairdryer (and even hair dryers shouldn't be used on wet hair). Not only will drying take you eons to finish, but it also damages your vulnerable strands. Use a straightening brush only on locks that have been pre-dried with a hairdryer or at least 80 percent dry.
It can't fully straighten hair, especially if it's curly
A straightening brush does what it advertises it does so it's not making any false claims. However, it won't achieve pin-straight hair, especially if you have curly hair. It doesn't straighten the tresses the way a flat iron does. What it does is smooth down your locks for a polished look on the go. For a finishing touch, use a flat iron to straighten your ends after using a straightening brush.
It is not the best tool for achieving curly hair
As the name implies, a straightening brush is best for straightening. Even if you use a round straightening brush, you won't get the results curling irons produce, unless your mane is fine and thin. The brush does not heat up to a temperature that can create truly curly hair. It can create loose waves and curls but these will not last very long.
There's a risk of heat damage with overuse
You can overdry your tresses with a straightening brush. Read the manual before using the brush and select the lowest temperature that you need to prevent singing your locks. A straightening brush is not for daily use because it will increase the risk of heat damage. Remember to use a heat protectant before heat styling.
How to Choose the Best Hair Straightening Brush
Bristles
Get a brush with high-quality bristles that are firmly fixed on the brush head. This ensures that the bristles won't fall out and that you can use the straightening brush for years without it breaking. Check the tips of the bristles. Nylon bristles are gentle on the scalp and glide through locks, so it's recommended for people with sensitive heads.
Bristles with ball tips are excellent for detangling. They also snag less than other bristles. Other bristles are tufted, have massaging features, and heat-proofing.
Shape
If you have short to medium hair, go for a flat or paddle brush. If you have long locks, a rounded brush is better. Flat brushes will give you straighter hair while round brushes give more volume. The rounded barrel can be useful if you want curly hair.
Handle and Ease of Use
The handle should be grippy and thick so it doesn't slip out of your hand when you're styling. Cushioned handles are comfortable to hold. The handle shouldn't strain your hands.
The weight of the straightening brush should feel substantial in the hand but lightweight so you don't wear out your arms. A flimsy construction implies subpar materials, so strike a balance between lightness and durability.
Bonus features that are nice to get are 360-degree swivels, a hair drying function, and digital readouts for temperature.
Temperature
You should be able to customize the heat settings based on what look you want to achieve or how much stress your locks can take for the day. There are days when you want a high temperature to look put together for a meeting or glitzy event but on other days, you'll need a lowkey look that's gentle on strands.
I recommend a straightening brush with at least two temperature settings and more if possible.
Plates and Ionic Technology
The plates are the heat source of the hot brush. Plates with ionic functions lessen the risk of heat damage. Popular options are ceramic and tourmaline, both of which emit negative ions that make hair smooth and glassy.
How to use a Heated Straightening Brush
First, detangle your strands with a comb or ordinary hairbrush. Dry your hair thoroughly until it's slightly damp. You may also use a hairdryer to pre-dry your locks.
Turn on the heated straightening brush. While waiting for it to heat up, spritz heat protectant on the lengths of your hair. Straighten your locks in sections or small bunches at a time. Start at the back and move your forward, one section at a time.
Place the barrel near your scalp and point it outwards. You should see the bristles poking it out. If you can't, you're likely straightening too much at a time.
Slide it down your mane slowly but firmly while holding your ends with your other hand for stability.
Repeat brushing for this section until hair is straight. This can take two or more passes. Move on to the next section and repeat until you've brushed all the sections.
Do a final sweep through all the sections from the roots to the ends until your tresses shine. For volume, place the brush underneath the hair and comb through.
The Verdict
These are the top picks for best hair straightening brushes that will tackle any stray strand or stubborn curl. Using a heated styler brush saves so much time and you get salon-level results right in your bedroom.
The best one of this bunch, for me, is the Tymo Ionic Straightening Brush.
There are so many heat settings, so it will work for every hair type. The handle is easy to hold and it has an anti-burn design so you don't scald yourself.
The lightweight brush heats up quickly and emits negative ions and shorten styling time. It distributes heat evenly and has a smart feature that remembers what heat setting you previously used.
All these features make it the best choice for me. Definitely check out this brush if you're in the market for a straightener that's feature-packed and easy to use.
Leah Williams
Leah Williams is the founder of Lucky Curl and has been in the hair care and styling industry for the last 15 years. Since then, she has developed incredible expertise and a deep understanding of how to treat and style the most difficult hair types and is passionate about sharing her knowledge with the readers of Lucky Curl.