While I love the looks I get out of my trusty flat iron, occasionally I crave straight hair that isn't as pin-straight. I find that straightening my hair with a flat iron makes it lose volume due to the clamping action. That's not to mention that the straightening process is labor-intensive and time-consuming.
I've recently discovered the Amika Straightening Brush which seems like the answer to my woes. Can it replace my flat iron? Read on to find out my thoughts on the Amika Hair Brush and if it belongs on  the of the best hair straightening brush.
Presenting the Amika Straightening Brush
The Amika Polished Perfection Straightening Brush is a good flat iron alternative that straightens hair in half the time. The great thing about the product is its ability to transform curls and waves into straight hair without losing hair volume. It heats up rapidly and has a lower risk of snagging or pulling on the locks.
The Amika brush is best for people who want a low-maintenance straightening tool. It can also be helpful for those who are concerned about heat damage but still want smooth, sleek locks.
However, this will not give you the same result you'll get with a flat iron, meaning it won't make your hair pin-straight from roots to tips.
Pros
Ball-tipped ceramic bristles emit far-infrared heat
Uses Double Negative Ion Technology
Adjustable heat settings up to 450ºF
Comes with an auto-shutoff feature and a temperature lock
Ergonomic handle and swivel cord for easy use
1-year warranty
Cons
Hard to fully straighten roots or tips
Takes more passes to get straight hair compared to a flat iron
The style does not last as long
Features & Benefits
Bristles
I'm familiar with horror stories of hot brushes gone wrong. Hair gets tangled up or worse, pulled out. It doesn't seem like a pleasant experience.
Thankfully, the Amika straightening brush has gentle bristles with nylon tips. The tips help it comb through hair easily without knotting it up like a bird's nest.
You still have to detangle your locks before using the brush but the ball-tipped teeth make the straightening process painless and efficient. As a plus, these have a cool tip so you need not worry about burning your scalp.
Heat Settings and Technology
The brush teeth are made of ceramic, a source of far-infrared heat. This is a less harsh way of straightening the hair because it penetrates the hair cortex and heats the strands from the inside.
The process minimizes heat damage because it evenly heats and cuts down on drying time. The results are impressive: silky smooth hair that's soft to the touch.
To protect your hair further, you need to adjust the heat settings. The brush can get as hot as 450ºF so it should work for all hair types, even coarse hair or wild curls. I personally prefer starting with a lower setting and increasing it if my hair doesn't get as smooth as I like.
Another feature I love about the Amika straightening brush is the ionic technology. I've gushed about negative ions countless times so I will spare you the long speech but basically, this technology tones down frizz and static, leaving your hair glassy smooth.
What's great about the Amika brush is that it has double the negative ions. If you're after a lustrous finish, it's a brush away with this tool.
Ease of Use
The Amika straightening brush has features to make brushing simple and safe. It has an automatic shutoff function, which is a literal lifesaver, especially if you're a bit forgetful. The morning rush frazzles my nerves so much that I sometimes forget to turn off my hair straightener or hot air brush. An auto shutoff feature also saves you energy when the device is not in use.
The brush is also pleasant to use, thanks to its ergonomic handle and 360-degree cord. It has a grip that tapers gently so it's easy to hold, preventing wrist strain. You may appreciate this feature if you have uber-long and thick locks that needs lots of passes to straighten.
The cord spans 9 feet, meaning you won't have to worry about finding a nearby power socket. Plus, it's heat-proof up to 450ºF so it won't melt away or expose the wires inside.
The brush also comes with a hook to save you space and make storage simple. A digital readout display allows you to keep tabs on the current heat setting, minimizing the risk of frying your hair.
Unfortunately, the straightening brush only runs on 120V. If it were dual voltage, it would be a no-brainer companion for traveling.
Performance
The Amika Polished Perfection Straightening Brush promises to combine the power of a flat iron with the ease of a brush. It smoothens hair in a few strokes without taking away volume at the root.
The brush should be used on dry, detangled hair. After the on button is pressed, the indicator light illuminates.
There are plus and minus sign buttons for increasing or decreasing the heat. You can also use the temperature lock, a handy tool to prevent annoying shifts in heat when you accidentally click a button.
To activate the heat lock, press the plus and minus buttons at the same time for 2 seconds. To unlock, press the same buttons again for 2 seconds.
Amika recommends a moderate pace of brushing for best results. Do not linger on one section for more than 10 seconds to avoid damaging your hair.
As you stroke your locks with the brush, remember to hold the ends taut for a sleeker effect. It can be hard to fully straighten the roots and the ends with this kind of product, meaning you'll always get a slight bend. However, your hair will appear less frizzy and puffy.
If you want slick straight hair, though, a flat iron will be a better choice. You need more passes to completely untangle curls and waves with the Amika Polished Perfection Straightening Brush.
The barrel of the brush is wide so it can cover a lot of ground. This makes for a quick styling process. That's why this is such an appealing option for busy bees and people who want to carve out more time in the mornings.
The brush glides through the hair and it takes seconds to heat up. I do wish the results lasted longer, though. In that respect, a regular straightener is also better because it creates straight hair that lasts in between washes.
Social Proof
I'm quite impressed with the Amika hair straightening brush but I had to check out what other people think of it. After a quick search, I found these effusive reviews about the brush.

Alternatives
Revlon 2nd Day Hair Straightening Heated Styling Brush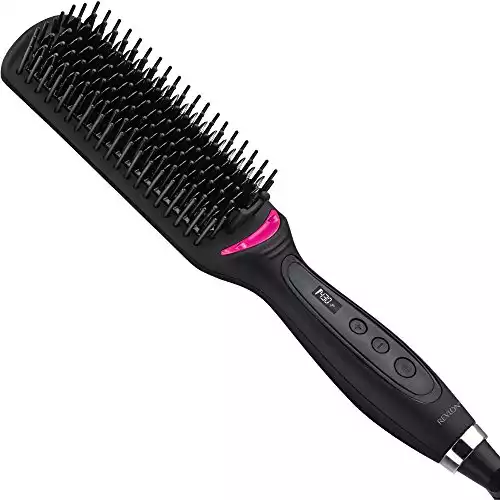 Just like the Amika brush, the Revlon Heated Styling Brush is made of ceramic. It's equipped with slats that detangle and straighten at the same time. It has a lightweight feel and 10 variable heat settings up to 430⁰F. It also has a 360-degree cord for easy usage and an ion generator for enhanced shine.
Unlike the Amika brush, this is capable of dual voltage, so it's suitable for globe-trotting styling enthusiasts. It's also a more affordable option, so check out this one if you find the price of the Amika a bit unpalatable.
A ceramic styling brush for second day hair
Lightweight and has a tangle-free cord
10 heat settings
Dual voltage with ionic technology
TYMO Ring Hair Straightener Brush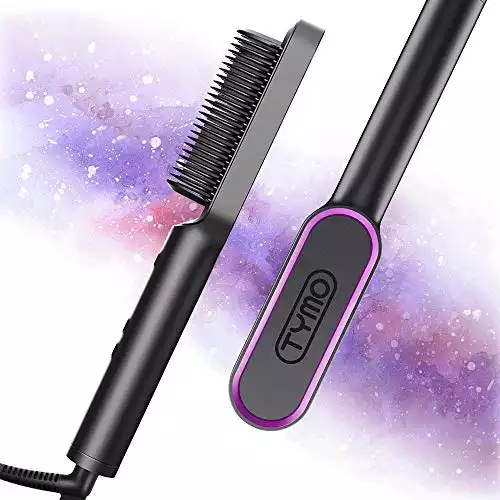 This brush from Tymo is a comb and flat iron hybrid with an anti-scald design to protect your skin and scalp. It has 3D heating teeth with homogenous heat distribution. You can choose from 5 heat settings (266℉ – 410℉), which is a bit limited compared to the Amika brush.
However, you do get dual voltage and a 30-minute auto-shutoff feature, plus a bunch of styling freebies. The brush also has Moroccan essential oil coating that keeps frizz at bay. The price is very reasonable and the user experience is simple and painless.
Has a heat-protective plate and 3D heating teeth
5 heat settings
Auto shutoff and dual voltage
Has an oil coating for frizz reduction
Enhanced Hair Straightener Brush by MiroPure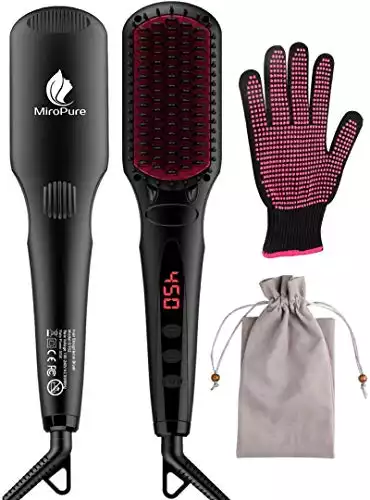 This is another highly-rated straightening brush at an affordable price. Like the Amika brush, it has a double ion generator for lustrous, healthy hair. The heat range is 300°F to 450°F so it can accommodate all hair types. It has an anti-scald design and a temperature lock. A 60 minute auto-shutoff kicks in automatically for safety.
Unlike the Amika brush, this is capable of dual-voltage and comes with add-ons such as a glove and a case. However, the buttons are located near the part where the hands grip the brush, so it can be accidentally clicked.
Has ionic technology
Uses a metal ceramic heater
Multiple heat settings and an anti-scald design
Auto shutoff and dual voltage
Things to Consider Before Buying a Straightening Brush
A hair straightening brush is an easy way to get natural-looking straight hair. However, not all straightening brushes are made equal. Here are the top considerations when buying this type of brush.
Bristles
A hair straightening brush needs to have high-quality teeth that won't fall out or pull on the locks. The teeth should be firmly attached to the brush head. Ball-tipped ones are best for detangling hair. They are also suitable for sensitive scalps.
Design and Weight
Brushes with an ergonomic handle are more pleasant to use. Look for curved, chunky handles with a soft touch finish or cushioning. The brush should ideally be lightweight to prevent straining your wrists, especially if you have lots of hair to straighten. To make styling easier, you may also look for a brush that has atangle-free cord and a readout display.
Heat Settings
Check out how hot the brush can go to determine if it fits your hair type. If you have fine or thin hair, 300 degrees Fahrenheit will easily straighten your hair. If you have medium, thick or coarse hair, you need 365 to 450 degrees Fahrenheit.
Aside from heat levels, check the material that the brush uses to heat up the teeth or plates. The best kind is one that gently straightens hair and has even heat distribution.
Final Thoughts
The Amika brush has a simple concept: fuse the power of a flat iron with the ease of a brush. My verdict? It delivers on this premise. It can straighten in under 10 minutes with frizz-free results. That means reduced heat exposure so your hair stays healthy. It also means more time in the mornings, which I wouldn't mind at all, thank you very much.
If you have hard-to-tame curly hair, though, you have to manage expectations. This is not a substitute for a good flat iron, but consider it as part of a dynamic duo for getting striaght hair.
Has this product piqued your curiosity? If so, find out more about the Amika brush here.
Leah Williams
Leah Williams is the founder of Lucky Curl and has been in the hair care and styling industry for the last 15 years. Since then, she has developed incredible expertise and a deep understanding of how to treat and style the most difficult hair types and is passionate about sharing her knowledge with the readers of Lucky Curl.