Have you ever wished that you are able to straighten or curl your hair with just a single styling tool? You are not the only one since I have been searching for such a tool as well. I thought I wouldn't be able to find one until I came across several HeadKandy straightener brush reviews and I thought, this was it!
Head Kandy Straightening Brush
60 Second Heat Up
Tourmaline Infused Ceramic Plating
Adjustable Heat Settings up to 450 degrees
Lockable Heat Settings
60 minute Auto Shut Off
Easy to Read LCD screen
Extra Long Swivel Cord
Buy from Amazon
We earn a commission if you click this link and make a purchase at no additional cost to you.
09/24/2023 07:30 pm GMT
HeadKandy Straightener Brush Reviews
The Head Kandy Straightening Brush is quite different from a flat iron since it doesn't require you to smash your strands between hot plates. Instead, you only need to brush your hair with this product and you will see how quickly it becomes straight or wavy depending on your preferences. Even if it is just one pass of the brush, you will notice that your strands straighten quickly. The best part? You can use it on various hair types which means that everyone in your home can use it.
Pros:
Heats up strands with just one stroke.
Ideal for different hair types.
It doesn't burn your strands as you style them.
Cons:
It doesn't last a year with regular use.
It is not suitable for those with thick, coarse hair.
It is a bit pricey.
Features and Benefits
What makes the Head Kandy straightening brush an ideal choice to straighten or curl your hair? The One Upper Straightening Brush comes with several features and benefits that you will learn about when reading reviews. Here's what you need to know:
Tourmaline infused ceramic plating.
This combination cuts back the time it takes to straighten your strands. You don't even have to brush your hair several times just to achieve your desired results. Headkandy ensures that your styling time is shortened considerably, plus you will get smooth and silky strands all the time.
Anti-scald technology.
It is not uncommon for you to end up burning yourself on the barrel of your styling tool, but this won't be a problem with Head Kandy. This is because the One Upper comes with an anti-scald tech that protects your scalp from the heat. Even when you have a sensitive scalp, you shouldn't worry about being burned with this product.
Fast Heat Up.
Head Kandy boasts of fast heating where you only need to wait up to a minute to get it really hot. The highest temperature setting that you will get from it is up to 450 degrees Fahrenheit which is why this is a great tool for those who have thick, coarse hair. If you are in a hurry, you won't have to wait too long to start styling your strands because, in just a minute, this brush is ready to be used to straighten or curl your mane any way you like.
Auto Shut-off.
What else is there to expect from Head Kandy? It comes with an auto shut-off feature where, if your styling tool is left idling for an hour, it will turn off on its own. This is quite useful especially when you forgot to turn it off because you are in a rush to get out of the house.
Long swivel cord.
You'll be happy to know that the Head Kandy straightening brush comes with a long swivel cord that lets you move around without getting tangled on the cord. You don't even have to worry about having a hard time moving the tool behind your head as you brush.
Dual voltage.
Another feature that is worth mentioning here is that this item comes with dual voltage. What this means is that you can bring it with you on your travels since you can plug it in without worrying about shorting the fuse. All that you have to do is to buy a power plug adapter and you are good to go. And because of its design, it remains portable so you can slip it into your bag without worrying about the bulk.
Range of colors.
Headkandy does come in a variety of colors too which adds to the fun of choosing one that fits your personality well.
These are just a few features that you will enjoy when you choose this brush straightener for your styling needs. The reviews will tell you more about why this brand is a great option if you are still of two minds about it. The best part? You don't have to buy separate styling tools because this product does it all. This is a great investment if ever you need a styling tool that can straighten or curl your mane.
Social Proof
What are the reviews saying about Head Kandy straightening brush? From what I have read, there has been plenty of positive feedback from various users. I wanted to see if this product gives good value for my money and so far, the rave reviews made me want to try it out.



Alternatives to Consider
Aside from the Head Kandy straightening brush, I also wanted to see if there were more of these brushes that a customer like me will enjoy. So far, here's what I came up with in my research.
Enhanced Hair Straightener Brush by MiroPure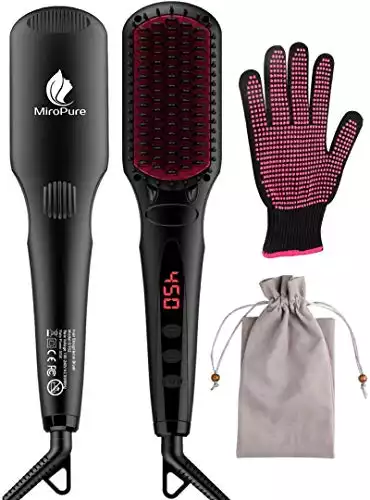 MiroPure's hair straightener ensures that your hair remains soft, smooth, and silky even as you style it. Its key feature is its double ionic generator which is the one responsible for keeping your strands looking amazing even after being exposed to high heat. Unlike flat iron where your mane ends up looking a bit worse for wear, here your strands will remain soft and luxurious to the touch. You don't have to worry about having wild, curly, or wavy mane because this tool will make your strands straight in half the time it takes when using a flat iron.
Of course, safety should always be considered especially when you are using this product. After all, you will be dealing with high temperatures which means that it is important that it has a safety feature in place. Fortunately, MiroPure brushes come with an auto shut-off feature just in case you have forgotten to unplug this device. This means that after an hour of being left idle, the device itself will power down. Not bad considering this feature will protect you from fire or accidents even.
Pros:
Double ionic generator ensures that hair remains soft, smooth, and silky.
Auto shut-off feature prevents fire from breaking out.
Massages scalp which promotes better hair growth.
Cons:
It doesn't reduce styling time.
It doesn't straighten hair completely.
It won't be able to handle thick, curly hair.
Bed Head Ionic + Tourmaline Straightener Brush
The first thing that you will notice about the Bed Head ionic is that its bristles are multi-dimensional. What this means is that the bristles will easily glide on your strands without tangling on them. This is an important feature especially when your strands often find themselves tangled while brushing. With regards to temperature, it can reach up to 430 degrees Fahrenheit which isn't bad. This makes it a useful tool for those who have a thick or curly mane and are in need of straight hair quickly.
Another feature that you will love about this product is that it comes with a LED temperature memory system where it locks in on the current temperature while using it. This way, you won't have to worry about toggling the temperature control unexpectedly while you run the brush through your mane. It also comes with simple power on and off button and you are protected with an auto shut-off feature. Most hair tools do sport this feature which is essential in case you were rushing out of your home because you are late. You'll be pleased to know the Bed Head Ionic comes with a tangle swivel cord that can make it easier for you to care for your strands.
Pros:
Multi-dimensional bristles ensure that strands won't tangle so quickly.
It can reach up to 430 degrees Fahrenheit which is a good number for those who have thick hair.
LED screen displays the current temperature level so need to second guess yourself any more.
Cons:
Do not expect your mane to be straight.
It doesn't minimize frizz at all.
It feels ordinary and just like any flat iron out there.
L'Ange Hair Le Vite Hair Straightening Brush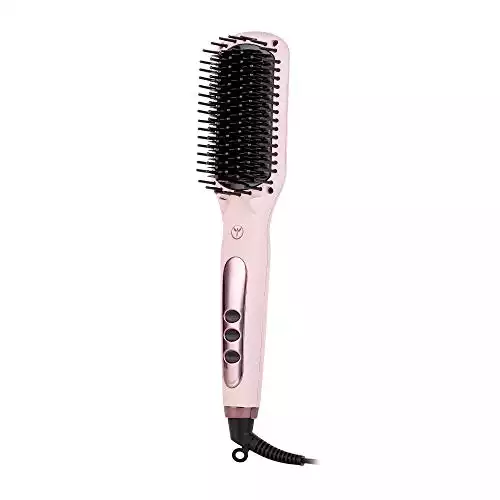 If you are aiming for that sleek hairstyle, then L'Ange's straightening brush is worth investing in. What you will love about this item is that it is designed to be used on different hair types. This means that you can use with wavy, curly, straight, or coarse hair without having to switch to another tool. Buy this model and you will never have to worry about spending more on hair tools for various hair types. You will enjoy making your strands go pin-straight because this product works like a flat iron and regular brush in one. All that you will have to do is to brush your hair with it and you will see a huge difference in how your mane looks.
You don't even have to wait a couple of minutes before the Le Vite reaches your desired temperature and thanks to its control settings, you can choose how hot the brush should be before you use it. It will take a single pass on dry hair to see the results quickly. What else can you expect from this product? It is equipped with an LCD screen that displays the current temperature. Keep in mind that that maximum that it can reach is 450 degrees Fahrenheit which isn't that bad at all. The double negative ion technology is the one responsible for keeping frizz at bay. No need to worry about your mane getting fried like when using an iron because this does save your strands.
Pros:
Ideal for all hair types.
A single brush stroke on dry hair straightens strands fast.
Reaches high temperatures quickly.
Cons:
The bristles were too stiff that it led to tangles.
It doesn't leave your mane soft and smooth.
It may not work very well with those who have thick, curly strands.
Things to Consider Before Buying a Straightening Brush
A straightening brush offers a two-in-one solution for your hair styling needs, but what exactly should you look for in this product? Reading reviews about this type of brush straightener should give you a good idea of what others are looking for in this type of styling tool. Here are a few that you should keep in mind when shopping for one.
The type of bristles that the brush has should be one of the factors that you consider when shopping for hair straightening products. This is because the wrong one can get tangled in your hair, or perhaps the bristles fall off quickly. Nylon bristles are perfect for those whose scalp is sensitive while ball-tipped bristles are ideal for those whose mane tends to get tangled while being brushed.
Another factor that you should consider is the handle of the brush. Keep in mind that you will be holding this tool for more than a couple of minutes which means that you will need one that is ergonomically designed. This way, your hands won't get tired while brushing, straightening, or curling your strands even.
You should also consider the plates on the hair straightening brush that you are going to purchase. Most brushes come with ceramic plates because they heat up evenly. On the other hand, tourmaline releases these negative ions that can tame frizzy hair. It is also possible to find a brush that comes with both these materials for a double dose of benefits.
Of course, the shape of the brush is essential too as this will give you a good indication of what type of hair it works best with. A flat brush is best suited for those who have short to medium hair while roller brushes are recommended for those who have a longer mane.
Conclusion
The Head Kandy straightening brush definitely deserves a test run for me especially when it can work with those who have fine hair to thick, coarse strands. It comes with anti scald technology which protects your scalp from the hot temps. As a potential customer, I want to give my mane some protection from dryness and frizz which is exactly what this tool promises. Its ceramic tourmaline plate guarantees that my strands will not become frizzy or damaged after using.
Leah Williams
Leah Williams is the founder of Lucky Curl and has been in the hair care and styling industry for the last 15 years. Since then, she has developed incredible expertise and a deep understanding of how to treat and style the most difficult hair types and is passionate about sharing her knowledge with the readers of Lucky Curl.