Looking for Parwin Pro Beauty Curling Iron reviews? Some days, I cannot get the look I want using a single curling iron. That's why I used to collect different styling tools, I like the versatility of having the right tools for a certain hairstyle. I admit the habit cost me hundreds of dollars! I mean really, how many curling irons does a girl need?
A lot, it turned out.
As you can imagine, I barely have room for much else on my vanity. Organizing my styling tools is a constant battle. That's why I think curling irons with interchangeable barrels are such a godsend. You can create different looks without plunking more of your hard-earned money on extra styling tools. You could also regain some of your counter space by downsizing your styling tools to a single curler with 7 interchangeable barrels.
One of our favorite curling sets is the Parwin Pro. This monster of a curling iron set features 7 different barrels. No matter what look you're going for, you can create the hairstyle you want with the Parwin Pro. And if you are looking for Parwin Pro Curling Iron reviews, this guide is perfect for you.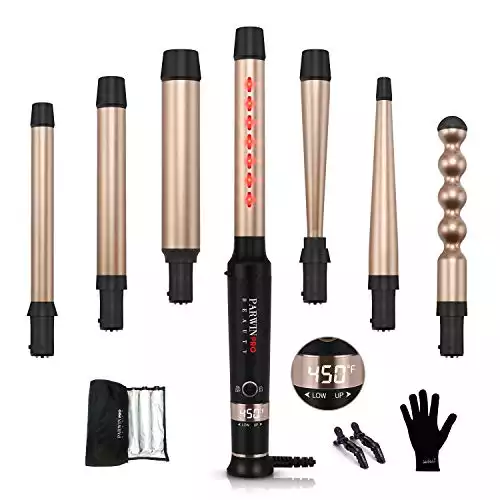 PARWIN Pro 7 in 1 Curling Iron Wand Set
7 interchangeable barrels
Diamond Ceramic Tourmaline Technology
Temperature Setting Dial
15 Heat Settings
Heats Up to 410°F
Quick Heat Up Feature
Large LCD Display
Slim, lightweight design
User-friendly controls
Light Indicators
60-Minute Auto Shut off Feature
Buy from Amazon
We earn a commission if you click this link and make a purchase at no additional cost to you.
09/11/2023 08:30 pm GMT
Parwin Pro Beauty Curling Iron Reviews – 5 Features We Love
1. 7 Interchangeable Barrels
The Parwin Pro's main selling point is, of course, the 7 interchangeable barrels. If you're all about options as much as I am then this curler gives you a full spectrum of curling options. Since the wand set comes with different sized barrels, it covers just about any type of hair. You can create endless looks regardless of your hair length.
Barrel Sizes
32/32mm Cylindrical barrel
25/25mm Cylindrical barrel
25/13mm Cylindrical barrel
19/19 mm Conical barrel
13/13 mm Conical barrel
18/9mm Conical barrel
19mm Bubble wand barrel
The cylindrical 32/32mm barrel is perfect for creating relaxed, beachy waves and tousled tresses while the 25/25mm works well for building bombastic curls with subtle definition. If you love the look of full curls or defined waves, opt for the 25/13mm barrel. If you are in the mood for textured curls or spirals, use the conical 19/19 mm or the 18/9mm barrel. For tighter, bouncy curls, use the narrower 19/19 mm conical barrel. For small curls like corkscrew curls or ringlets, use the bubble wand!
2. Excellent Quality
Quality is a common problem for some curlers, particularly those that are a part of a massive set. I'm happy to report that quality is not an issue with the Parwin Pro curling iron. Although it's lightweight, the device itself is efficient and well-made.
The same thing can be said for the 7 barrels, quality is fabulous. Before getting this curler, I've read a lot of Parwin Pro Curling Iron reviews and let me tell you, the brand got a lot of praises for its durability. I can attest to this. The design may not be the most robust I've seen but it can definitely withstand daily abuse.
3. Easy to Use
If you are a newbie or you're simply in a rush during the mornings, you'll love how user-friendly this curler is. Switching between barrels is a no-brainer, each barrel snaps into place with ease. To curl your hair, you could either wrap a hair section on the barrel or use the clamps that come with the wand set to hold a hair section in place. Within a few seconds, let your hair go and voila, you get a perfect curl.

Although the Parwin Pro offers multiple heat settings, customizing and operating the device itself is easy. Near the base of the handle is an LCD display that lets you track the temperature. This will minimize the risk of hair damage caused by extended heat exposure.
4. Multiple Heat Settings
Customization is one of the most important features that I look for in a curler. I take great pains prepping my hair prior to hair curling but I style my hair almost every day so heat damage is inevitable. It's great that the Parwin Pro comes with multiple heat settings. I get total control over the temperature so I don't end up frying my tresses just to look good, which isn't worth the effort, really.
If your hair is unyielding or pin-straight, you need a hair curler that's hot enough to beat your stubborn tresses to submission. The proper temperature is the secret to long-lasting curls. From tight spirals to bouncy waves, relaxed curls to elegant twists and tendrils, the possibilities are endless thanks to Parwin Pro's extensive heat customization options.
The Pro offers 15 heat settings ranging from 170℉ to 450℉. It also heats up in 30 seconds so styling in the morning is quick and easy. The Parwin Pro also comes with a 60-minute auto-shutoff feature, a safety feature that scatterbrained peeps like yours truly appreciate! Other cool features that many customers raved about include the light indicator alerts. The LCD screen light changes from blue to green when the ideal temperature has been reached.
5. Innovative Technologies
This device comes with several technologies, all of which are meant to keep your locks shiny and healthy! If you ever got lopsided or uneven curls from a hair curler, the issue is often caused by random drops in temperature. The Parwin Pro's interchangeable barrels feature a special ceramic-tourmaline technology that generates and distribute heat evenly. The result? You get consistent, uniform curls every time you style your hair.
The Parwin Pro also comes with an innovative heat-activated ION technology. The device produces negative ions that smoothen the hair cuticles to prevent frizz and static. All you get are silky smooth, luscious curls!
If you're tired of dealing with tangles, breakage, then you will love the Parwin Pro. The Parwin Pro comes with a unique anti-scalding technology for tangle-free, damage-free styling.
Other useful features that I love about the Parwin Pro are the portability and dual voltage options. I'm the kind of girl who brings her curler anywhere she goes. It's nice that the Parwin Pro is compact and lightweight, it's totally travel-friendly. The dual voltage option means the device adjusts to the right voltage automatically. It also comes with its own travel pouch for easy packing.
Downsides of the Parwin Pro Beauty Curling Iron
No Cool Tip
No doubt about it, the Parwin Pro is one versatile curling iron. However, some features or design might not work for everyone. For one thing, the barrels do not have a cool tip. For precise styling, use the heat protective gloves that come with the wand set so you don't end up burning your fingers while styling. Since it doesn't have a cool tip, you have to wait for the barrel to cool completely before switching to a different barrel.
Two Parwin Pro Versions
Just like most curling sets, the Parwin Pro comes in two versions, the standard home version and the professional version. Although both versions come with the same features, the standard home version takes more time to heat up according to some Parwin Pro Curling Iron reviews.
The Price
Getting the Parwin Pro is much like buying 7 different hair curlers so the price will reflect that. It retails for $67.99 on Amazon so it's not the most affordable hair curler out there. Personally, the Parwin Pro is priced just right considering the number of attachments + extra gears you get from the set.
Who Should Buy the Parwin Pro Curling Iron?
The Parwin Pro Curling iron is the perfect device for anyone who loves experimenting with different looks. With this set, you can create beachy waves, vintage curls, tousled locks, and everything in between. It's a steal at $67.99!
The Parwin Pro is a terrific investment for people like me who loves more value for my money. It's like getting seven different curlers for the price of one. I also think that this set is a great curler for individuals who have the tendency to collect different hot tools. This set will definitely make your collection even more versatile. I won't be surprised if you end up using just this set for all your styling needs.
Alternatives
Parwin Pro Curling Iron vs Parwin Pro 5-in-1 Professional Curling Iron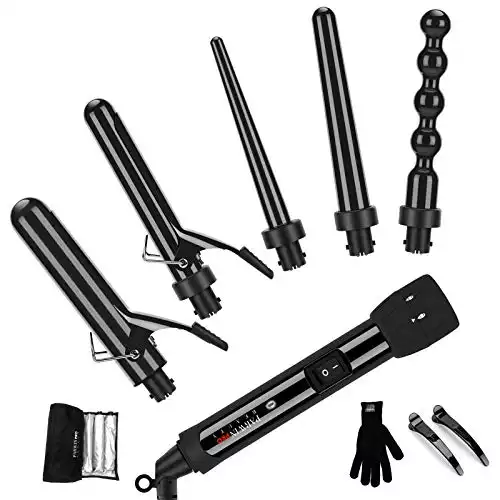 PARWIN PEO Beauty 5-in-1 Curling Irons
- 5 interchangeable ceramic barrels
- Universal dual voltage
- Includes heat-resistant glove + travel bag
- 60 minute auto shut off function
- 360º swivel cord (8 ft)
Buy from Amazon
We earn a commission if you click this link and make a purchase at no additional cost to you.
09/12/2023 11:30 am GMT
Parwin Pro Beauty is known for offering diverse curling sets. Apart from its 7-piece curling iron set, the brand offers a more travel-friendly 5-in-1 set that comes with a Parwin Pro case. The smaller set is optimized for portability and convenience. It's a great curler to get if you are always traveling but you need to take your curling tools with you. The Parwin Pro case is really compact and lightweight.
I feel that both sets have their own pros and cons. Some of the barrels you get from the 7 piece set are missing from the 5 piece set. They are quite similar in terms of features and performance but obviously, the 7-piece set offers more value for your money. 
Parwin Pro Curling Iron vs Parwin Pro Rotating Curling Iron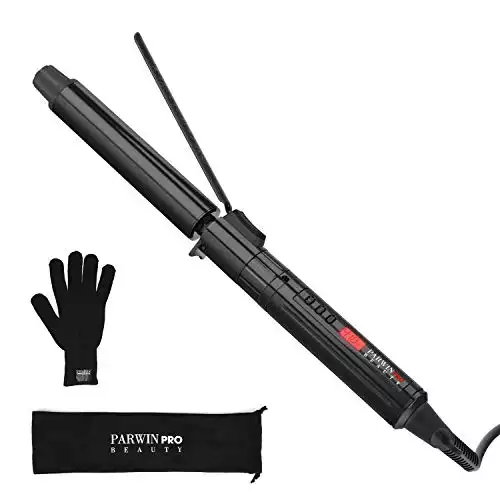 One of Parwin Pro Beauty's bestselling curlers is the Parwin Pro Rotating curling iron. It's not a part of a set, the Parwin Pro Rotating Curling Iron is a standalone curler with a 25mm rotating barrel and digital temperature controls. I have a soft spot for rotating curling irons because these products do all the work for you.
On its own, the Parwin Pro rotating curling iron is an efficient curler and a feature-rich one at that. But when compared to the 7-in-1 set, the Parwin Pro rotating curling iron isn't as versatile. You are stuck with the same sized barrel so there is less room for experimenting with different hairstyles. That being said, if you sport the same hairstyle or if you love the convenience that a rotating curling iron offers, the Parwin Pro rotating curling iron is your best bet. 
​​​​The Verdict
Do you really need an extensive set of hair curlers? If the answer is yes, then I highly suggest checking out the Parwin Pro Curling Iron. It's a great set for people who just love experimenting with different hairstyles as well as individuals who are new to hair curling and would like to start their collection with an all-in-set. You get tons of options with this set and the features are top-notch. 
If you want the 7-in-1 set but is unsure, I suggest checking different Parwin Pro Curling Iron reviews just so you know what you can expect from this product. The brand has a smaller set as well as standalone curlers if you find the 7-in-1 set intimidating.
Leah Williams
Leah Williams is the founder of Lucky Curl and has been in the hair care and styling industry for the last 15 years. Since then, she has developed incredible expertise and a deep understanding of how to treat and style the most difficult hair types and is passionate about sharing her knowledge with the readers of Lucky Curl.