I tested several blowdryer brushes by Conair and found the INFINITIPRO Titanium Ceramic Hot Air Brush to be the best overall for a salon worthy blow out at home.
I have medium length, straight hair that just looks and feels lifeless around my head. I tried all sorts of blow dryers, but I have to wait a while before I can even use them. I needed a dryer that I can use even when my mane is damp since I am always on the go. Not only that, but I am also looking for a way to get my hair styled at the same time. This is where the INFINITIPRO caught my eye.
Like you, I was using different styling tools for my hair that I sometimes feel worried about exposing my strands to intense heat all the time. My strands tend to feel brittle afterwards which I don't like at all since they already feel ready to break.
Now with the INFINITIPRO by Conair, you get to dry and even style your strands at the same time. This creates that professional blow out without even heading to the salon. Can it really dry and style at the same time? Yes, it can thanks to the combination of titanium ceramic barrel and nylon and ball tipped bristles.
It also boasts of advanced ionic technology that tames frizz while leaving hair shiny and with more volume compared to before. The vents in the barrel let more air to flow thus speeding up the drying and styling process at the same time.
Who can use the INFINITIPRO? It's certainly best for those who have medium to long hair as the bristles can brush the strands with ease. It is best used when your hair is slightly damp just like with any other blowdry brush out there, but this one does the job even better.
Although this works ideally for those with mid to long hair, those who have thin hair can enjoy it too. The bristles can easily pick up the strands and won't even cause them to tangle if that is something you are worried about.
If you are looking for the best Conair Blowdryer brush like me, I highly recommend that you get the INFINITIPRO titanium ceramic hot air brush. It has all the features that you need to get your hair dry with added volume too.
Read on to see which is our pick for the best Conair Blowdryer Brush.
Conair Blowdryer Brush – 6 Best-Selling Hair Dryers Reviewed
Best Overall – INFINITIPRO BY CONAIR Titanium Ceramic Hot Air Brush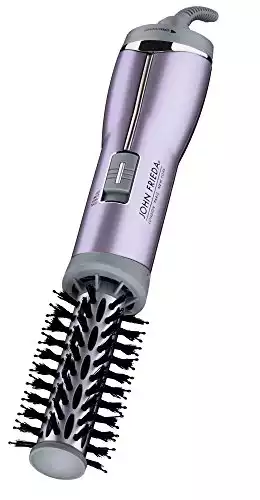 The INFINITIPRO Titanium Ceramic Hot Air Brush is the best tool to reach for if you want to be able to dry and style your damp hair quickly. The 1 inch hot air brush can easily work through each section of your mane and thanks to its advanced ionic technology, there will be less frizz and breakage for you to worry about.
Product Features
1" hot air brush
Advanced Ionic Technology for taming frizz
500 watts
Low and high temperature setting
Cool shot feature
Nylon ball tipped antistatic bristles
This hot air brush has a solid feel to it which means that you can maneuver it around your mane easily. Depending on your hair type, you can set the temperature to low if you have fine hair to minimize damage while the high setting is ideal for those who have medium to long thick strands. The cool shot feature helps you lock in the style by directing cool air to your mane thus setting it in place.
The nylon ball tipped bristles are evenly spaced to get a good grip on your mane. Although the barrel does rotate, it will not get your strands all tangled up in your brush. The barrel can move in different directions for easier styling which is a winner for me since I can get to create various styles with my mane and create volume too. The titanium ceramic barrel helps keep your mane frizz-free and shiny at the same time.
The price is reasonable enough for its size and functions. As for usage, if you have extremely thick hair, you will still be spending some time drying and styling your mane especially since it only has a one inch barrel. The bristles are flexible which is great and I like that you are able to set your hairstyle in place with the aid of the Cool Shot option.
Best for Styling Wet Hair – INFINITIPRO BY CONAIR Wet/Dry Hot Air Brush Styler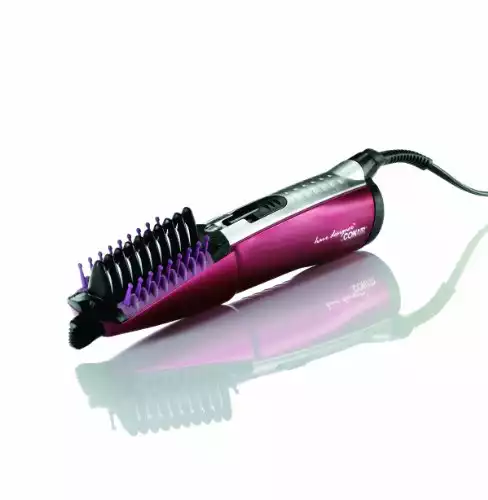 INFINITIPRO BY CONAIR Wet/Dry Hot Air Brush Styler
Straightens, shines, and controls frizz with a Triple Action Styling System
Safely dry + style damp hair to create smooth results
Features tourmaline ceramic technology
Infrared energy protects hair's natural luster creating silky, shiny hair
Includes a 2 speed slide switch, and a cool shot button to lock in styles
Buy from Amazon
We earn a commission if you click this link and make a purchase at no additional cost to you.
08/31/2023 05:30 pm GMT
Do you want to dry your wet hair faster than ever? Try INFINITIPRO  Wet/Dry Hot Air Brush Styler. Right from the start, you can tell that this product has a unique design because the brush itself isn't rotating at all, so if you are uncomfortable using a rotating brush, then this one is for you. The tourmaline ceramic technology paired with infrared heat system is what makes this tool a worthwhile investment. Unlike using a blowdryer alone where you subject your strands to high heat, this one heats up your strands from the inside where there is less chance that it will cause breakage. What this means is that no matter how often you use this device, you won't have to worry about it damaging your strands. If you already have damaged hair, this may still help you get that salon-like hair even when you are just staying at home.
Product Features
1/2″ round brush
Ionic technology
Tourmaline ceramic technology/infrared heat
2 heat settings
1 no-heat setting
Come to think of it, this is the first time that I have seen this unique design for a brush dryer in the sense that it does not feature the same whole rounded barrel as you would in other dryer brushes out there. Instead, you only get a half rounded brush. Now how this works in your favor? Well, it allows you to do more styles regardless of hair types. You can detangle your locks or straighten them if you will, this example of hair tools from Conair is definitely impressive. After all, brushing damp to wet hair is not that easy given that the strands weigh down a bit and they may get tangled up too.
Built for those who want to speed up their hair styling time, this uniquely-designed blowdryer brush delivers even heating to your strands. Depending on your hair type, you can put the temperature to low setting to minimize damage while drying them or go for the high one if you have thick strands. However, if you are aiming to get a few curls or waves here and there on your mane, this one may not yield the best results because of its half round design. Let's not forget that the ion technology does help keep those stray strands from ruining your overall look. This is because this tech tames the frizz by releasing more ions that keep your strands in place.
Why use this device? For one thing, I love the modern look of this brush and since I have medium length hair that I just want to add some volume too, this works fairly well for my needs. The tricky part though is getting some curls at the end of my hair using this half round barrel brush just because I want to give it a more gentle look.
There is not much to complain about this dryer because it does help with straightening and drying your strands even when your mane is wet. There is room for some improvement though such as being able to get curls to break the monotony of having straight hair all the time. Overall, Conair does not disappoint with this wet/dry hot air brush because it does help remove excess water while styling at the same time.
Best for Volume – INFINITIPRO BY CONAIR Hot Air Spin Brush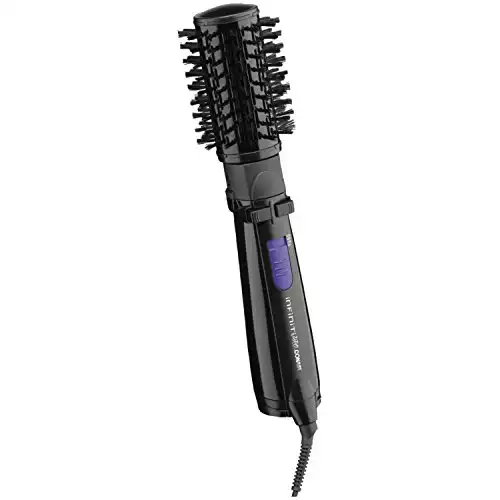 The INFINITIPRO hot air spin brush is the perfect tool for those who want to add more volume to their mane without having to step inside a salon. It has a 2-inch dryer brush where hot air is being blown into your strands as it rotates to style and adds shine too. For smaller curls, you can go for the 1 1/2 inch barrel which works great in gripping your strands without causing them to tangle. Since the barrel rotates in both directions, you will see that your hair feels smoother and shinier too.
Product Features
2 inches and 1/2 inch brushes
Tourmaline ceramic technology
Ion generator to reduce frizz
2 heat and one cool setting
Antistatic boar and nylon bristles
One of the best features that you will love about this hair dryer and styler is that it can be used with just one hand. It removes the need of having to brush and blow dry at the same time which we often do before the dryer brush was invented. And as an added convenience, this brush can rotate clockwise and counterclockwise so you can use this tool with your left or your right hand even without any difficulty. Of course, I would like to mention that Conair has made this dryer brush to be lightweight so need to worry about hand fatigue.
The ergonomic design is well thought out because it lets you brush your mane in different angles whenever you style your hair. How cool is that? Add to this the fact that the nylon bristles are antistatic and what you have is a dryer brush that grips your strands and brush them until they are shiny and smooth with the added volume too. And because of the dual temperature settings, you are in perfect control over how much heat you want to use on your hair. This is important since you don't want to end up frying your hair with excessive heat. And to top it all off, it comes with a cool setting that lets you set your hairstyle in place.
Best for Thin & Short Hair – Conair 2-in-1 Hot Air Curling Combo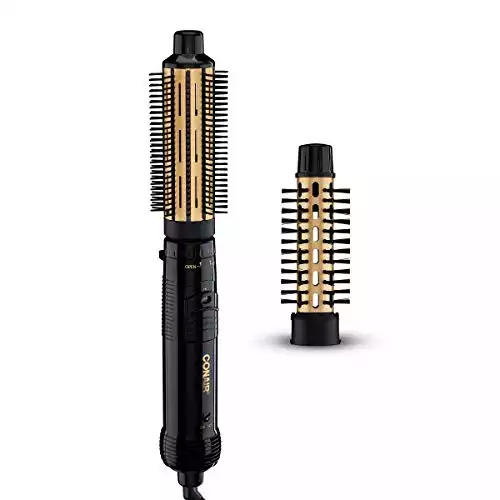 Conair 2-in-1 Hot Air Curling Combo
2-In-1 Styling Brush: This 300-watt brush includes interchangeable curling iron and brush attachments.
Safe and Easy Design: High and low heat settings, a built in safety stand and cool tip.
Dry and Style with One Tool: For smoothing and volumizing.
Buy from Amazon
We earn a commission if you click this link and make a purchase at no additional cost to you.
09/01/2023 10:30 pm GMT
When it comes to hair care for thin and short mane, you need a blow dryer that will not break your fragile strands. Fortunately, there is a hair dryer brush that is designed for you which is the Conair 2-in-1 Hot Air Curling Combo. At first glance, you can tell that this is a professional hair dryer with its combnation of black and gold colors. Once you test it out on your thin or even your short hair, you know that you hit the jackpot as the nylon bristles can easily pick up your hair strands to be straightened or curled.
Product Features
1 1/2 inch curling brush and 1 inch aluminum bristle brush
3 temperature settings (low, high, off)
Dual voltage
1 inch nylon bristle brush attachment
This curling hair dryer brush is compact and has a ergonomically designed handle that lets you hold on to it with ease. The heat settings give you control on how much heat your strands can tolerate so you should know what your hair type is. Keep in mind that thin strands should not be exposed to temperatures above 300 degrees Fahrenheit at best to prevent them from becoming brittle and prone to breakage. On the other hand, if you have slightly thick or coarse strands, a high setting will be tolerable.
Why choose this brush dryer? Aside from being specifically designed for those who have thin or medium length hair, another reason why this a great blowout brush to get is the fact that it lets you have more control over your hair style. The two brushes that were included let you choose how much curls you want and how defined they should be. If you are aiming for soft bristles, the 1 inch brush with nylon bristles is the one you need. On the other hand, those loose, beachy waves can be easily achieved with the aid of the 1 1/2 inch curl brush.
What about the heat settings? Well, there are two options here and these are the high and the low. You can start with the low setting if you have thin or brittle strands since the temperature will not fry them any further. The high setting is perfect for medium length hair. The maximum temperature that you can get on this brush dryer for thin hair is 300 degrees Fahrenheit which makes it a safe bet when you want to dry and style your hair at the same time.
Best for Frizzy Hair – Conair INFINITIPRO BY CONAIR Platinum Hot Curl Brush
Having frizzy hair can be quite frustrating. Those stray strands can give the impression that you weren't really careful with your appearance. It may be that you accidentally damaged your strands because of the wrong use of a blow dryer and a hair brush. Whatever the reason may be for you to have frizz on your mane, there is a solution to your woes and that is the Platinum Hot Curl Brush from Conair.
This curl brush dryer can be used on all types of hair, but if you are wondering who is it really for, then it will be those who have thicker or even longer strands. Why? Well, here are its product features.
Product Features
2 inches titanium barrel
Super ionic generation
5 LED temperature settings
thick nylon bristles
Quick heat up feature
You should checkout the platinum hot curl brush especially when you want to make your long and thick hair to be more manageable on your part. The tough nylon bristles won't break easily even when you brush your mane with it several times. It can handle anything that you dish out and style your strands with ease too and without causing them to tangle even. If you are tired of having the same look for your long, thick hair, why don't you create those soft curls with this hot air brush instead?
What else is there to love about this tool? Well, if you are constantly bothered by frizzy hair, then you will eb pleased to know that this model will help tame the frizz. This is due to the titanium barrel that can generate heat quickly but produces ions that keep your strands from breaking easily. The next time you are looking for a blowout brush that will be able to tame your frizzy strands, you should definitely get this one.
I like that this styling tool comes with 5 heat settings which range from 300 to 395 degrees Fahrenheit. It is better that you start with the lowest or at least the mid-range temperature at the start to avoid frying your strands unexpectedly. The LED display helps you know the current temperature of the barrel which is much better rather than touching it to see if it is hot or not. All in all, the features of this model will satisfy your needs for a styling tool that will keep frizzy hair at bay.
Best for Tangle-Free Hair – Conair INFINITIPRO BY The Knot Dr. All-in-One Dryer Brush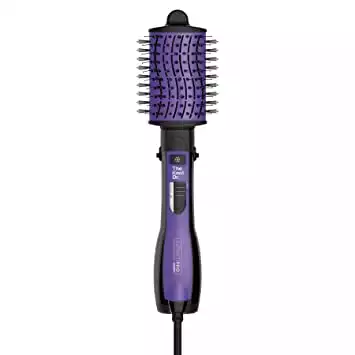 If you are looking for an all in one hair stylers, the INFINITIPRO by The Knot Dr. All-in-One Dryer Brush is exactly what you need. What can you expect from this styling tool? It is designed to detangle, dry, volumize, and style your mane all at the same time. This is probably one of the best dryer brushes that you will want to have in your arsenal since it can do all these without having the need to buy multiple equipment.
Product Features
2 heat settings
Cool shot button
Ceramic barrel
Ionic generator
Flexalite nylon bristles
1,000 watts
No need to visit a professional hairstylist just to get that salon-like blowout for your mane because you will have a new friend to go with your styling routine with this all in one dryer brush. Where else will you be able to find a dryer brush that can dry, style, volumize, and even detangle your strands quickly? Another reason why this is a great investment for a blow dryer is that it is versatile since it can be used on all hair types. What this means is that regardless of whether you have thin, thick, or curly strands, you will find that this will work in drying and styling your mane at the same time without causing damage even.
What else can you expect from this blow dryer and brush? It can easily detangle your strands without the feeling of having your strands being pulled when you use it. This is because the barrel contains Flexalite bristles made from nylon that smooth out the knots and tangles on your mane without worrying about any pain. Just brush and style with confidence and that's it. The ionic generator helps tame the frizz which is an added perk.
A Guide to Buying the Best Conair Blowdryer Brush
Finding the best hair dryer won't be that easy, but with the right information, you can narrow down your options considerably. But what exactly should you look for in a hair dryer brush? Since this is a fairly new tool, you should keep an eye on the following features:
Barrel Size
The size of the barrel will determine how defined the curls will be. A hair dryer brush with a 1 inch barrel will have more defined curls while bigger ones are great for blow outs or for loose curls. Also, the barrel size can be a good indication on whether it will be appropriate for your hair type and length too. For example, if you have short or fine hair, you will need a smaller barrel dryer brush. A bigger barrel will be better for thicker and longer strands.
Bristles
Another factor that you should consider when shopping for a blowout brush is the bristle. You will need a widely spaced as well as longer bristles if you have thick and long strands to get a better grip on your mane. As for those who have short or thin strands, your best bet is to look for dryer brushes that have shorter bristles. Aside from the length of the bristles, you should also consider the materials used. Some can heat up quickly while others are made to reduce frizz.
Convenience
Since dryer brushes are a combination of blow dryers and hair brushes, you will want one that will give you the most comfort as well as convenience. Dryers should be made from lightweight but sturdy and durable materials to ensure that they will last long. A light dryer is ideal especially when you have thick and long mane because you won't have to deal with arm fatigue. If you will be traveling around, it pays to have one that doesn't weigh too much.
Temperature Settings
What other factor should you look into when shopping for a hair dryer brush? You will want one that comes with temperature settings to help you choose the right amount of heat to use on your mane. Take note that there are some that only has one setting but this will not be appropriate for all hair types. Look for one that has low to high heat setting or have multiple temperatures to choose from.
Cool Feature
Another factor that you need to consider is the cool feature. This helps with maintaining the style of your hair once you are done with your blow dryer brush. A blast of cool air will blow on your strands to set them in place. You should make this the final step when you are drying and styling your mane as this will help you retain your hairstyle for several hours.
Price
The cost of the hair dryer brush is another factor that you don't want to forget as this will change depending on the materials and features that the products come with. The price will go up based on the key features of the product so you might want to watch out for this. Of course, a hefty price tag doesn't automatically mean that what you got is the best out there. You still need to weigh your options before making a final purchase.
Wrap Up
Which Conair hair dryer brush is the best hair dryer to get? For me, it will be the Conair Titanium Ceramic Hot Air Brush since it has everything you need to dry, curl, or even add volume to your mane. It can dry your damp hair fairly quickly and thanks to its 1″ barrel, it can be used on all hair types too. It can even deal with frizzy strands even through its ionic technology.
The body is compact and lightweight so you don't have to worry about your arms getting tired using it. The barrel rotates in two directions meaning that you can switch hands if you prefer then just choose which direction you want the barrel to rotate. The bristles will not cause your hair strands to get all tangled up which is a plus.
As for the price, it is reasonable given the sturdiness of this product. Although I would have preferred that it had multiple heat settings, the low and high-temperature settings are good enough especially since it comes with a cool setting too.
Get your hands on the INFINITIPRO by Conair Titanium Ceramic Hot Air Brush if you want to speed up your hair's drying and styling process. No need to worry about getting an arm workout with a heavy blow dryer and a brush because this hot air brush does these in just one tool. Wield it with one hand as you sip your coffee and still get that salon-like results. Grab it from Amazon right here.
Leah Williams
Leah Williams is the founder of Lucky Curl and has been in the hair care and styling industry for the last 15 years. Since then, she has developed incredible expertise and a deep understanding of how to treat and style the most difficult hair types and is passionate about sharing her knowledge with the readers of Lucky Curl.