Drying thick hair without any styling tool such as a blow dryer is going to take a while, especially when you will be relying on air drying your strands. Unfortunately, this also means leaving your house with hair that is still damp and without any style at all. This won't do much in terms of confidence, but you can change things by getting the best hair dryer for thick hair.
Best Hair Dryer for Thick Hair – 7 Top-Rated Blow Dryers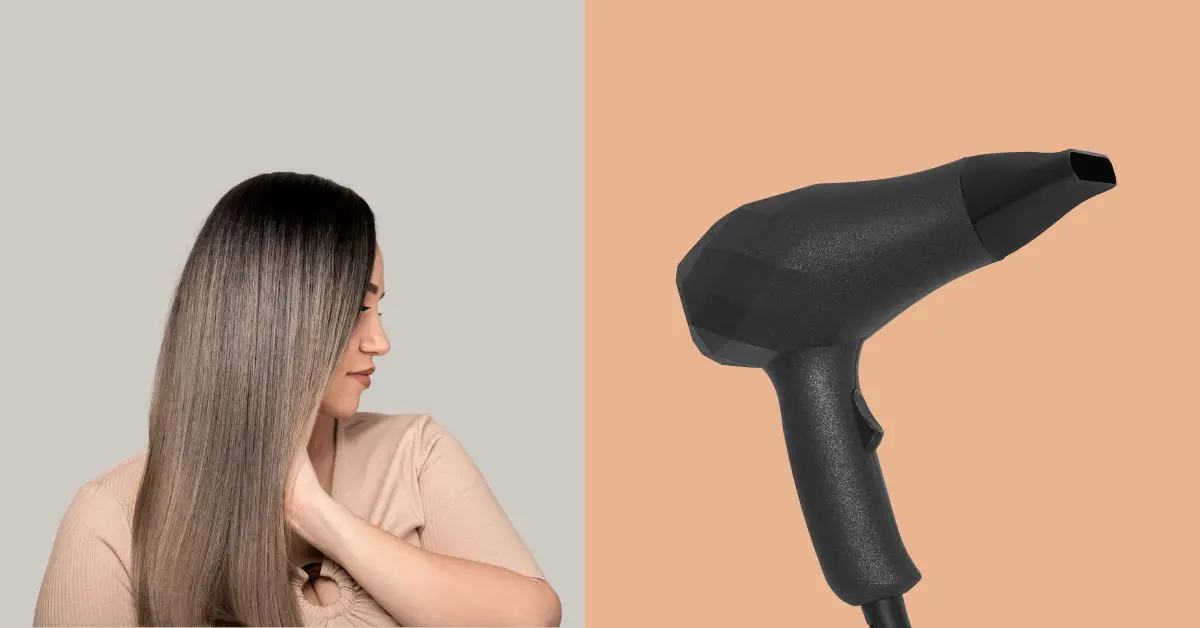 Since our goal here is to find the best hair dryers for those who have thick hair, I did some research on hair dryers that I thought will work perfectly with those whose mane need more help. It is a bit hard to choose among the dozens that I have come across, but so far, these ones really stood out for me.
Trezoro Professional Ionic Salon Hair Dryer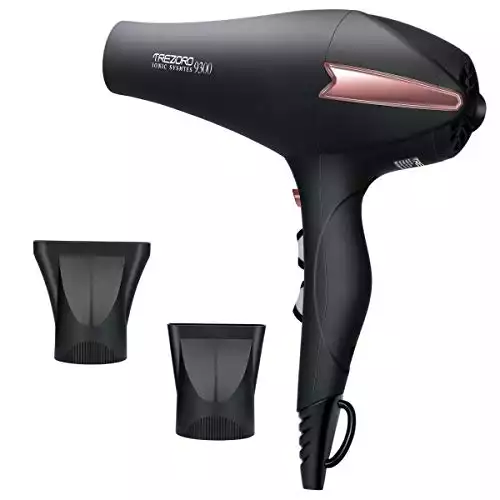 One of the best hair dryers that you should consider for your hair type is from Trezoro. It comes with a powerful 2200W DC motor which helps speed up the drying process. You can choose from three heat and two-speed settings, which gives you complete control over how to dry and style your hair. Another feature worth mentioning here is its Ionic System that gives that extra shine to your strands. It also uses Ceramic Tourmaline technology to minimize frizz while keeping your hair healthy and supple.
When you buy this product, you will find that it will come with two concentrator nozzles which can be used on all hair types and can create various styles, too which is a plus. A cool shot button is also present for locking in that style that you like. Maintaining this equipment won't be difficult at all because it has a detachable filter for removing dirt and dust buildup.
Weighing up the other products on our list, we found the Trezoro to be the best value for money at only $60 for the highest wattage — 2200 watts. This makes it the most powerful blow dryer on our list, ideal for drying thick hair quickly.
BaBylissPRO Nano Titanium Hair Dryer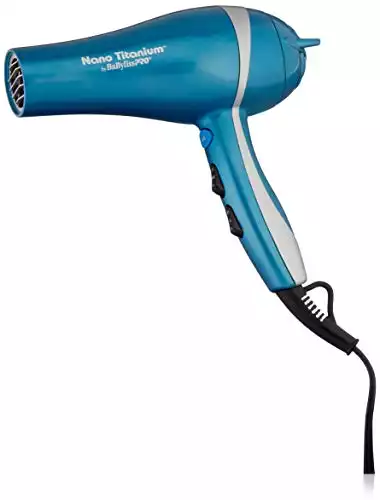 It is also possible for a dryer hair machine will not only be functional but it can also look nice too. BaByliss PRO's Nano Titanium dryer certainly fits the bill as it combines a strong 2000w motor with its stylish body. It has an ergonomic design which makes it easier to wield with just one hand, plus the buttons for speed and heat settings are incorporated into the handle for easy toggling. You'll be happy to know that it also has a Cool Shot feature installed as well which helps in locking your hairstyle after.
What other features can you expect from this product? Well, it has nano titanium ionic technology which is designed to speed up the time it takes to dry your hair and ensuring that there won't be any frizz to disrupt the beauty of your mane. I like that this product can be used on all hair types, plus the attachment can be used to transform your hair into straight, curly, or wavy even.
BaBylissPRO Ceramix Xtreme Dryer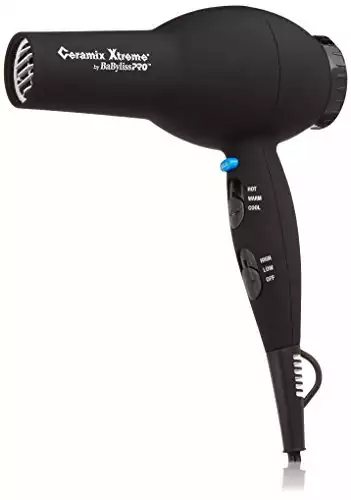 BaBylissPRO Ceramix Xtreme Dryer
Combines Ceramic and Ionic Technology
6 Heat / Speed Settings
Lightweight
2000 watts for ultra-fast styling
Uses far infrared technology
Buy from Amazon
We earn a commission if you click this link and make a purchase at no additional cost to you.
09/09/2023 01:30 am GMT
As you can see, I have added another product from the same brand. I simply like the way this blow dryer looks with its black color and professional design. BaByliss combined power with technology with their Ceramic Xtreme Dryer which is why I think this is worth considering as one of the best hair dryer today. You will find that it makes use of a lightweight motor with high wattage to shorten the time it takes to dry your strands. Fortunately, the ceramic technology ensures that heat is evenly distributed into the hair strands to minimize brittleness and breakage. It also comes with an ionic system that produces negative ions so that you won't be dealing with frizz or any hair troubles.
This dryer definitely works best for those who have thick strands since the high power will ensure that your strands will dry up real quick. Style your hair any way you want together with the nozzle attachments which can help focus the blast of heat into your strands real quick.
Remington D3190 Damage Protection Hair Dryer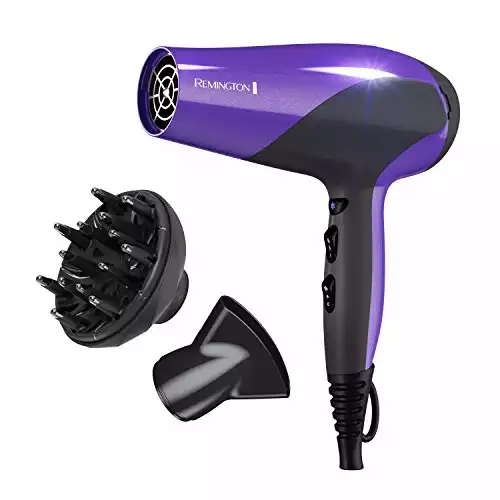 One example of the best hair dryers that can be used on thicker hair is from Remington which I chose because of its damage protection feature. It comes with Advanced Coating Technology that delivers three times more protection to your strand while styling, plus its micro-conditioner technology ensures that your mane remains healthy and shiny. I love that it uses ceramic, tourmaline, as well as ionic technologies all of which are beneficial to thick hair. And to ensure that you get to dry your hair fast, Remington makes use of 1875W max power for its motor.
The heat settings have three options to choose from while the setting for the speed only has two. It's nice that the temperature setting comes with options because I don't fancy dryers with just single heating. I want to be able to control the heat while drying and styling. Once you are satisfied with the desired hair style, lock it in with a blast of cold air and that's it. Choose between a diffuser or concentrator when you use this product because each nozzle comes with its own uses. It has a removable filter too to prevent build-up of dirt and dust that may affect the product's efficiency.
Revlon 1875W Infrared Hair Dryer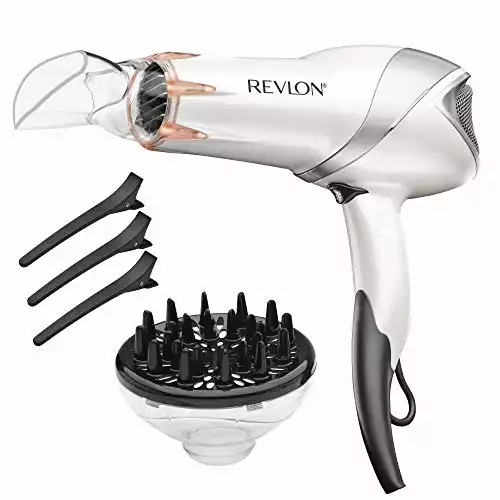 Revlon has been dabbling with health and beauty so it should not come as a surprise that I have included in this list of hair dryer that I think is best for your thick strands. It has the company's trademark as the Salon Ionic Infrared Styler which you can only enjoy from Revlon's dryer. It comes with an air outlet combined with Infrared technology to ensure that the amount of heat being produced is even. There is also a button for that cold shot which is placed out of the way. You only have two heat as well as speed settings. In addition, you can choose from the diffuser or concentrator when working on your thick strands.
Take note that it does come with tourmaline technology which is typically used for preventing breakage while heightening your mane's natural shine. The infrared technology helps heat up the strands from within thus preventing them from becoming brittle.
ghd Air 1600w Professional Hair Dryer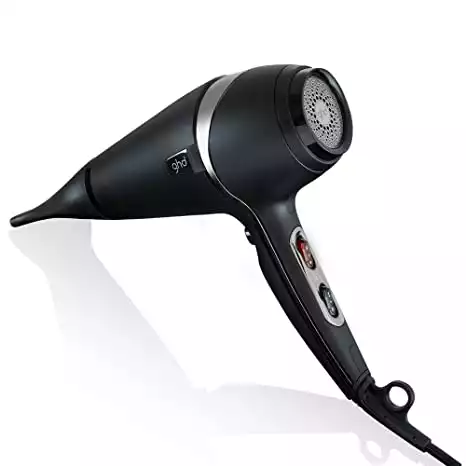 Some fast-drying hair dryers dry hair speedily, but leave your hair feeling dry with the heat. Not the ghd Air 1600w Professional Hair dryer. This sleek dryer smoothens frizz out from hair fast, but still keeps the moisture in your hair so you'll end up with shiny, healthy-looking locks.
It's a bit of the heavy side, but reviews say that its not a deal-breaker as you can still dry your hair without tiring out your arms (this is true for ladies with thick hair). Its ionic technology keeps hair shiny and the cool shot feature allows you to finish styling without overheating your hair.
Hot Tools Pro Signature Ionic Ceramic Hair Dryer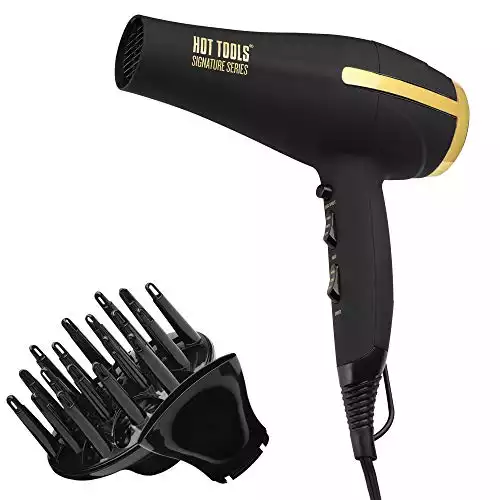 The makers of  Hot Tools Pro Signature Ionic Turbo Ceramic Salon Hair Dryer take pride in delivering performance and good results with each use, and my stylist heart can't help but agree.  With a gorgeous black body trimmed with gold, this hair dryer looks classy and helps you dry thick hair faster than most hair dryers in the market.
It helps that it works for all hair types, with six heat setting and speed options. If you're sharing  a dryer with family or using this in a salon, then this hair dryer is all you need. Blow-drying is a breeze with its far-infrared heat technology. The result: Drying time is cut almost in half, so you can do other stuff after you dry your hair!
I also love the cool-shot button (a must for any blow dryer) that helps to keep any style last longer after blow-drying. It's a strong contender among blow dryers that cost below $100-and it works.
Product Comparison
| | | | | | |
| --- | --- | --- | --- | --- | --- |
| | | | | | |
| Trezoro Professional Ionic Salon Hair Dryer | | | | 3 Heat + 2 Speed Settings + Cool Shot | |
| BaBylissPRO Nano Titanium Hair Dryer | | | | | |
| BaBylissPRO Ceramix Xtreme Dryer | | | | | |
| Remington D3190 Damage Protection Hair Dryer | | | | 3 Heat + 2 Speed Settings + Cool Shot | 2 styling attachments - Concentrator nozzle and diffuser |
| Revlon  Infrared Hair Dryer | | | | 2 heat + 2 speed settings | 2 styling attachments - Concentrator nozzle and diffuser |
| ghd Air  Professional Hair Dryer | | | | 3 Heat + 2 Speed Settings + Cool Shot | |
| Hot Tools Pro Signature Ionic Ceramic Hair Dryer | | | | | 2 styling attachments - Concentrator nozzle and diffuser |
How to Choose the Best Dryer for Thick Hair?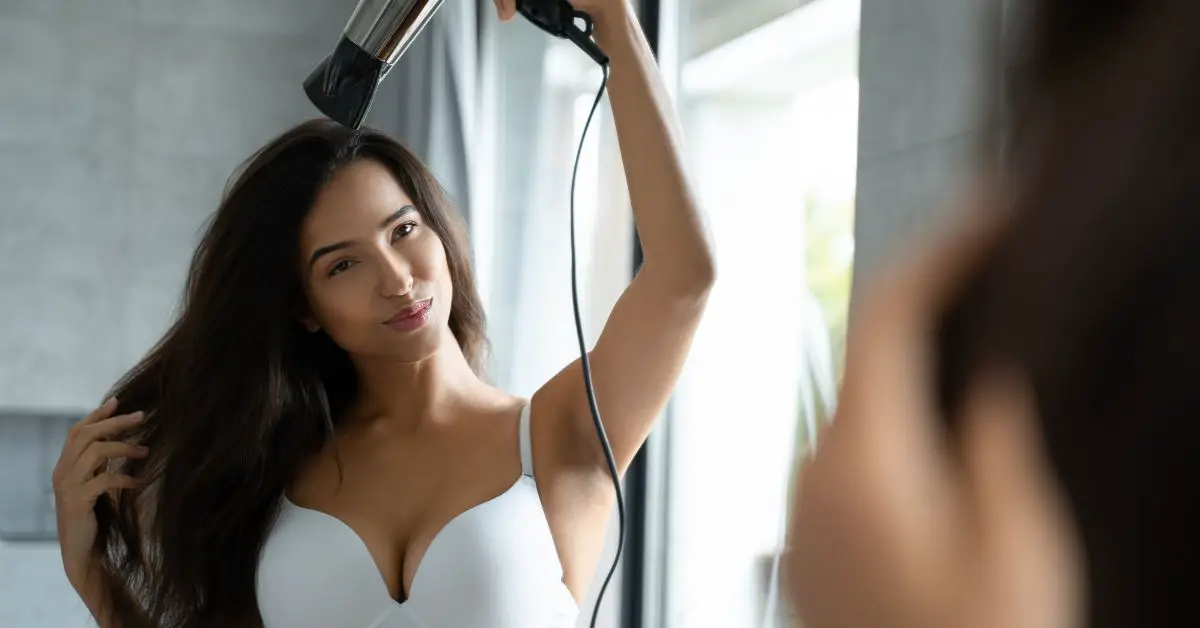 Finding the best hair dryer for your thick mane is going to be a bit of a challenge, especially when there are dozens of options to choose out there. Some are professional-looking while others are a bit fancy, but do they really get the job done? I thought it would be a good idea to help you find the right blow dryer to use for your thick strands by sharing with you tips on what to look for when shopping for one.
Wattage.
Since you have thicker strands, look for a dryer for hair with a wattage between 1800 and 2000. A dryer needs to have a strong motor in order to produce sufficient heat to handle your type of hair; otherwise, the drying time will take longer.
Weight.
You should also consider getting one that is lightweight to minimize arm fatigue. Keep in mind that since your mane is thicker than others, you will need to blast each section for a few minutes. Imagine doing this with a heavy blower, and you know you're going to spend time looking for one that will not be too difficult to wield.
Technology.
Another aspect to consider when shopping for the best hair dryer is the type of technology it uses. Most choose a ceramic-coated dryer, but for your thick mane, experts recommend that you get one made from tourmaline or has ionic technology. Infrared ceramic and porcelain dryers will come in handy if you want to minimize breakage since these materials are known to produce even heating.
Settings.
Heat settings are essential too in any hair dryer which is why you need to make sure that yours will give you enough control over how much heat you will be using for your hair type.
Cool Shot Button.
This is another handy feature that you should look for in a dryer as pressing this button will deliver a blast of cold air on your mane to help seal in the style.
Attachments.
Look at the attachments that come with the dryer, such as the nozzle, comb, and concentrator. These accessories are useful when drying and styling your thick strands.
Helpful Tricks for Drying Thick Hair
If you have been thinking of how you will be able to dry your thick hair, you should try these tricks out. These steps have been recommended by various hairstylists on how to make your thick hair work to your advantage.
Air dry your hair. Professional stylists recommend that you should air dry your thick hair as much as you can. Get up early to take a bath or a shower then do other tasks, such as eating, preparing your outfit, and whatnot, to give your hair some time to dry.
Use a tourmaline or ceramic dryer. If you have long, thick hair, the best hair dryer for you is one that is made from either ceramic or tourmaline as they are designed to dry hair quickly without damaging hair strands.
Divide hair into sections. Sectioning your hair is one of the fastest ways of making your thick hair dry in no time. Avoid blow drying your hair from top to bottom as it will cause the top layers to become damp when they touch wet hair.
Use the nozzle. The attachments included in the dryer can help concentrate the flow of hot air better thus making it easier to achieve dry hair. This is important too if you want to achieve a smoother finish for your strands.
Get the right tools. If you wish to cut the drying time as much as possible, then look for accessories that can be used together with the best dryer. For example, you can get a microfiber hairbrush where the bristles are designed to scoop up any excess water from the strands so you can start using a blow dryer faster.
Alternate temperature. Another trick to drying your mane is to switch from hot to cold. Start by heating your hair for a few seconds before switching to cold to lock the style in place. This way, you are not only drying your strands but styling them as well at the same time.
Having thick hair shouldn't stop you from achieving a beautifully styled mane. With the right tools and using the tricks above, you can step outside with confidence knowing that no amount of sunlight or humidity even will make your hair look sad.
The Verdict
All the hair dryers we have listed are known for their exceptional performance when it comes to drying thick hair. If we had to narrow down our top pick, the Trezoro Professional Ionic Salon Hair Dryer would be a standout.
This is because it's the most powerful dryer of the bunch at 2200 watts — meaning it will effectively dry thick hair fast. Plus, it costs only around $60, making it excellent value for money for a professional-standard blow dryer.
If you have thick hair and are looking for other hair styling tools, check out our recommendations for the best curling irons for thick hair, the best hot air brush for thick hair and the best flat irons for thick hair.
Happy styling!
Leah Williams
Leah Williams is the founder of Lucky Curl and has been in the hair care and styling industry for the last 15 years. Since then, she has developed incredible expertise and a deep understanding of how to treat and style the most difficult hair types and is passionate about sharing her knowledge with the readers of Lucky Curl.