Consider a hot curling brush if you're looking to up your hairstyling game. Think of a curling iron with bristles.
There are many benefits to this styling tool. It allows for tangle-free hair styling and creates voluminous curls.
If you're looking for the best hot curling brush that will give you perfect curls, we have rounded up 6 top-rated products. Plus, we cover what to consider when choosing a curling brush.
09/12/2023 08:30 pm GMT
Best Hot Curling Brush for Easy Curls – Our Top 6 Picks
ghd Rise Volumising Hot Brush
The ghd Rise Volumising Hot Brush is the perfect tool for creating beautiful, voluminous styles. We consider this to be one of the best hot curling brushes for those with fine hair or thin hair looking to add some serious volume.
The 32mm barrel and 5mm smooth bristles create waves and curls while minimizing damage to the hair. You will be seriously impressed with how quickly you can style your hair using this tool and the longevity of the curls it creates.
The smart technology ensures a consistent temperature, and the brush glides through your hair easily. The tapered barrel and cool tip make it easy to style your hair, and the 2.7m swivel cord means you can reach those hard-to-reach spots. The sleep mode means the brush will switch off after 30 minutes for peace of mind.
Note that this hot curling brush cannot be used to dry wet hair. It should only be used when hair is completely dried first.
Here's the ghd Rise in action:
Conair Instant Heat Styling Brush, 1.25 Inch
Thanks to a quick 60-second heat-up, the Conair curling iron brush will give you instant and long-lasting curls without the wait.
You can choose from 25 heat settings, making it a perfect styling tool for virtually any hair type. This product also has a Turbo Heat feature that boosts the barrel's heat by 36 degrees Fahrenheit. This is a valuable benefit for those with thick and hard-to-style hair types.
The barrel measures 1.25 inches, perfect for creating loose waves and curling medium to long hair. It's comprised of chromium, nickel, copper, and steel elements. While it's built like a tank, it stays gentle on your hair thanks to its Smart Technology that stabilizes the temperature the curling tool emits.
The curling brush was designed with the user in mind. Some of the other features to love about the Conair are the extra-long cool tip, dual voltage capability, tangle-resistant swivel cord, and an auto-shutoff function for a piece of mind.
Conair 2-in-1 Hot Air Curling Combo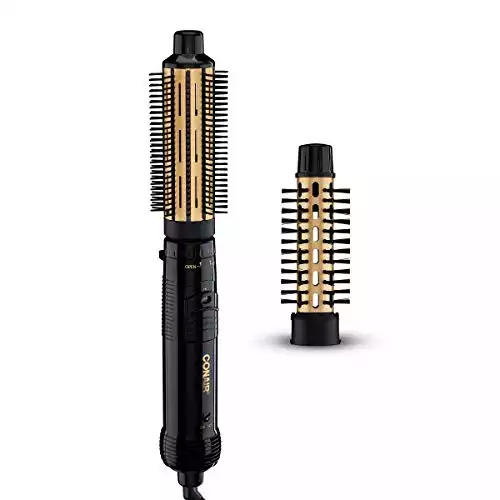 Conair 2-in-1 Hot Air Curling Combo
2-In-1 Styling Brush: This 300-watt brush includes interchangeable curling iron and brush attachments.
Safe and Easy Design: High and low heat settings, a built in safety stand and cool tip.
Dry and Style with One Tool: For smoothing and volumizing.
Buy from Amazon
We earn a commission if you click this link and make a purchase at no additional cost to you.
09/16/2023 08:00 am GMT
For people looking for the most features in one product, this is one of the best curling brushes. It comes with 2 attachments of different diameters.
One is a 1.5-inch curling brush with stiff plastic bristles, while the other is a 1-inch brush with nylon bristles. This gives you plenty of flexibility when styling, and you can pick one that suits your hair type or the style you want to achieve.
The plastic bristle brush with the bigger barrel is suitable for curling hair into loose waves, detangling, and adding lift. The smaller nylon bristle brush is softer, almost like a boar hair bristle brush, so it's suitable for enhancing shine and creating smaller curls. This is an excellent option for those who want versatility. Whether you have long or short hair, this tool provides flexibility.
This product's potential advantage over the others is that it's safe to use on either damp or dry hair because the aluminum barrel blows hot air into the strands, speeding up the dry time. This hot air brush is versatile because it can straighten or on synthetic hair extensions.
In terms of design and functionality, it's important to note that the brush only has 2 heat settings, high and low. The 6-foot power cord makes styling uncomplicated, and the cool tip prevents burns. It also comes with a safety stand.
Another primary consideration for those ready to take this on their travels: While they advertise it as a 300-watt device that's capable of dual-voltage, you can only use the low setting if you're in a 220V region.
PHOEBE Curling Iron Brush
The Phoebe Curling Iron Brush is touted as a 3-in-1 styling tool because it can curl, straighten and detangle hair, all in one sleek blue body.
The 1-inch ceramic tourmaline barrel conducts heat and emits negatively-charged ions. These ions enhance shine, reduce damage, and lock in moisture for frizz-free and smooth results. It's a soft material with preventive benefits, and it's suitable for damaged hair.
The temperature is adjustable, and you can choose from 265F to 430F, an extensive range that can fit all hair types. The LCD display lets you keep tabs on the current setting. The styling brush uses PTC heaters which are safer and longer-lasting than traditional heaters.
The curling brush heats up in just 30 seconds. It has a long cool tip and nylon bristles that prevent scalding when curling your hair. The curling iron brush locks automatically after 3 seconds of inactivity for extra safety. There's also an auto-shutoff that kicks in after 60 minutes.
This product is suitable for on-the-go styling because it's lightweight and has a dual voltage function. The voltage switches automatically depending on your region.
Now, for the trade-offs. This brush has stiff bristles, so hair can often get tangled up when curling. I don't recommend it for fine, long, or medium-length hair for this reason. This would, however, be an excellent option for those with short hair. The controls are also not the most intuitive to use, and the power button is inconveniently positioned.
Conair InfinityPro 1″ Nano Tourmaline Ceramic Hot Brush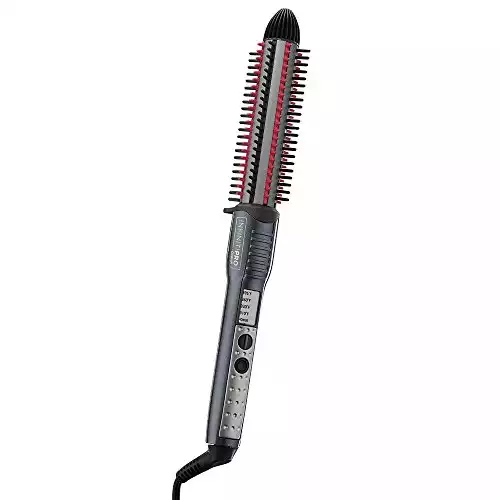 This compact Conair curling iron brush houses tremendous power in a small frame. It has a ceramic-coated nano tourmaline barrel for gentle and powerful curling. This nanotechnology distributes heat evenly without hot or cold spots. That means you get curly hair that looks bouncy and defined from start to finish.
The smooth barrel glides on the hair and helps tamp down flyaways and frizz. Tourmaline uses natural ionic technology for shiny, healthy hair.
The barrel's red and black bristle rows are widely spaced, so detangling is effortless. The red bristles transfer heat while the black bristles stay cool.
You get instant curling with its rapid 30-second heat up. The heater maintains a stable temperature all throughout.
You can choose from 5 precise temperature settings up to 395 degrees Fahrenheit. This is suitable for nearly all hair types, from delicate, fragile locks to coarse, stubborn strands. The heat recovery system is sound and helps it retain heat even when taking a break from styling.
The barrel is easy to clean should it accumulate product residue. It measures one inch, which can create defined waves. The tool powers off after 60 minutes, and it comes with a swivel cord and a cool tip.
Revlon Heated Silicone Styling Brush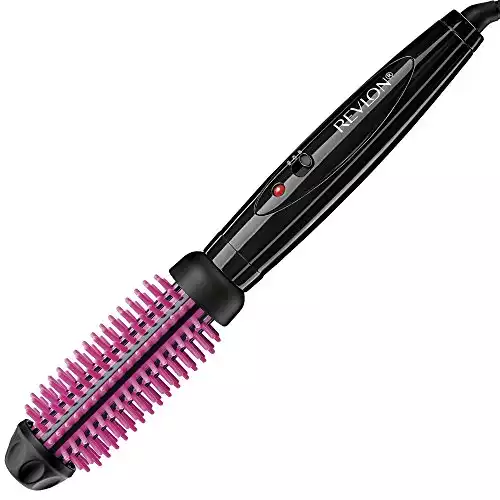 Revlon Heated Silicone Styling Brush, 1"
1" round hair brush barrel for full body and smooth volume
Soft, flexible, and cool-to-the-touch silicone bristles
"On" Indicator light for convenient high visibility. 30 second fast heat-up
Ergonomic cool tip for comfort and styling control
Professional swivel cord for tangle-free hairstyling
Buy from Amazon
We earn a commission if you click this link and make a purchase at no additional cost to you.
09/16/2023 05:30 pm GMT
The bristles in the Revlon curling iron brush have a lot of flex, making curling and brushing painless. The round brush barrel is heated, but the silicone bristles stay cool. This gives you plenty of room to maneuver the brush and get close to the scalp without burning your skin.
The brush has a 1-inch barrel suitable for making simple curls and adding body to lifeless locks. It heats up in just 30 seconds. When switched on, an indicator lights up, so the user knows when the device is heating up.
There are two temperature settings: high and low. The barrel heats up to a cap of 430F, which is on the higher end. This brush is best for normal to coarse hair.
The cool tip helps give the user more control when styling, and the swivel cord keeps things mess-free. Because the bristles are not heated, you can use them to prep your hair for curling.
The design minimizes heat damage and brings plenty of shine to the mane. The bristles are grippy, so you get some resistance when curling.
A Guide to Buying a Hot Curling Brush
Now, hopefully, at this point, you're at least open to the idea of getting a hot curling brush. How do you pick the right one in a market flooded with so many options? The below considerations will help guide you in finding the best hot curling brush for your hair.
Material
The most common materials you'll encounter in any heat styling tool are ceramic, titanium, and tourmaline. When it comes to curling your hair, these are best in class, but one may be more suited for your hair than the others.
Ceramic
I like to think of ceramic as the most vanilla of the three materials. It warms up and retains heat well. It distributes heat gently and reasonably evenly on the surface of a barrel, or in some cases, the bristles. Ceramic also emits negative ions that help add shine to the hair. A ceramic hot brush is best for a fine, delicate, or dry hair type that doesn't need much heat.
Titanium
Titanium is a beast for rapid heat up and heat transfer. Heat distribution is very even with titanium, with little to no room for cold spots. Since it's so efficient, a titanium hot brush is a top pick for coarse, thick, or unmanageable hair that's hard to curl. Plus, this material is durable and shine-enhancing, making it a great investment purchase.
Tourmaline
Tourmaline is a semiprecious stone that generates tons of negatively charged ions naturally. That means it's fantastic to ward off frizz and flyaways and preserve moisture. It's usually combined with ceramic. A tourmaline ceramic hot brush has a high heat capacity, so it may not be the best for dry strands.
While it's less durable than ceramic or titanium, many people favor this material for its natural ionic function.
Bristles
The heat source can come from the bristles or the barrel in a hot curling iron brush. When it's the former, the bristles are coated with ceramic, allowing it to conduct and transfer heat. Synthetic bristle materials, like nylon, work like regular brush bristles and don't heat the hair.
Make sure you have thermostable bristles that stay cool should they accidentally come in contact with your skin. They should be flexible with enough spaces in between to allow your hair to glide through without bunching up or tangling.
Barrel Size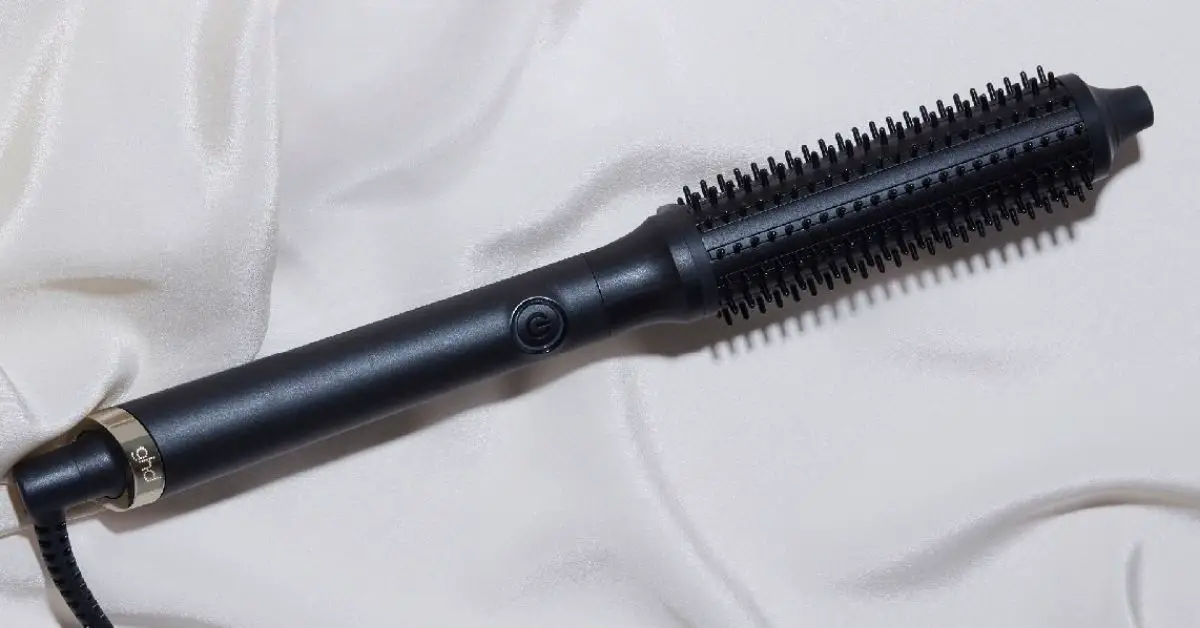 You will have a better experience with a hot curling brush if you choose a barrel that fits your hair type. If you have shorter hair or prefer small waves, pick a small barrel size. This will be around 1-inch or below. Long and mid-length hair may choose 1.5-inch to 2-inch barrels.
Variable Heat Settings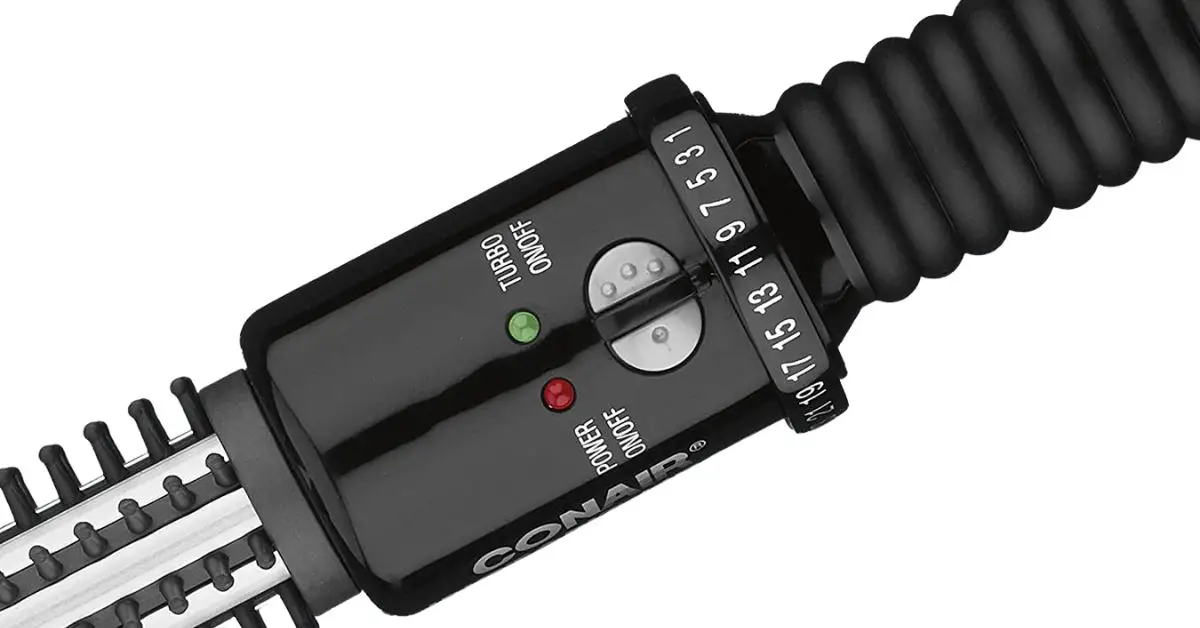 Having variable temperature controls helps prevent heat damage. You should stay at a temperature that effectively curls without wrecking your hair. The more settings you can choose from in a styling brush, the less the risk of damage. Those with colored, damaged, or dry hair will always style on lower temperature settings.
Benefits of a Hot Curling Brush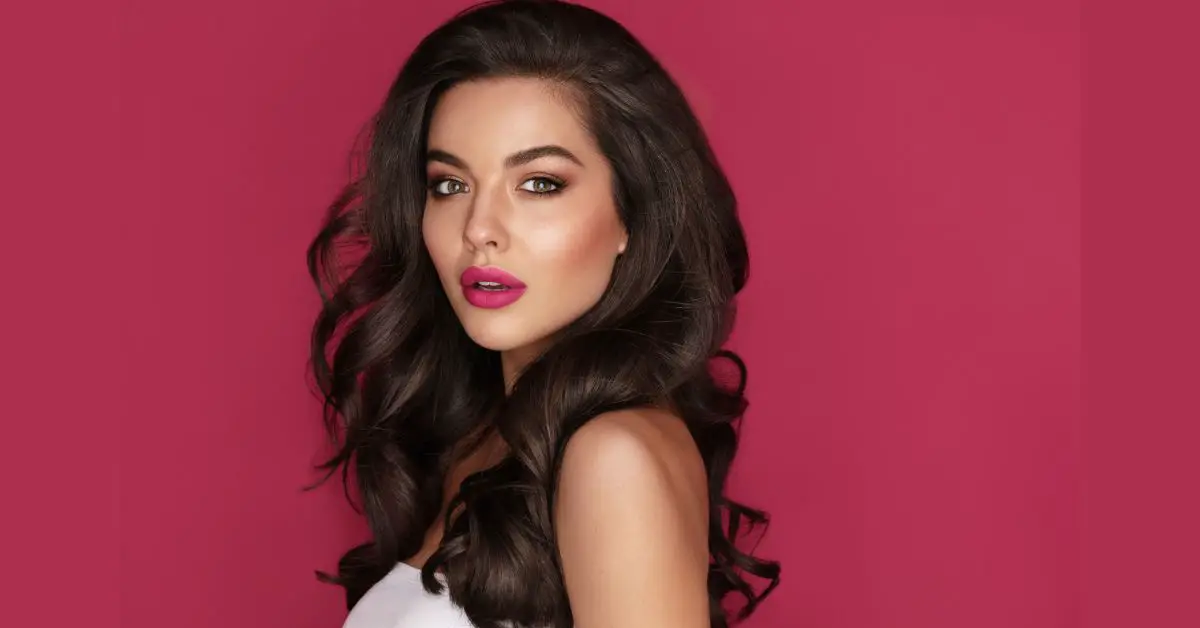 You may be thinking, "Yeah, this sounds great and all, but technically, I could just use a curling iron and call it a day." While curling irons and wands are all well and good, hot curling brushes have an advantage in some aspects. Before you dismiss these wonder brushes, here are the top benefits you'll get from using a hot curling brush and giving your irons and wands a rest day.
Bristles act as a buffer.
A traditional curling iron will mean a high chance your skin can make contact with the scalding hot surface. The bristles on a curling brush act as a buffer, meaning it's somewhat a safer product to use.
With that in mind, you need to be careful when using any high-heat styling tool.
Creates volume
While a hot curling brush won't give you corkscrew coils or tight curls, they are great for loose curls and medium-sized waves. It curls your locks while maintaining their volume. The results look effortless and don't appear overstyled.
Available in various styles and sizes
There's a hot curling brush for every hair type. You can choose from different barrel components, bristle lengths, and brush sizes.
The combinations can be personalized for short, long, thick, and fine hair.
Won't crease your hair
The bristles of the hot brush render clamps redundant. Clamps, while convenient in curling iron, can make curls appear more manufactured, plus they leave the dreaded creases that give away how much effort you expended in styling your mane.
The teeth of the hot curling iron brush keep your hair in place without creasing, leaving people wondering whether you were born with those luscious curls.
Frequently Asked Questions
How hot should a curling brush be?
This will depend on your hair type.
Those with fine, damaged or thin hair will want to stick to a low temperature between 180 to 200 degrees Fahrenheit.
Those with coarse and thick hair can opt for temperatures between 200 to 300 degrees.
No matter your hair type, applying heat protectant is non-negotiable when it comes to styling with hot curling brushes.
What is a hot curling brush?
A hot curling brush looks like a round brush with teeth or bristles. Think of the styling tool that hairdressers pair with a blow dryer.
The bristles are heated so the hairbrush can create curls as you stroke it through your strands. Plus, it does this without a clamp to hold your hair in place. Instead, the bristles grab onto your locks as you hold the curl for a few seconds.
In a sense, it's what you'd get if a curling iron and a hairbrush had a baby. There are numerous benefits to this form factor that gives hot brushes an advantage over curling irons or wands.
What is the difference between a curling iron and a curling brush?
Bristles vs. no bristles are the main difference between a curling iron and a curling brush. Adding bristles to an electronic curling iron is a relatively new concept for hair styling products.
A traditional curling iron works differently. You place hair around the iron, clamp down and release the curl after a few seconds.
On the other hand, a curling brush has bristles and no clamp, which requires a different technique to style your hair. You need to wind your hair around the bristled barrel and slightly rotate the tool as you pull it down. This allows you to create curls and flicked-up ends.
If you're after hot airbrushes rather than static curling brushes, check out our top recommendations here.
Wrap Up
So which hot styling brush takes the crown in this roundup?
It's hard to look past the ghd Rise when deciding on the best hot curling brush. It can achieve both smooth curls, and a straight-from-salon blowout look, and the smart temperature control helps to minimize heat damage.
That said, we understand not everyone has the budget for the Rise, so the Conair Instant Heat Styling Brush would be our affordable hot curling brush pick.
For most people, it's the best curling iron brush to get but as always, consider your hair needs before deciding on what product to get. Happy curling!
Leah Williams
Leah Williams is the founder of Lucky Curl and has been in the hair care and styling industry for the last 15 years. Since then, she has developed incredible expertise and a deep understanding of how to treat and style the most difficult hair types and is passionate about sharing her knowledge with the readers of Lucky Curl.