For those of us who love a blowout and just don't have the time to style it the old-fashioned way every day, a rotating hot air brush is a must. There are many options on this market from which you can choose your favorite one based on what features best serve your needs and its pros/cons for you to do so with ease.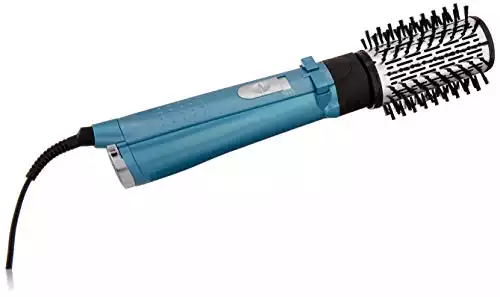 I will guide you through five top-rated best rotating hot air brush models here, ensuring that by the end of my article, choosing one will be an easy task! Let's get started!
Best Rotating Hot Air Brush – 5 Top Options to Consider
09/08/2023 05:30 pm GMT
The rotating hot air dryer brush is probably one of the best styling tools you will have in your arsenal, based on my experience. It is a hair dryer and styling tool in one package! I can do away with my blow dryer and wooden brushes, plus I get to see some professional salon-hair results faster than before and with minimal effort on my part. I had some fun finding the best hot air brush for my mid-length straight hair with all the options available.
However, since there are literally dozens of these air brushes available in stores, I thought it would be a good idea to round up my top three brands for hot air brushes. This way, you got your search cut out for you because you can start with these three of the best brush dryer I have used.
1. BaBylissPRO Nano Titanium Rotating Hot Air Brush
The first on my list is the Nano Titanium Rotating Hot Air Brush from BaBylissPRO. I like this tool because it has an antistatic bristle combined with warm airflow to create gorgeous, shiny, and smooth hair. What else is there to enjoy with this product? It has a bi-directional rotating barrel that can move either backward or forward, which helps with achieving beautiful, stylish hair.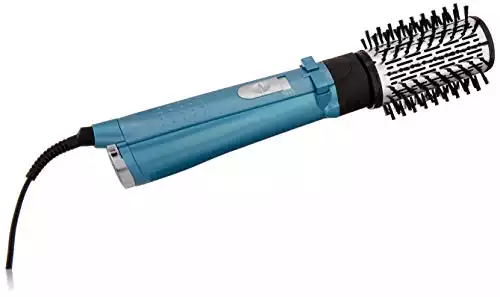 It also uses ionic technology to help minimize the development of frizz when styling your hair. As for the heat settings, this one comes with three ergonomically placed options and a handle for ease of use. This works best to polish off your hairstyle. Also, this is only suited for hair that is at least 80 percent dry for best results.
Pros:
The ionic technology reduces the appearance of frizz when styling your hair.
Bi-directional rotation speeds up the styling process.
Comes with three heat settings to match your hair type.
Antistatic bristles prevent making your hair puffy while styling.
Cons:
It is a bit pricey for the air brush.
It can sometimes create static when used.
2. INFINITIPRO BY CONAIR Spin Air Rotating Styler
Another option for hot air brushes that I want to introduce to you is the INFINITIPRO by Conair. This 2-inch styling tool is every bit as useful as the previous one with its drying and styling features in one solid body. What makes this hot air brush worth checking out is that it uses tourmaline ceramic technology to help heat up hair strands without them becoming damaged. I like that my hair looks fantastic each time I use it. The boar and nylon bristles installed on the barrel prevent static from happening, which means that you will end up with salon-style hair every time.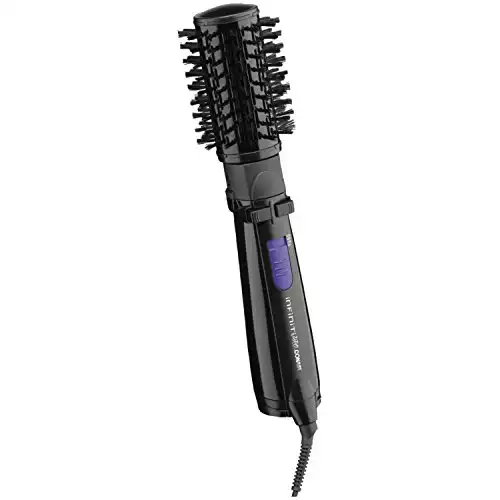 For best results when using this rotating hot air brush, start with damp, nearly dry hair. You have to comb your hair first to remove any tangles. You can create more volume with this 2-in-1 styling tool by letting the brush rotate on your hair for a bit. Release the rotate button, then switch to a cooler setting to set the hairstyle in place.
Pros:
Tourmaline ceramic materials guarantee even heating with the brush to style your hair with confidence.
Boar and nylon bristles are antistatic by nature which helps keep your hair strands tame while drying and styling at the same time.
Rotating barrel spins in both directions giving you more versatility in creating complex styles.
Ionic technology minimizes the appearance of frizz when in use.
Cons:
The price point is slightly high for other products in the category.
Drying time can take longer.
Bristles are not ideal for long, thick hair types.
3. Beautimeter Hair Dryer Brush
Get perfectly styled hair with this Beautimeter's 3-in-1 hot air brush kit. While not a well-known brand, this hot air brush is said to rival the effectiveness of the popular Conair Infiniti Pro. The rotating barrel combines a blowing function with a comb and styling tool, allowing you to create your perfect style in minutes.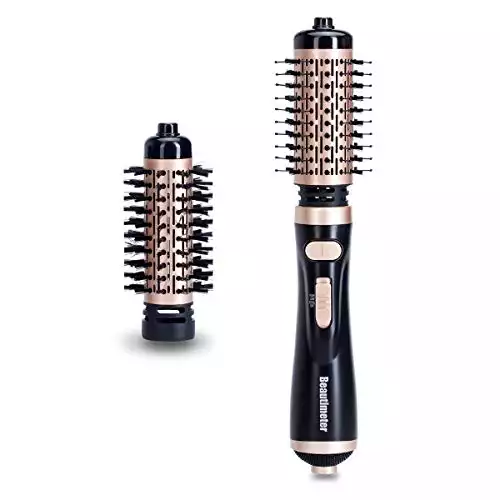 The rotating hot air brush with two different sizes of barrels:
1 ½ inch diameter is excellent for shorter bob lengths, layers, and fringes
The 2-inch diameter is suitable for shoulder length or longer) can be used to dry and style your locks.
Beautimeter's Built-In Ion Generator releases 50% more negative ions through 100 concentrated vents. Negative ions regulate moisture balance on the skin by removing excess water from hair follicles, so there is no need for frizz any day of the month. The ceramic coating provides further protection of the hair, which creates even heat distribution for less damage.
In terms of functionality, the rotating hair tool comes with 3 setting modes:
High Setting: Combines ideal airflow with higher temperature, especially recommended for pre-drying and styling thick hair.
Low Setting: It combines ideal airflow and temperature settings for shaping finer, damaged, or treated hair.
Cool Setting: Create a long-lasting hairstyle with a cool setting in the end.
What's not to love about this multi-functional beauty tool?
Pros:
Two Brush Attachments: 1.5″ and 2″ Round Spin Brush
2 Heat Settings + 1 Cool Setting
Genuine Built-in Negative Ion Generator
Nylon Pin Bristles and Tufted Bristles Mix
Unique Air Flow Vents
360° Swivel Power Cord
Auto-rotating Function
Cons:
No lock in place for rotation, meaning you have to press the rotator button as you style
4. John Frieda Hot Air Brush
Next on our list is the John Freida Hot Air Brush. This high-quality styling tool is made with ionic technology, effectively tackling unwanted frizz and flyaway hairs. The result is smooth, bouncy curls without the extreme heat damage you might see with curling irons or wands.
This rotating hot air brush has two heat settings, as well as a cool setting to round out your hair styling.
Another great feature of the John Freida hot air brush is the long swivel cord enables easy styling. Something to keep in mind is that it's slower than a traditional hair dryer, so it's ideal for almost dry or dry hair, but it's an excellent tool for thick hair or long hair since it comes with a 1.5 inch or 2-inch barrel.
Pros:
Comes with ionic technology
Protects hair from frizz and flyaways
Easily creates volume with rotator brush
Long swivel cord
Cons:
The bristles are very stiff and do not feel comfortable on the scalp
5. Revlon Perfect Heat 2″ Tourmaline Ceramic Rotating Hot Air Styler
I like to add Revlon Perfect Heat into the mix in this list of the best rotating hot air brush models. Revlon is a brand that we are all familiar with, and it appears that their 2-inch tourmaline ceramic rotating hot air styler is a gorgeous styling tool. The first thing that I liked about this rotating hot air brush is that it gives me beautiful and more detailed curls, just like the way I want them. It has a multidirectional brush that gives me more flexibility in making my hair look different each day. You can switch off the spin feature as you see fit.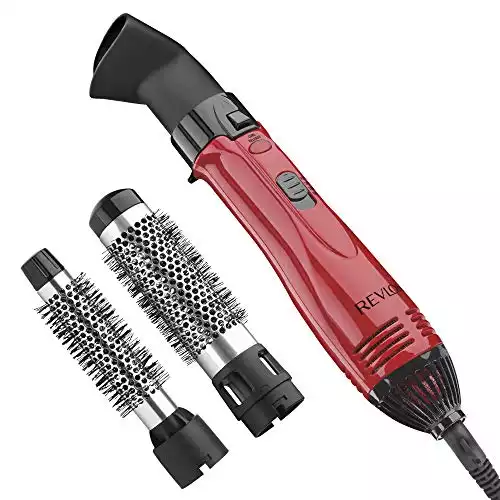 There are only two heat settings here which I think is less than what the others have to offer, but it still does the job of making my hair look great. Its 2-inch spin brush comes with tangle-free bristles that can quickly work in taming my hair. Aside from giving my hair volume, it felt like my strands were fully moisturized afterward. This rotating hot air brush is worth looking into if you need a hot air brush that makes your hair stand out.
Pros:
Its 2-inch tourmaline ceramic barrel makes it easier to heat up and style damps to dry hair quickly.
The multidirectional dryer brush adds more versatility to hairstyles with minimal effort on my part.
The tangle-free bristles ensure that I do not pull my hair when using this brush dryer from Revlon.
My hair looks and feels moisturized as the strands are soft to the touch.
Cons:
No digital display.
Only two heat settings on this rotating hot air brush.
The bristles are very stiff and do not feel comfortable on the scalp.
What are the Benefits of a Rotating Hot Air Brush?
Gentle on the Hair. 

Compared to flat irons, I found that using a hot air brush feels gentler on my hair and scalp. There is no danger of overheating the strands, which are typical with a flat iron. I was also able to get closer to the roots of my hair for added volume, and because the heat coming from the barrel wasn't extreme, I did not burn my scalp with it.

Compact.


A hot air brush tends to be more travel-friendly than the long flat irons. I can simply slip it in one of my bags and use it for styling without any trouble. Flat irons tend to be bulky unless you choose the 1- inch versions, which are easy to pack with you during your travels.

2-in-1 Styling Tool.


Another thing that I enjoyed with air brushes because they are basically a blow dryer and brush in just one styling tool. I no longer had to use two separate items but rather just hold on to this rotating hot air brush to dry and style my hair simultaneously.

Creates More Complex Hairstyles.


Another benefit of using this hot air brush is that it allows you to create various hairstyles including the more complicated ones. I think that this is the perfect tool to show off your creativity with your hair.

Temperature Settings.


Air brushes typically have two heat settings and one for cool settings necessary for creating the desired hairstyle. It's great that you have the option to choose what temperature you are going to use based on your hair type.

Salon Results.


I also noticed that every time I used a hot air brush, I ended up with an incredible volume and a salon-worthy blowout. These styling tools are a great way to consistently achieve salon-quality styling at home.

Longer-lasting Hairstyle.


Remember when I mentioned that I am not overly fond of styling my hair every day? I noticed that I could keep my hairstyle for a couple of days after styling with a rotating air brush.

Saves time.


Being a hair dryer and styling tool in one, you will find a rotating hot air brush can be a real-time saver. I would suggest semi-drying wet hair and then styling the hair with the hot brush in sections starting from underneath. Depending on the length and thickness of your hair, it could only take 20 minutes or less.
What to Look For in A Hot Air Brush
You're probably thinking of getting a rotating hot air brush for yourself already, but if this is your first time to buy one, I am sure you will be a bit overwhelmed with all the choices out there. I did too, when I first started searching for this tool. Since I know how hard it is to land the right hot air brushes, I have made a list of factors that you can use when shopping for one.
On/Off Rotating Mechanism.


Every rotating hair brush should have this feature because you can turn the rotating rod if you do not like how it works. This way, you will end up with a brush that you can use to comb your hair while drying the strands out.

Temperature settings.


If you want the best rotating brush, it should have a heat setting for you to choose what temperature will work for your hair type. Those with fine, thin, or damaged hair will want to use a lower heat, while those with thick, long, and coarse hair can opt for higher heat. Higher heats will work best on drying damp hair, and medium temperature is suited to when wanting to style or touch up already dry hair.

Speed Settings.

Speed settings allow you to control how fast or slow the barrel rotates. While you get the hang of the tool, you may want to start slow!

Barrel size.


Do not mistake thinking that all hot air brushes are designed for all hair types and hair lengths. A broad barrel brush is not suitable for those with fine or short hair since the bristles will not hold the hair strands very well. On the other hand, a rotating round brush can help add volume to your otherwise flat hair. You need to check which barrel size is appropriate for your hair type and length.

Dual voltage.


This is another factor you should include in your list when shopping for this styling tool because you want a hot air rotating brush that will work in various countries. Luckily, I have come across several of these products that offer this excellent feature.

Multi-direction settings.


An air brush that has multiple direction settings can make it easier for you to straighten or curl your mane in any way you like. This feature will make it possible for us to create that perfect lift and hair style without too much trouble on our end.

Price.


Just because you are getting a rotating hot air brush for your mane, it doesn't mean that you have to spend a lot for one. Remember that an expensive price tag doesn't always mean getting quality results. I prefer comparing prices first for styling tools to help narrow my search to those I think will suit my budget.
Frequently Asked Questions About Rotating Hot Air Brushes
Is a rotating hair dryer necessary to style hair?
A rotating hair dryer is not necessary to style hair. If you are looking for a hairstyle with less volume and more definition, a classic paddle brush might be the best option.
Do all rotating hot air brushes have multidirectional settings?
No, not all rotating hot air brushes have multidirectional settings. Some just have two options: forward or backward rotation. In other words, it's your preference as to which type of rotation you desire, depending on the shape of your hairstyle that day. However, if you're looking for something with lots of versatility in regards to various styles, from curls to waves and flips over a wide range of lengths, these brushes may become your go-to styling tool!
What's the difference between a curling iron vs. a rotating hot air brush?
A rotating hair dryer is different from a curling iron in that the former is designed to provide volume, height, and lift while the latter can give you a tight curl or waves. Rotating hot air brushes are best for removing frizz and flyaways, especially if your hair is at least 80% dry when using it. They also allow you to diffuse your curls by pulling them through the barrel's spaces.
Can you use a rotating hot air brush on wet hair?
While it technically can be used on wet hair, it's not recommended as drying the hair can take a long time and won't produce the best results. The best practice would be to use the hot rotating hair brush on damp hair instead.
I'd advise drying it rough or really drawing out the moisture with a towel before proceeding with hair styling. That said, rotating hair brushes can also be used on dry hair to restore vitality between styling or adding curl and body.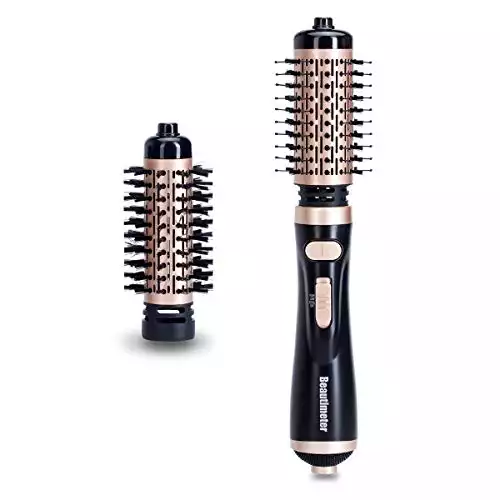 Leah Williams
Leah Williams is the founder of Lucky Curl and has been in the hair care and styling industry for the last 15 years. Since then, she has developed incredible expertise and a deep understanding of how to treat and style the most difficult hair types and is passionate about sharing her knowledge with the readers of Lucky Curl.