The trouble with styling your hair is that you will need multiple tools for it. There is the flat iron, curling iron, curling rod, you name it, you'll probably need it at one point. I am just not a fan of having my dresser cluttered with all these tools! I was going to concede to the idea of purchasing multiple styling tools, that is until I came across a review for FHI Heat Platform Pro Styler.
Read on to see our FHI Flat Iron review.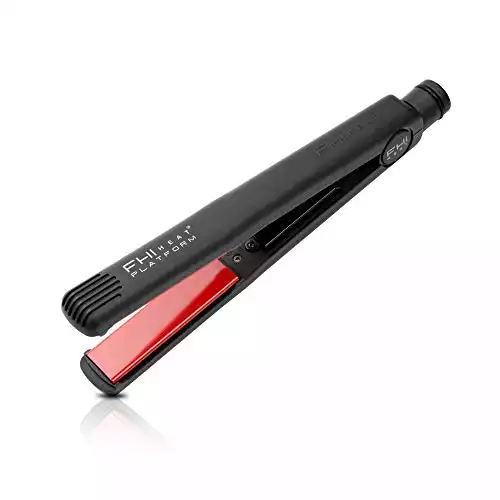 We earn a commission if you click this link and make a purchase at no additional cost to you.
Things to Consider Before Buying a Flat Iron
If you, like me, don't want to spend money on a variety of styling tools, then a flat styling iron is your best bet since it lets you straighten and even make those beachy waves too with just a single tool. What's great about this product is that it can be used on different hair types, but there are some considerations to think of too if you are going to buy this styling tool.
Price
The price of flat irons can range from cheap to expensive. This will vary depending on the size, materials, and features included. However, just because a flat iron is sold at a high price, it doesn't automatically mean that you will get great results.
Plate Size
The plate size is also another factor that you should consider as the different sizes will fit various thicknesses and types. For example, if you have thin to short hair, a nano sized flat iron may work for you. On the other hand, a 2-inch plate is best suited for those who have thick hair because the plates will be able to handle the thickness.
Material
Flat irons can be made using different materials such as ceramic, tourmaline, or titanium. Baked ceramic plates are typically used because they heat up evenly. Tourmaline, on the other hand, helps with straightening your mane quickly thanks to its negative ions. Then there is titanium which heats up real quick and retains this level of warmth throughout its use.
Temperature
Do not forget to check the temperature settings on the flat iron. It would be better if you opt for one that has a multiple heat setting so that you will be able to use it regardless of the thickness of your hair or its type. A low heat setting will be appropriate for thin to brittle strands while cranking up the heat setting to max will be ideal for those who have thick to the coarse mane.
Presenting the FHI Flat Iron – Heat Platform Pro Styler Review
The FHI Heat Platform Pro Styler is a professional hair styling product that is designed to provide you with versatility in terms of styling your strands. It is said that you can use this flat iron, not only for straightening but also for creating different curls too. The FHI flat iron promises to deliver professional hair results with every use.
This flat iron from FHI is a worthwhile investment if you wish to skip having to purchase multiple styling tools for your mane. However, it may take some getting used to since most of us tend to use this tool for straightening only. But since it is promoting itself as a versatile tool, it bears practicing with it.
Pros:
Versatile straightening tool in a sleek and stylish design.
Prevents damage thanks to its ceramic plates infused with tourmaline.
Adjustable temperature settings ranging from 180 degrees to 450 degrees Fahrenheit.
Cons:
It doesn't feel hot enough to work on thick, coarse strands
It can cause frizz when used.
It is expensive compared to others.
Features and Benefits
FHI Heat Platform Pro Straighteners are not limited to straightening strands, but they are also designed to transform your lifeless strands into beach-ready waves or loose curls depending on your preferences. That said, this 1-inch FHI flat iron does come with several features worth checking out.
Tourmaline Ceramic Plates
The first feature that will make you fall in love with this styling tool is that the plates are made from tourmaline ceramic. Tourmaline is known to speed up the heating process while the ceramic ensures that each section of your mane receives adequate heat. It sports three layers of baked ceramic infused with tourmaline to create the perfect plates for styling. Ceramic is known to provide even heat distribution to ensure that there won't be any hotspots that can affect the integrity of your strands. Who said that you cannot have the best of both worlds in just a single tool?
Adjustable Temperature Settings
Like it was mentioned before, it is important that the styling tool that you will get should come with an adjustable temperature function. The settings available for the FHI flat iron ranges from 140 degrees Fahrenheit to 450 degrees Fahrenheit. What this means is that you need to be extra careful with the amount of heat you are exposing your strands to. Keep in mind that the heat should match the type and texture of your strands. If you have thin to fragile strands, setting the temperature to the lowest can help protect it. On the other hand, if you are going to straight or curl thicker hair, you will need to put the dial setting to high.
Beveled Plates
The beveled plates are designed in such a way that they will move as you see fit. These moving plates do come in handy when it comes to styling your strands since it is capable of keeping the heat from damaging your strands. No need to worry about your mane hitting a snag when you use this,
Auto Shut-Off
It also comes with an auto shut-off feature that shuts the device down after an hour of not being used. This is handy especially when you are hurrying up because you are already late for work. No need to worry about a fire breaking out because you left your flat iron still running at home.
Long Swivel Cord
Unlike other straightening items that only have around 8 feet of swivel cord, FHI flat irons come with up to 12 feet of swivel cord which prevents you from getting tangled around it. What's more, with this length, you will be able to move around better while you style your mane.
Negative Ion Technology
What else can you get from FHI Heat Platform? Well, since this 1-inch professional hair product comes with negative ion technology, you will be happy to know that this tech helps in fighting frizz. This is a useful feature since exposing your strands to heat can damage the cuticles. If you want to avoid frizz and dull hair either you lower your setting or apply a heat protectant.
Social Proof
Reading about FHI tourmaline ceramic heater showed how this tool is a worthwhile investment. My decision to purchase one is almost finalized especially after seeing the positive feedback that it has received from other customers. If you want to know more about how good a product is from Amazon, read the customer reviews like the ones below.


Alternatives to Consider
FHI seems to be a promising brand for any hair type, but you can still look for other products to consider as alternatives. So far, these are the brands that stood out for me. If you are looking for other options other than FHI, then start with the following.
HSI Professional Glider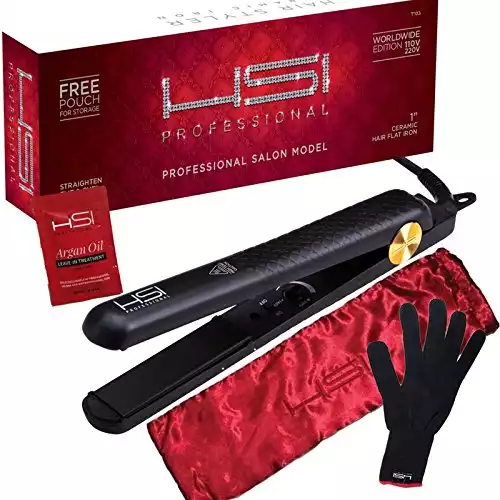 We earn a commission if you click this link and make a purchase at no additional cost to you.
If you are looking for flat irons that can match the features of FHI then this professional glider from HSI fits the bill. This tool straightens, curls, and flips hair without any difficulty and can work with different hair types too. The reviews show that this glider is convenient to use even for beginners. Just like FHI that offers tourmaline ceramic professional styling tool, this brand utilizes the same materials to ensure that the plates will glide on your hair without snagging. You don't have to worry about frizz even thanks to the 8 HeatBalance micro sensors that ensure that the plates are heated up evenly.
What else is there to like about the HSI Professional Glider? It also comes with an adjustable heat setting that can reach up to 450 degrees Fahrenheit. It comes with a dual voltage too meaning that you can bring this styling tool with you wherever you go and just plug it in as needed. The 1 inch plate provides you with a more detailed straightening and styling which makes this a convenient tool to have around.
Pros:
Ideal for different hair types and lengths.
HeatBalance micro sensors prevent frizz from forming.
Adjustable heat settings let you choose the amount of heat to use on your hair.
Cons:
The plates do not touch each other that much hence you will need to press down harder just to make any contact.
You will need to do a few passes on each section of your mane to achieve the desired effect.
It doesn't glide on strands well.
KIPOZI Pro Flat Iron
We earn a commission if you click this link and make a purchase at no additional cost to you.
Another option to consider for a hair straightener is the KIPOZI Pro flat iron which features heat control as well as automatic shut-off when the device is left idling for some time. You can turn the heat down low if you have thin or brittle hair, or crank it up to 450 degrees Fahrenheit if you are going to straighten or curl your thick mane. It doesn't matter if you have sleek, curly, or wavy hair, this pro flat iron will get the job done in no time. On a bonus side, it comes with an auto shut-off feature that will turn off after 60 minutes of non-use.
The floating plates on KIPOZI are ceramic-based and are heated up using PTC Heat Technology. This technology ensures that heat is evenly distributed throughout the plates so there won't be any hotspots to worry about. What's even better is that you don't need to run multiple passes on your hair just to straighten or curl it. It also has a 1 inch plate that works on long and thick hair as well as the shorter ones too. Yes, even your bangs can be treated to a professional-grade styling tool. Take advantage of the curved edges to create those beachy waves you're so fond of.
Pros:
Heat control setting lets you choose the right one for your hair type.
It can straighten or curl your hair as you see fit.
It will not require multiple passes on your hair to achieve desired results.
Cons:
The plates do not glide smoothly when used.
It doesn't heat up as quickly as FHI.
It may not work well with textured strands.
HOT TOOLS Signature Series Ceramic Digital Flat Iron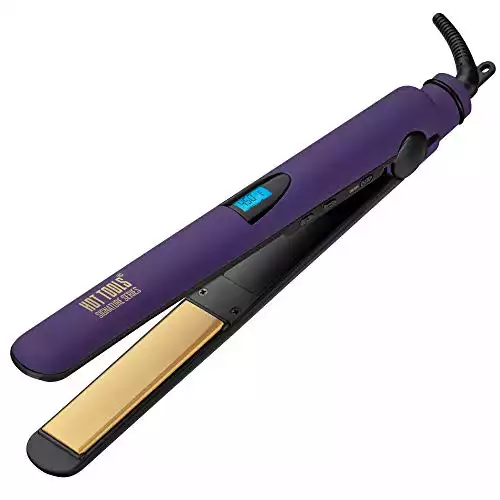 We earn a commission if you click this link and make a purchase at no additional cost to you.
If you are after quick results to achieve smooth, straight hair, this digital flat iron may be a good alternative to consider. Its ceramic plates can minimize the appearance of frizz and easily brings out the natural shine of your hair too. Like the previous products, the HOT TOOLS also come with different heat settings so you will be able to choose what is appropriate for your hair type. You don't have to second guess how hot the plates are because this model has an LCD display on it for you to read. It doesn't matter if you have thin hair or thick, coarse strands, you will find that this styling tool can work in straightening and curling them easily.
Unlike other styling tools that cannot sustain heat when used, the HOT TOOLS keep it steady until you are done. As a matter of fact, you only need to wait half a minute for the plates to heat up and you are good to go. Of course, it also comes with an auto shut-off feature wherein it automatically turns off when it has been left idling for an hour. This is an important feature as it protects your home from accidental fires.
Pros:
Fights frizz but leave mane smooth and shiny.
LCD display lets you view the current heat setting so no need to second guess how hot the plates are.
It can retain its heat throughout the styling session.
Cons:
It doesn't last that long.
It has a short cord unlike the one in FHI.
The outer part of the plates was too hot that it burns when it accidentally touches your skin.
Conclusion
The FHI straightening tool is the perfect answer for those who are in need of a styling tool that can straighten and curl your strands with just a single tool. It lets you choose how hot the plates should be when styling your mane, plus it comes with a more compact design that makes it easy to maneuver. You will not be disappointed how your mane turns out when you style it with FHI.
Leah Williams
Leah Williams is the founder of Lucky Curl and has been in the hair care and styling industry for the last 15 years. Since then, she has developed incredible expertise and a deep understanding of how to treat and style the most difficult hair types and is passionate about sharing her knowledge with the readers of Lucky Curl.