Are you curious to know the secrets to achieve perfectly straight hair? Well, as a good start, you definitely need the best quality flat iron you can find!
In this article, I'll address the question "what should I put on my hair before flat ironing?" The importance of prepping your hair before flat ironing is vital to avoid heat damage and to achieve the perfect straight hair.
So, stick around to find out more!
Products to Use on Your Hair Before Flat Ironing
It's important for you to choose the right product to safeguard your hair and get that beautifully straight hair.
These are some of the recommended treatments to put on your hair before using a flat iron:
Heat Protectant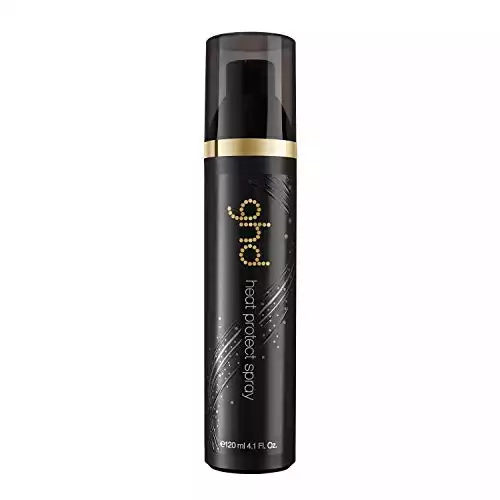 Heat protectant spray is a must when flat ironing hair. It minimizes hair damage and moisturizes the hair cuticle which also dries your hair pretty quick.
You should apply the heat protectant on your hair before using the flat iron. Make sure it is applied evenly by giving your hair a quick comb after the application.
There are different procedures for applying heat protectants depending on the product and your hair type.
Argan Oil
Argan oil naturally lubricates your hair and provides a fatty layer to your scalp which prevents dry hair. It offers damage protection from washing and heating tools like flat irons and blow dryers.
Also, argan oil can generally boost your hair's health by preventing the formation of split ends which can lead to breakage.
Apply argan oil to wet hair before heat styling to reap its heat protection benefits.
Moisturizing Shampoo
As it turns out, the right shampoo makes a huge difference when it comes to heat styling.
If you want to flat iron your hair, moisturizing shampoo is a must. It lubricates your hair and locks in the moisture for easy styling and prevents heat damage too.
It also minimizes tangles resulting in frizz and dry hair which we all want to avoid!
Leave-in Conditioner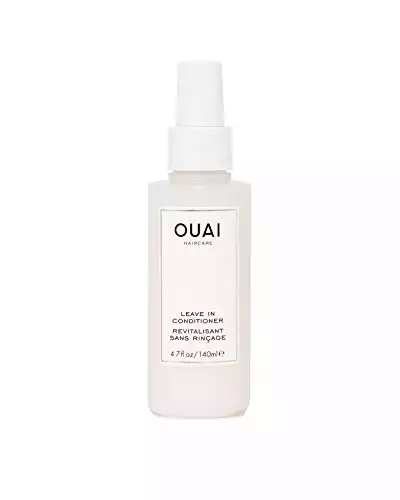 The leave-in conditioner is another essential if you're looking to achieve straight hair using the flat iron. It locks hair moisture, protects your locks, and offers heat protection at the same time.
Apply the conditioner onto your slightly damp hair and scrunch. Leave it for a few minutes while prepping your hair for flat ironing.
Tips for Flat Ironing Hair to Minimize Damage
We can all agree that heated styling tools can ruin your hair, especially when you're unaware of the right procedure for utilizing such beauty tools.
However, in the case of using a flat iron to straighten hair, heat damage can be reduced through the following tips.
Rough-dry!
Rough-dry your hair before styling with any heat tools.
Use a wide-tooth comb or comb your hair using your fingers for it to dry quickly. Do this procedure for a few minutes until your hair is 70 to 80 percent dry.
Flat ironing wet hair is ineffective and can cause damage. So, let your hair air-dry at least before the straightening process!
Apply some heat protectant.
As I keep saying, heat protectants are non-negotiable and you shouldn't go without them.
Make sure to apply a thermal protector product on your hair before blow-drying or styling – it's one of the secrets to achieving the straightest hair without worrying too much about damage.
Some of the best heat protectants that are worth trying are argan oil, conditioners, and moisturizing shampoos.
Section your hair.
Part your hair into sections for easy styling. Secure each section with a clip or tie.
Sectioning your hair allows you to straighten and style your hair easily. You must follow this step especially when you have thicker or coarse hair. This makes the job a lot easier!
Do not grab too much hair when flat ironing as it may not be effective and will also ruin your style in general.
Do not flat iron your hair every day.
Do not flat iron hair every day. Your hair isn't designed to be exposed to heat tools daily. If you do that, chances are, your hair will get totally dry!
In addition, flat ironing every day without thermal protection can definitely kill your hair.
Still, you don't have to give up hot tools for styling your hair. You can still do it once in a while but be sure to follow the right procedures.
Wrap Up!
There are various recommendations on what to put on your hair before styling. What I have mentioned are just a few and there are other choices you can definitely try. You can make your own hair treatment too!
In closing, prepping your hair properly is vital before styling or flat ironing. You shouldn't go anywhere near heat styling tools without making sure your hair is ready for it.
Now you have the hair preparation secrets, check out our article to find the best flat irons for damaged hair.
Leah Williams
Leah Williams is the founder of Lucky Curl and has been in the hair care and styling industry for the last 15 years. Since then, she has developed incredible expertise and a deep understanding of how to treat and style the most difficult hair types and is passionate about sharing her knowledge with the readers of Lucky Curl.