What's better than styling your hair with a curling iron? Curling your hair with a rotating curling iron, of course! I love clever hair tools that make my life easier and if I can find an automatic hair curler that could beat this tangled mess into a luscious crowning glory then hey, I'm all for it.
The beauty of a rotating curling iron is it does all the work for you. It makes everyday styling so easy, it's almost effortless. A rotating curling iron styles the hair quickly and easily. Whatever hairstyle you want, just divide the hair into sections, let the rotating barrel "catch" the ends of a hair section and the styling tool will take care of the rest.
Thankfully, so many brands featured different types of rotating curling irons, we're all spoiled rotten with options. Just a search on Amazon and you've got tons of rotating curling irons to choose from. But what's the best curling iron out there? What factors should you consider if you are in the market for these products? Which of these products suit your specific hair type? That's what we're here for!
In this guide, my team and I have scoured the four corners of the internet, including Amazon bestsellers, looking for the best rotating curling iron that will suit all hair types! Products that featured some of the best tech and design for the price. Here are the automatic curling wands that made it to our list:
8 of the Best Rotating Curling Irons
1. The Beachwaver Co. S1.25 Dual Voltage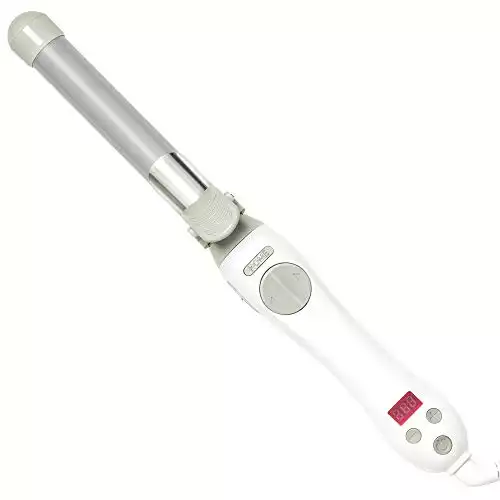 Kicking off our list is the Beachwaver S1.25 Dual Voltage – the perfect tool for creating beachy waves at home or abroad. This ceramic, rotating barrel iron provides easy, quality waves in minutes, and comes with a new, easy-grip clamp and adjustable temperature control. With three different style settings – defined curls, loose waves and glam waves – you can achieve any look you desire. Plus, the dual voltage feature means you can take this iron with you anywhere in the world. So go ahead and jet set with confidence, knowing that perfect beach waves are just ansteps away!
2. amika The Autopilot 3-in-1 Rotating Curling Iron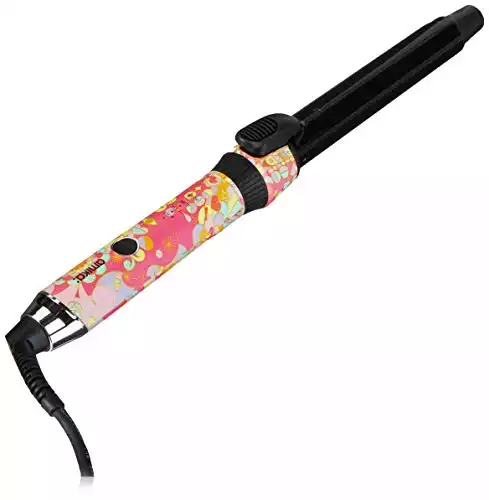 If you love having beautifully curled hair, but hate the hours it takes to achieve the perfect look then read on to learn about The Autopilot 3-in-1 Rotating Curling Iron! This amazing tool features a ceramic barrel that delivers long-lasting, frizz-free curls and waves, while negative ion technology seals the cuticle for silky-smooth results. A 360° rotating clamp and cool tip effortlessly create precision curls without the burns. Plus, you can lock or unlock the barrel for even more control and styling options. With this one versatile tool, you can achieve salon-quality results at home in a fraction of the time!
3. The MaikcQ Curling Iron
The MaikcQ Curling Iron has been getting rave reviews and I'm not really surprised. Designed by hairstylists, the MaikcQ Curling Iron is perfect for anyone who wants to achieve the most perfect loose waves! Also, if you're a lazy duck then you'll love the automatic, rotating barrel but I'm getting ahead of myself.
Let's start with the design, it's compact, light, and pink. And the quality is fantastic. If you have thin hair or you're simply looking for a gentle curler then the MaikcQ's tourmaline ceramic barrel is not damaging to the tresses at all. It applies gentle heat to every hair strand, transforming lackluster tresses to lustrous, bouncy curls within seconds.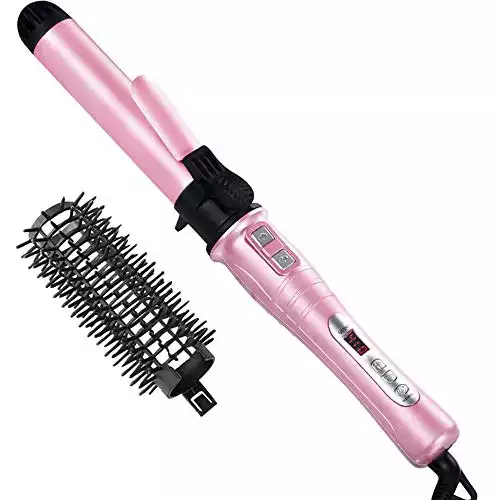 MaikcQ Curling Iron - 1.25 Inches
Professional Dual Voltage
Tourmaline Ceramic Hair Curler in Pink
with LCD Digital Display
Adjustable Temp 105°F to 410°F
for All Hair Types
Buy from Amazon
We earn a commission if you click this link and make a purchase at no additional cost to you.
11/18/2023 06:30 pm GMT
The MaikcQ Curling Iron is one of the most user-friendly automatic hair curlers on the market. If you are using a hair curler for the first time or you simply want an easy-to-use hot tool to complete your collection then you will love the MaikcQ. Just let the curler "catch" a section of your hair, push a button and the curler will do the rest. Thanks to the dual rotation controls, you can choose the direction of the curls effortlessly.
Because the MaikcQ features a tourmaline-ceramic barrel, the curls always come out soft, silky, and shiny! Honestly, my mane always feel hydrated with the MaikcQ Curling Iron and I am always able to achieve a natural-looking curl.
As far as design, quality, and usability go, the MaikcQ Curling Iron is hard to beat. This styling tool is priced just right for a higher-end curler and it does the job swimmingly. That said, if you are used to curling your hair with a clipless hot tool, you might end up getting creases with the MaikcQ. My advice, practice makes perfect. This curler could reach scorching temps so if you have thin hair or damaged hair, always keep the heat setting in check.
4. Xtava Auto Styler Curling Iron
I'm a huge fan of the Xtava brand, they always come out with affordable yet high-quality hot tools, some of which could give the best of 'em a run for their money. The xtava Auto Styler is a testament to this, it brings together smart features, lightweight design, and impressive performance in one sleek, compact curler.
With just a press of a button, the Xtava Auto Styler lets you create full-bodied curls and romantic waves. I love how simple the design is, if you are a newbie, you will appreciate its uncomplicated design and user-friendly settings. You could either wrap your hair around the barrel or use the built-in clamp to set your hair in place. Then, push the L or R button to set the curl direction and you're ready to build the most bodacious curls you will ever get.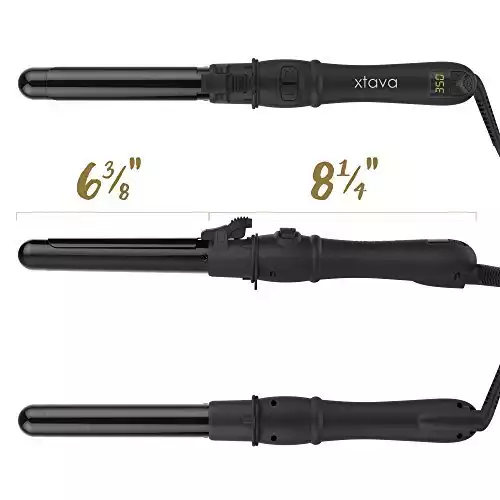 If your hair is fine or damage-prone, you will love the Xtava Auto Styler's many smart features as much as I do! The ceramic-tourmaline barrel produces healthy heat that prevents hair breakage, dryness, or dullness. The surface material applies even heat so you get uniform curls. If you are particular about the temperature setting of the curler, as you should, then the large LCD display will help you monitor the heat easily.
And speaking of the temperature setting, the Xtava Auto Styler offers 11 temperature options ranging from 210 degrees F to 430 degrees F. If you have fine hair or damaged prone hair then opt for the lowest setting. For normal hair, set the temperature to 290 F to 370 F. For users with coarse, thick, or hard-to-manage manes, set the temperature to 370 F to 430.
Other features I love about the XTava Auto Styler include the 60-minute auto-shutoff function, the cool tip, and the digital temperature control. I feel that the XTava Auto Styler is meant for travel because it's so compact and lightweight. It also comes with universal voltage so there is no need to carry an extra adapter when you travel.
The XTava Auto Styler is definitely my go-to because my long hair is a nightmare to manage and it cannot hold a curl. I will say, however, that the controls for releasing the hair are set near the rotation controls. It's easy to push the wrong button if you're distracted, which is often the case for me in the mornings!
5. Infiniti Pro by Conair Curl Evolution
Conair is a trusted brand in hair curlers and it's one of my favorites. IMHO, the Infiniti Pro by Conair Curl Evolution is one of the brand's best curlers and the price is fantastic too. If you have problematic hair, the kind that seems to have a life of its own when it's humid then this curler will be your best friend. The same thing is true for anyone who has frizzy hair; this automatic hair curler will give you the sleekest curls thanks to its revolutionary anti-frizz technology.
The Infiniti Pro features a 1-inch tourmaline-ceramic barrel and special heaters to prevent cold spots. You don't end up frying your locks because it only takes a couple of passes to get lasting curls with the Infiniti Pro. Also, the heat is distributed evenly so you get utmost control over the curls.
I love the design of the Infiniti Pro, it's not the most feminine design but it feels good to hold and is lightweight. The soft-touch handle gives you total control over the curler so you could really get near the crown to pump up the volume. And for days when you're in a rush, the quick heat-up feature cuts the styling time in half, you'll be out and about in no time at all. 
Of course, it helps that the rotating barrel makes hair curling so effortless. There is really no going back after you've tried the Infiniti Pro. I feel like I'm nit-picking but the only issue I have with the Infiniti Pro is it lacks the dual voltage feature. I hate traveling with an adapter especially when I'm packing light so travel with the Infiniti Pro is sometimes a hassle.
6. Bio Ionic Stylewinder
Most rotating curlers come with so many features, they're almost intimidating to use. If you need a user-friendly curler with a simple design, one that comes with great features but is totally fuss-free to use then you will love the Bio Ionic Stylewinder.
The Bio Ionic Stylewinder is different from other curlers because it does not rotate automatically, it does so manually. The curler features a rotating thumb grip and clamp that holds the hair in place and as the curler rotates, you get perfect waves thanks to Bio Ionic's Nano-Ionic Minerals infused barrel. This automatic hair curler emits negative ions that smoothen the hair cuticles and strengthen the hair strands. It's the best curler for users with frizz-prone tresses or people with dry, dull hair.
Best Seller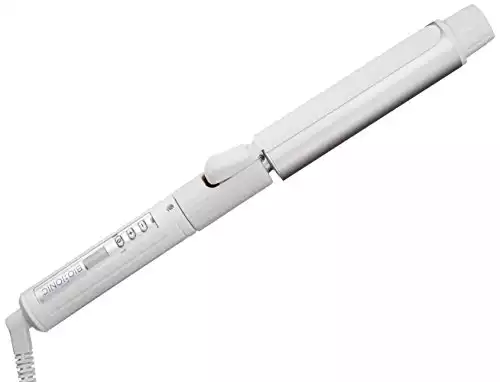 BIO IONIC Stylewinder Rotating Styling Iron, 1.25 Inch
2-hour Automatic Shutoff
Heat Range of 140º F - 440º F
Lower heat setting for fine, delicate hair
Dual heaters
Nano-Ionic Minerals Technology
Digital Temperature Control
Rotating thumb grip/clamp
9-foot swivel cord
Available in 1 inch and 1.25 inch barrel sizes
Buy on Amazon
Buy on Bio Ionic
We earn a commission if you click this link and make a purchase at no additional cost to you.
11/19/2023 02:30 pm GMT
What's more, the StyleWinder comes with an innovative nano ionic mineral technology that breaks down water clusters into micronized molecules. The water molecules penetrate the hair strands to give you a shiny, silky finish.
If you've got fine, damaged, or delicate mane, we're happy to report that the StyleWinder has a low heat setting of 140 degrees so it's gentler than most curlers. For guys and gals with coarse, hard-to-manage tresses, don't fret. The StyleWinder has a maximum temperature of 440 degrees, giving you salon-worthy curls in no time at all! The StyleWinder offers the best of both worlds!
Other features that I love about the StyleWinder include the dual heaters, the automatic shut off feature, and the large digital display. My only gripe is the lack of the dual voltage feature, that would've made this compact curler even more travel friendly. Some users feel that the clamp is too loose but I think this was done on purpose to prevent creasing.
7. Gawervan 2-in-1 Auto-Rotating Curling Iron
You've seen one rotating curling iron, you've seen them all, at least that's been the case for me until I came across this nifty auto-rotating curler by Gawervan. The Gawervan 2-in-1 Auto-Rotating Curling Iron is different because of its clamp-like barrel that works as a hair curler and a hair straightener!
With just a flip of a switch, the curling barrel splits into a clamp, allowing you to straighten your curler like a traditional hair straightener. If you're looking for a real workhorse, a curler that could keep up with your changing hairstyle, mood, personal taste, etc., the Gawervan 2-in-1 Auto-Rotating Curling Iron is versatile enough to cater to your styling needs.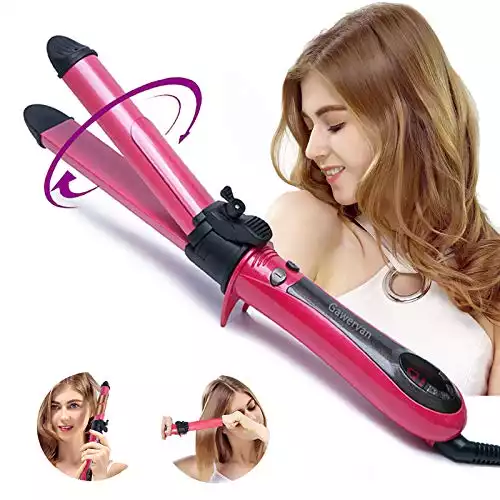 There is no need to worry about heat damage because this curler is gentle enough for everyday styling. The barrel is not made from solid tourmaline ceramic material, it's just coated. That's fine because it does the job and the coated barrel adds to the affordability of the Gawervan 2-in-1 Auto-Rotating Curling Iron. The coated heating plates infuse gentle heat into every hair strand, curling or straightening the tresses without heat damage. The curler also produces negative ions that tame frizz for perfectly lustrous, shiny results.
I feel that the Gawervan 2-in-1 Auto-Rotating Curling Iron is designed for people with fine, delicate, or thin hair. For one thing, the heat settings are much lower than some curlers at 390 degrees max. The sizeable digital display lets you track the ideal temperature so you don't end up with fried tresses.
The Gawervan 2-in-1 Auto-Rotating Curling Iron is so affordable but it's also one of the most feature-rich on our best rotating curling iron list. It features adjustable speed and rotation so you can style your hair at your own pace. Its unique design lets you create a variety of curls and waves. It's also gentle on the hair so your curls look and feel hydrated, never dry. The only thing I noticed about the design is the spot where the controls were located, which is near the base of the barrel. If you're in a hurry, you might push the wrong buttons!
8. Remington Auto Curl Curling Wand
Since we're on the subject of curlers with unique designs, we are rounding up our list of the best rotating curling iron tools with the Remington Auto Curl Curling Wand. The Auto Curl Curling Wand features a split barrel that rotates in both directions. If need a hair styler that does all the heavy lifting for you then the Auto Curl Curling Wand is definitely worth checking out.
This curling iron "catches" the ends of the hair then it rotates automatically to create beautiful shiny curls. The Remington Auto Curl Curling Wand features an innovative auto curl tech that builds curls without tangles and heat damage. It also comes with an anti-frizz technology that hydrates and smoothes the hair strands.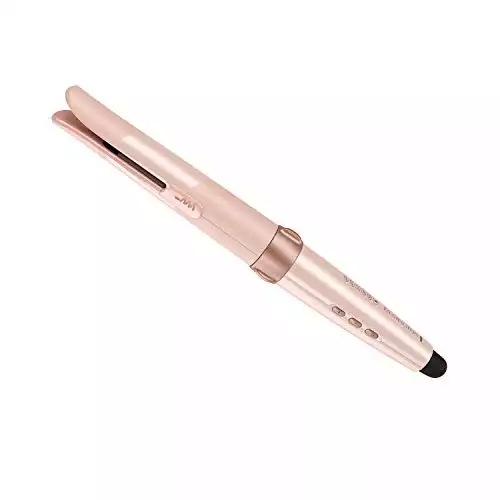 The Remington Auto Curl Curling Wand boasts of 4 times protective ionic tourmaline material so gentle heat is applied on the surface of the curler with zero cold spots. It has 5 variable heat settings so you could customize it to reach the ideal temperature, preventing heat damage. It heats up so quickly too so you'll definitely save a lot of time in the morning.
Although the Remington Auto Curl Curling Wand earned praises for its unique design, some might struggle with it during the first few uses. Using the Auto curl curling iron takes some practice but once you get accustomed to the design, curling your hair will be a breeze. My only issue with this curler is the rotating action itself, it sometimes slows me down. Since the barrel has a loose grip on the hair, you might end up with uncurled tendrils so it will take several passes to get the curl right.
Wrap Up
If you've been using a regular curling iron all your life then an automatic styling tool will be such a life-changer, I promise! An automatic hair curler will make styling easy and convenient in the mornings, all there is to do is to let the curler catch a section of your hair and that's it. Although rotating curling irons are more expensive than a regular curling iron, automatic rotation does most of the heavy lifting. If you are always in a rush in the mornings or you simply need a tool that would make hair styling less of a burden then getting a rotating curler is a must.
Leah Williams
Leah Williams is the founder of Lucky Curl and has been in the hair care and styling industry for the last 15 years. Since then, she has developed incredible expertise and a deep understanding of how to treat and style the most difficult hair types and is passionate about sharing her knowledge with the readers of Lucky Curl.